This Is Rock 'n' Roll Radio # 1021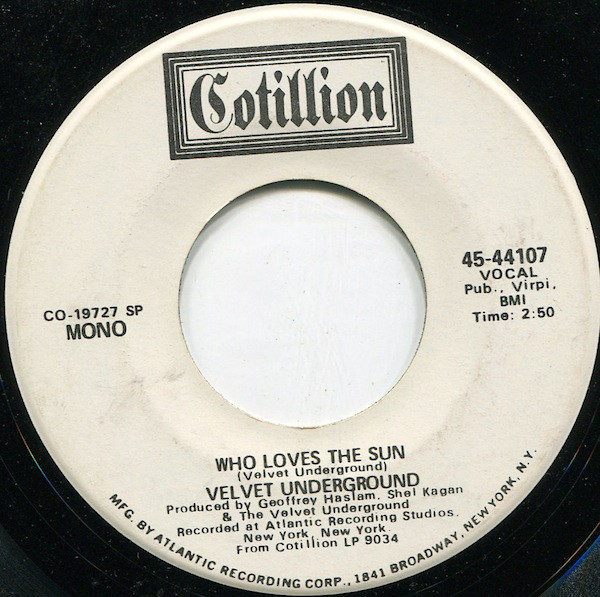 This Is Rock 'n' Roll Radio with Dana & Carl in the time of self-quarantine. The process of putting the show together from remote locations remains weird. After more than two decades of doing whatever the hell it is we do, Dana and I have a certain rhythm to how we operate, an unspoken methodology that is difficult to articulate but natural to implement. We can plan something if we feel like planning, or we can wing it, and either way the result is unerringly TIRnRR.

Assembling the show from home is different. I guess we're still winging it to some degree, building each show track by track. But we're assembling it via telephone conversation, without the immediacy of hearing what song the other one plays and reacting to it in real time. We're still playing off each other's selections, but the records aren't actually spinning as we do that. It's…well, not exactly clinical, just…different. Weird. Different. 

That said, the result remains unerringly TIRnRR. This week's example combines new stuff from Trip Wire, The Corner Laughers, John Dowler's Vanity Project, Ed Ryan with Orbis Max, Kekker, and Justine & the Unclean with varied doses of psych, soul, alt, pop, r & b, and rock 'n' roll, from Chuck Berry to Pop Co-Op. We say again: great records don't care what year it is. So we're going to continue to mix the likes of The Smoke, Gladys Knight & the Pips, The Drifters, Skeeter Davis, The Weeklings, The Kinks, The Damned, Saint Etienne, George Harrison, Fountains of Wayne, Joan Armatrading, Buffalo Springfield, The Handcuffs, The Muffs, The Velvet Underground, and another track from The Mike & Micky Show, the new live album from The Monkees. It's our show, and it works. Unerringly. This is what rock 'n' roll radio sounded like on a Sunday night in Syracuse this week.
This Is Rock 'n' Roll Radio with Dana & Carl airs Sunday nights from 9 to Midnight Eastern, on the air in Syracuse at SPARK! WSPJ 103.3 and 93.7 FM, and on the web at http://sparksyracuse.org/ You can read all about this show's long and weird history here: Boppin' The Whole Friggin' Planet (The History Of THIS IS ROCK 'N' ROLL RADIO). TAX DEDUCTIBLE DONATIONS are always welcome.

The many fine This Is Rock 'n' Roll Radio compilation albums are still available, each full of that rockin' pop sound you crave. A portion of all sales benefit our perpetually cash-strapped community radio project:
PS: SEND MONEY!!!! We need tech upgrades like Elvis needs boats. Spark Syracuse is supported by listeners like you. Tax-deductible donations are welcome at 
http://sparksyracuse.org/support/
You can follow Carl's daily blog Boppin' (Like The Hip Folks Do) at 
https://carlcafarelli.blogspot.com/

Hey, Carl's writin' a book! The Greatest Record Ever Made! (Volume 1) will contain 128 essays about 128 songs, each one of 'em THE greatest record ever made. An infinite number of songs can each be the greatest record ever made, as long as they take turns. Updated initial information can be seen here.
TIRnRR # 1021: 4/19/2020
TIRnRR FRESH SPINS! Tracks we think we ain't played before are listed in bold.

THE RAMONES: Do You Remember Rock 'n' Roll Radio? (Rhino, End Of The Century)
—
THE MONKEES: Sunny Girlfriend (Rhino, The Mike & Micky Show)
THE SMOKE: My Friend Jack [demo] (Cherry Red, VA: A Slight Disturbance In My Mind)
GLADYS KNIGHT & THE PIPS: Midnight Train To Georgia (Curb, Greatest Hits)
ANTON BARBEAU WITH THE BEVIS FROND: Sweet Creature, What's Your Name? (Woronzow, King Of Missouri)
WILD KISSES: Feels So Fine (wildkisses.bandcamp.com)
THE CREATION: Painter Man (Cherry Red, VA: A Slight Disturbance In My Mind)
—
THE CORNER LAUGHERS: The Accepted Time (Big Stir, single)
MONDELLO: Sherilyn (mondello.bandcamp.com, Hello, All You Happy People)
THE WELL WISHERS: We Grow Up (Big Stir, single)
SAINT ETIENNE: Only Love Can Break Your Heart (Cherry Red, VA: C90)
THE DRIFTERS: Sweets For My Sweet (Atlantic, All-Time Greatest Hits And More 1959-1965)
SKEETER DAVIS: I Can't Stay Mad At You (Real Gone Music, VA: Honeybeat)
—
JOHN DOWLER'S VANITY PROJECT: Time To Leave (Half A Cow, 12 Stitches)
LENE LOVICH: Lucky Number (Salvo, VA: Born Stiff)
THE BEATLES: Thank You, Girl (Capitol, The Beatles' Second Album)
THE DAMNED: Wait For The Blackout (Sanctuary, Smash It Up)
THE YOUNG RASCALS: Good Lovin' (Rhino, THE RASCALS: Anthology 1965-1972)
ANY TROUBLE: Second Choice (Salvo, VA: Boirn Stiff)
—
THE KINKS: Working At The Factory (MCA, Think Visual)
THE GRAHAM BOND ORGANISATION: You Gotta Have Love Babe [demo] (Cherry Red, VA: A Slight Disturbance In My Mind)
CHUCK BERRY: Johnny B. Goode (MCA, The Anthology)
THE SCORE: Please Please Me (Cherry Red, VA: A Slight Disturbance In My Mind)
SCREEN TEST: Just Like Me (single)
THE DOWNLINERS SECT: Why Don't You Smile Now (Rhino, VA: Nuggets II)
—
TRIP WIRE: Katie Says (Big Stir, single)
THE SUNDAYS: Can't Be Sure (Cherry Red, VA: C90)
ELVIS COSTELLO & THE ATTRACTIONS: Tiny Steps (Rykodisc, Armed Forces)
NICK LOWE: So It Goes (Yep Roc, Jesus Of Cool)
POP CO-OP: No Man's Land (Futureman, Factory Settings)
THE POPINJAYS: Please Let Me Go (Cherry Red, VA: C90)
—
DANNY WILKERSON: Where Did The Ordinary People Go? (Futureman, VA: Garden Of Earthly Delights)
GRAHAM PARKER & THE RUMOUR: Discovering Japan (Spectrum, The Very Best Of Graham Parker & the Rumour)
THE WEEKLINGS: In The Moment (Jem, 3)
WRECKLESS ERIC & AMY RIGBY: Do You Remember That? (Southern Domestic, A Working Museum)
DEL SHANNON: Runaway (Rhino, Greatest Hits)
GEORGE HARRISON: What Is Life (Apple, All Things Must Pass)
—
ED RYAN WITH ORBIS MAX: Everyone Wonders (orbismax.bandcamp.com)
THE PRETENDERS: Brass In Pocket (Sire, The Singles)
THE FLIRTATIONS: Nothing But A Heartache (RPM, Sounds Like The Flirtations)
JOAN ARMATRADING: Me Myself I (A & M, Greatest Hits)
BUFFALO SPRINGFIELD: Flying On The Ground Is Wrong (Rhino, Buffalo Springfield)
THE HUMBUGS: She's Not Sad (Oddvious, Twist The Truth)
—
KEKKER: Friendly Friendly (Kool Kat Musik, Greatest Hits Volumes 1 + 2)
SQUEEZE: Annie Get Your Gun (A & M, The Squeeze Story)
JUSTINE & THE UNCLEAN: Vengeance (Rum Bar, single)
FOUNTAINS OF WAYNE: Denise (Atlantic, Utopia Parkway)
THE ZOMBIES: This Will Be Our Year (Varèse Sarabande, Odessey & Oracle)
MATTHEW SWEET & SUSANNA HOFFS: Care Of Cell 44 (Shout Factory, Under The Covers Vol. 1)
THE HANDCUFFS: Wonderful Life (OOFL, Electroluv)
THE MUFFS: On My Own (Omnivore, No Holiday)
THE VELVET UNDERGROUND: Who Loves The Sun (Polydor, Peel Slowly And See)