This Is Rock 'n' Roll Radio # 1020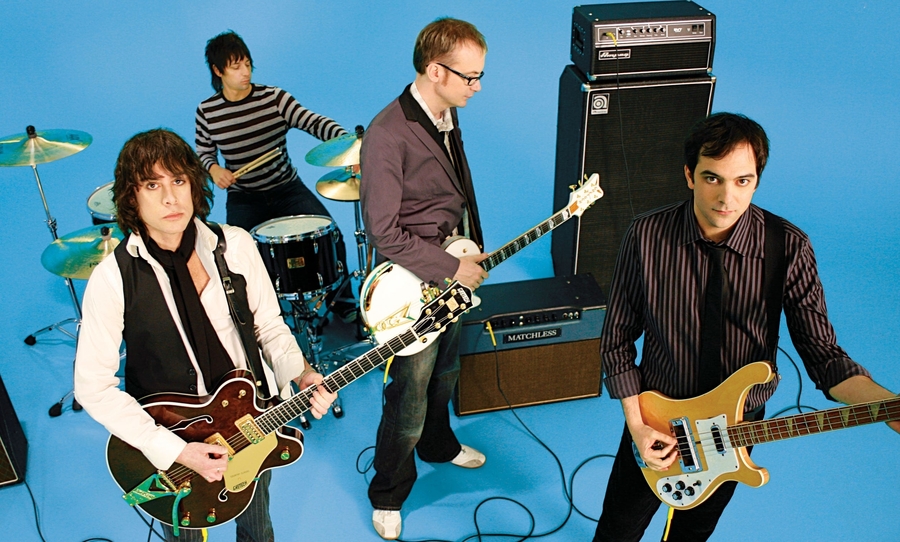 Sometimes yesterday feels a lot closer than tomorrow. Tomorrow can seem like a vague promise, a mere possibility. Tomorrow isn't even a destination; it's just the next leg of our journey, a marker we hope will be followed by another tomorrow, then another, and so on. In our desperate moments, we may suspect that tomorrow won't arrive at all.
Yesterday is always right there with us. We don't want to live in the past, but memories can help to sustain us in our uncertainty. It's true that memories (good and bad) can also hold us back, but whatever we are, whatever we will become, is a product of places we remember all our lives, lovers and friends we still can recall. We don't get to tomorrow without keeping the lessons that yesterday tried to teach us. Like the saying goes: those who forget the pasta are condemned to reheat it.
Or something like that.
Right now, many of us may think that tomorrow is even further away than normal–hey, remember normal?–that these days of self-quarantine, disruption, and fear will stretch beyond any horizon we can see. This is natural, and it's difficult to shake. In the present day, yesterday is still with us, for well or ill, as we continue our march toward that elusive tomorrow.
The Coronavirus has compromised our feelings of safety and security, distanced us from friends and family. On the positive side, it's made it okay for me to appear in public wearing a mask, bringing me one step closer to my dream of being Batman. If you laughed at that, or even if you just rolled your eyes, I hope it was a momentary distraction from heavier thoughts. These are heavy times. We hope you're coping. We hope you're well. We hope you will endure through tomorrow.
The process of coping includes the opportunity to mourn. This week's show is dedicated to the memory of the late Adam Schlesinger, taken from us by this goddamned COVID-19. We played a small sampling of Adam's work as a performer, a producer, and a songwriter, represented here with tracks by three bands he was in (Fountains Of Wayne, Ivy, and Tinted Windows), an act he produced (The Monkees) singing a song he wrote, and performances (by Johnathan Pushkar and Josie & the Pussycats) of songs he wrote or co-wrote. We closed the show with a two-fer of Fountains Of Wayne's biggest hit "Stacy's Mom" and The Wonders' "That Thing You Do!," the latter written by Schlesinger, and of course The Greatest Record Ever Made.
We also bid farewell to John Prine, Joe Diffie, and "I Love Rock 'n' Roll" co-author Alan Merrill, each a victim of this pandemic, and to former Amboy Dukes guitarist Steve Farmer. We played new stuff, too: new singles from Screen Test, Joe Normal & the Anytown'rs and The Well Wishers, and a cut from The Monkees' new live album The Mike & Micky Show. We reached out from our positions at least six feet away from anyone else, and we connected as best we could. We remembered yesterday. We acknowledged today. We looked toward tomorrow. We'll get there. Tomorrow won't even know what hit it. This is what rock 'n' roll radio sounded like on a Sunday night in Syracuse this week.
This Is Rock 'n' Roll Radio with Dana & Carl airs Sunday nights from 9 to Midnight Eastern, on the air in Syracuse at SPARK! WSPJ 103.3 and 93.7 FM, and on the web at http://sparksyracuse.org/ You can read all about this show's long and weird history here: Boppin' The Whole Friggin' Planet (The History Of THIS IS ROCK 'N' ROLL RADIO). TAX DEDUCTIBLE DONATIONS are always welcome.

The many fine This Is Rock 'n' Roll Radio compilation albums are still available, each full of that rockin' pop sound you crave. A portion of all sales benefit our perpetually cash-strapped community radio project:
PS: SEND MONEY!!!! We need tech upgrades like Elvis needs boats. Spark Syracuse is supported by listeners like you. Tax-deductible donations are welcome at 
http://sparksyracuse.org/support/
You can follow Carl's daily blog Boppin' (Like The Hip Folks Do) at 
https://carlcafarelli.blogspot.com/

Hey, Carl's writin' a book! The Greatest Record Ever Made! (Volume 1) will contain 124 essays about 124 songs, each one of 'em THE greatest record ever made. An infinite number of songs can each be the greatest record ever made, as long as they take turns. Updated initial information can be seen here.
TIRnRR # 1020: 4/12/2020
TIRnRR FRESH SPINS! Tracks we think we ain't played before are listed in bold.

THE RAMONES: Do You Remember Rock 'n' Roll Radio? (Rhino, End Of The Century)
—
FOUNTAINS OF WAYNE: Denise (Atlantic, Utopia Parkway)
THE GOLD NEEDLES: Billy Liar (Jem, single)
SMOKEY ROBINSON & THE MIRACLES: The Tears Of A Clown (Motown, VA: Hitsville USA)
LES HANDCLAPS: Cacti Are Delicious Fruit (Handclaps, Ouh Ouh Ah!)
THE RAMONES: Babysitter (Rhino, Leave Home)
MARY LOU LORD: Right On 'Till Dawn (Rubric, Speeding Motorcycle)
—
ALAN MERRILL: Everyday All Night Stand (MEC, Snakes And Ladders)
JOAN JETT & THE BLACKHEARTS: I Love Rock 'n' Roll (Blackheart, I Love Rock 'n' Roll)
THE MONKEES: Our Own World (Rhino, Good Times!)
BIG STAR: The Ballad Of El Goodo (Ardent, # 1 Record/Radio City)
THE ANIMALS: The Other Side Of This Life (MGM, Animalism)
THE IDEA: She Has A Way (Not Lame, VA: Full Circle)
—
THE MONKEES: The Door Into Summer (Rhino, The Mike & Micky Show)
POP CO-OP: The Price Of Admission (Futureman, Factory Settings)
BILL BERRY: 1-800-Colonoscopy (Kool Kat Musik, VA: For The Record–A Tribute To John Wicks)
SHOES: The Things You Do (Elektra, Tongue Twister)
IVY: Edge Of The Ocean (Nettwerk, Long Distance)
THE SOFT BOYS: I Wanna Destroy You (Matador, Underwater Moonlight)
—
SCREEN TEST: Just Like Me (single)
JOHNATHAN PUSHKAR: Hackensack (Jem, Straighten Up)
JOHN PRINE: Speed Of The Sound Of Loneliness (Oh Boy, German Afternoons)
THE MUFFS: On My Own (Omnivore, No Holiday)
JOE DIFFIE: Bigger Than The Beatles (Epic, The Essential Joe Diffie)
THE FALL: Victoria (Beggars Banquet, 50,000 Fall Fans Can't Be Wrong)
—
TINTED WINDOWS: We Got Something (S-Curve, Tinted Windows)
THE MnMs: I'm Tired (Burger, Melts In Your Ears 1980-1981)
LINDA RONSTADT: Cost Of Love (Asylum, Mad Love)
THE BEVIS FROND: He'd Be A Diamond (Rubric, New River Head)
THE AMBOY DUKES: Journey To The Center Of The Mind (Rhino, VA: Nuggets)
THE REMAINS: Don't Look Back (Rhino, VA: Nuggets)
—
THE WELL WISHERS: We Grow Up (single)
BASH & POP: Anything Could Happen (Fat Possum, Anything Could Happen)
JOSIE & THE PUSSYCATS: Pretend To Be Nice (Play-Tone, VA: Josie & the Pussycats OST)
THE ENGLISH BEAT: Save It For Later (IRS, What Is Beat?)
THE FOUNDATIONS: In The Bad, Bad Old Days (Before You Loved Me) (Sanctuary, The Very Best Of The Foundations)
HARMONIC DIRT: Maybe (harmonicdirt.com, Anthracite)
—
JOE NORMAL & THE ANYTOWN'RS: Living With Me (Big Stir, single)
THE NERVES: Hanging On The Telephone (Alive, One Way Ticket)
BOB SEGER: Rosalie (Palladium, Back In '72)
SKEETER DAVIS: I Can't Stay Mad At You (Real Gone Music, VA: Honeybeat)
FOUNTAINS OF WAYNE: Maureen (Virgin, Out Of State Plates)
IRENE PEÑA: Must've Been Good (Kool Kat Musik, VA: This Is Rock 'n' Roll Radio, Volume 4)
—
FOUNTAINS OF WAYNE: Radio Bar (Yep Roc, Sky Full Of Holes)
THE LEARS: The Byrd That Couldn't Fly (Not Lame, VA: Full Circle)
THE BYRDS: Lost My Drivin' Wheel (Columbia, Farther On)
ROB MARTINEZ: All I Ever Wanted (Karma Frog, Maybe Miss America)
THE CRICKLE: Place In My Heart (ROIR, VA: Garage Sale)
THE BANDWAGON: Breakin' Down The Walls Of Heartache (Kent, Breakin' Down The Walls Of Heartache)
FOUNTAINS OF WAYNE: Stacy's Mom (S-Curve, Welcome Interstate Managers)
THE WONDERS: That Thing You Do! (Play-Tone, VA: That Thing You Do! OST)
BONGOS IKWUE: Woman Made The Devil (Strut, VA: Nigeria 70)