This Is Rock 'n' Roll Radio # 1018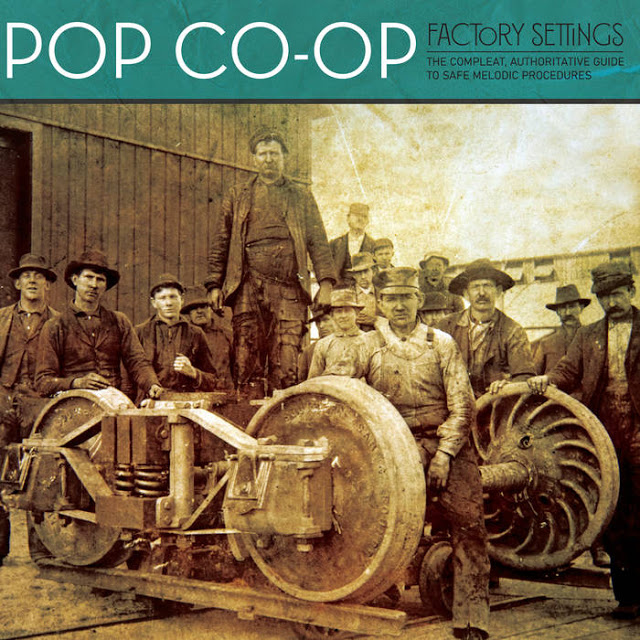 As we remain at home unable to get into the studio to do This Is Rock 'n' Roll Radio, the great group Pop Co-Op came to us with a plan: let's get together and live-stream a record release party for the new Pop Co-Op album Factory Settings. Dana and I were delighted to participate.

So on Sunday night, right when we would normally be starting our radio show, we were in a Zoom chat with the members of Pop Co-Op–Steve Stoeckel, Joel Tinnel, Bruce Gordon, and Stacy Carson, plus Futureman Records label visionary Keith Klingensmith–talking about the new album and playing each of its tracks (plus a few choice bonus spins). The entire video chat is now available on YouTube via this link, and we invite you to immerse yourself in the beauty, the splendor, the wonder of Factory Settings by Pop Co-Op. Dana & Carl are honored to help in introducing you to Your Favorite Record Of 2020.

In the mean time, let's hear from the lads in Pop Co-Op:

"Thanks to everyone who joined Pop Co-Op's album release party Sunday night! We've been waiting a long time to get this music out into the world, and what better way to start than with our friends Carl Cafarelli and Dana Bonn, hosts of This Is Rock 'n' Roll Radio, who gave their talent, their time, and their Sunday slot for this event.
The show was a special live TIRnRR, with video and also audio commentary, and it took lots of behind-the-scenes technical wizardry. We are lucky to have had Laura Sessions Tinnel at the helm, putting it together, testing it, and also running it in the background while we were having fun! Thanks, Geek Girl!
In addition to Laura, Dana,and Carl, lots of other folks were involved in the album and the release. Dan Millice of Engine Room Audio in NY, who did the mastering. Michael Slawter of Heyday Designs, who did the cover graphics. And Arn McConnell, who made an incredible animated mashup video for the band that lets you experience "every song on the album at once"! So many great folks who do great work, helping us launch this album.
The CDs. There's a story there. Our CDs have been pressed and are ready to ship from our disc folks in California. Yes, California. The ship date was March 20, the very day California's governor implemented shelter-in-place restrictions, shutting down the CD warehouse along with many other businesses. And so, we wait.
In the meantime, anyone who buys the CD from Futureman Records will get the full digital download on the official April 1st (appropriately) release date. You can pre-order the CD before April 1 and get track 1, "No Man's Land," immediately. While we wait, Futureman will prepare shipping labels so that as soon as the CDs arrive, your physical copy can be shipped immediately. Now, if you only want a digital copy, these will be available April 1st on the Pop Co-Op site, along with a few bonus tracks. CDs are $14 and digital copies are $11. But remember, if you buy the CD, you get the digital copy (sans bonus tracks). A real deal for 14 solid tracks of music!

Pop Co-Op are so excited to see our work finally making its way out into the world. Reaction from  the release party last night was so gratifying; each song had specific comments in the chat section.

Thanks again, listeners. And please let us know what you think of our new album!

Steve, Joel, Bruce, and Stacy"
Radio's job is to sell records. We've done our part, so now it's your turn. Factory Settings by Pop Co-Op. Welcome to Your Favorite Record Of 2020. This is what rock 'n' roll radio sounded like on a Sunday night in Syracuse this week.

Barring pandemics, This Is Rock 'n' Roll Radio with Dana & Carl airs Sunday nights from 9 to Midnight Eastern, on the air in Syracuse at SPARK! WSPJ 103.3 and 93.7 FM, and on the web at http://sparksyracuse.org/ You can read all about this show's long and weird history here: Boppin' The Whole Friggin' Planet (The History Of THIS IS ROCK 'N' ROLL RADIO). TAX DEDUCTIBLE DONATIONS are always welcome.

The many fine This Is Rock 'n' Roll Radio compilation albums are still available, each full of that rockin' pop sound you crave. A portion of all sales benefit our perpetually cash-strapped community radio project:
PS: SEND MONEY!!!! We need tech upgrades like Elvis needs boats. Spark Syracuse is supported by listeners like you. Tax-deductible donations are welcome at 
http://sparksyracuse.org/support/
You can follow Carl's daily blog Boppin' (Like The Hip Folks Do) at 
https://carlcafarelli.blogspot.com/

Hey, Carl's writin' a book! The Greatest Record Ever Made! (Volume 1) will contain 124 essays about 124 songs, each one of 'em THE greatest record ever made. An infinite number of songs can each be the greatest record ever made, as long as they take turns. Updated initial information can be seen here.
TIRnRR # 1018: 3/29/2020 live-stream record release party with Pop Co-Op
POP CO-OP Factory Settings PROMO VIDEO (courtesy of Arn McConnell)
—
POP CO-OP: You Don't Love Me Anymore (Kool Kat Music, VA: This Is Rock 'n' Roll Radio, Volume 4)
POP CO-OP: No Man's Land (Futureman, Factory Settings)
POP CO-OP: Kissing Katy (Futureman, Factory Settings)
POP CO-OP: Flaws Of Attraction (Futureman, Factory Settings)
POP CO-OP: Keen To Be Near You (Futureman, Factory Settings)
POP CO-OP: Catching Light (Futureman, Factory Settings)
POP CO-OP: Underworld (Futureman, Factory Settings)
POP CO-OP: I'd Like That (Futureman, VA: Garden Of Earthly Delights)
POP CO-OP: To The Sea (Futureman, Factory Settings)
POP CO-OP: Cliff Of A Year (Futureman, Factory Settings)
POP CO-OP: King Of Weightless (Futureman, Factory Settings)
POP CO-OP: The Price Of Admission (Futureman, Factory Settings)
POP CO-OP: Persistence Of Memory (Futureman, Factory Settings)
POP CO-OP: Won't Be Me (Futureman, Factory Settings)
POP CO-OP: Requiescat (Futureman, Factory Settings)
POP CO-OP: Sleeve (Futureman, Factory Settings)
POP CO-OP: Forgotten Secrets (Silent Bugler, Four State Solution)
STEVE STOECKEL & HIS THIS IS ROCK 'N' ROLL RADIO ALL-STARS: I Could Be Good For You (Futureman, VA: This Is Rock 'n' Roll Radio, Volume 3)
POP CO-OP: Flaws Of Attraction [instrumental mix]