This Is Rock 'n' Roll Radio # 1016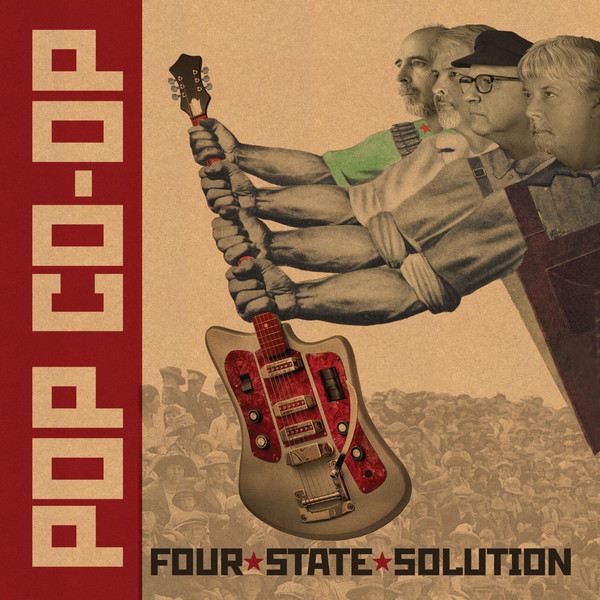 This silly little radio show feels a specific connection with the music of Pop Co-Op. We're told that This Is Rock 'n' Roll Radio somehow served as an odd catalyst in Pop Co-Op's formation, an impossible thing that can't be true but paradoxically is. We billed Pop Co-Op's debut album Four State Solution as Your Favorite Record Of 2017, and we've been delighted to keep playing Pop Co-Op ever since.

And we're beyond delighted to offer the world radio premiere of a track from Pop Co-Op's forthcoming new album, Factory Settings. "Price Of Admission" continues the group's mission statement of creating better pop music by creating better pop music. The new album is a treat anna half, and you will be eager to hear more.

And we won't be the only great radio show to offer world radio premieres of new tracks from Pop Co-Op this month. Jim Prell has an exclusive Pop Co-Op debut coming up on his fab show The Music Authority, and so does Craven Lovelace on his cool Sunday night KAFM 88.1 program The Museum. Let ALL radio shows play lots and lots of Pop Co-Op! We are LEGION!
We'll do our part. It occurred to me the other day that I think TIRnRR has played every single track that Pop Co-Op has released so far. If not, we're not far off. And if so, well, it's a distinction that not even our house bands The Kinks, The Beatles, The Ramones, The Flashcubes, and The Monkees can match. Pop Co-Op, if you keep makin' 'em, we'll keep playin' 'em.

In addition to new music from Pop Co-Op, this week's extravaganza serves up new music from Dolph Chaney, Popdudes, The Overtures, and Richard Turgeon, a Happy Birthday to the mighty Micky Dolenz, and an assortment of irresistibles that we believe need to be played on the radio. A strange goal to pursue? Maybe. But if it inspired Pop Co-Op in any way, then it is its own great reward. Your favorite record. This is what rock 'n' roll radio sounded like on a Sunday night in Syracuse this week.
This Is Rock 'n' Roll Radio with Dana & Carl airs Sunday nights from 9 to Midnight Eastern, on the air in Syracuse at SPARK! WSPJ 103.3 and 93.7 FM, and on the web at http://sparksyracuse.org/ You can read all about this show's long and weird history here: Boppin' The Whole Friggin' Planet (The History Of THIS IS ROCK 'N' ROLL RADIO). TAX DEDUCTIBLE DONATIONS are always welcome.

The many fine This Is Rock 'n' Roll Radio compilation albums are still available, each full of that rockin' pop sound you crave. A portion of all sales benefit our perpetually cash-strapped community radio project:
PS: SEND MONEY!!!! We need tech upgrades like Elvis needs boats. Spark Syracuse is supported by listeners like you. Tax-deductible donations are welcome at 
http://sparksyracuse.org/support/
You can follow Carl's daily blog Boppin' (Like The Hip Folks Do) at 
https://carlcafarelli.blogspot.com/

Hey, Carl's writin' a book! The Greatest Record Ever Made! (Volume 1) will contain 124 essays about 124 songs, each one of 'em THE greatest record ever made. An infinite number of songs can each be the greatest record ever made, as long as they take turns. Updated initial information can be seen here.

TIRnRR# 1016: 3/8/2020
This Is Rock 'n' Roll Radio FRESH SPINS! (tracks we think we ain't played before) are listed in bold

THE RAMONES: Do You Remember Rock 'n' Roll Radio? (Rhino, End Of The Century)
—
POP CO-OP: Price Of Admission (Silent Bugler, Factory Settings)
ANY TROUBLE: Playing Bogart (Stiff, Where Are All The Nice Girls?)
DEL SHANNON: Runaway (Rhino, Greatest Hits)
GRAHAM PARKER & THE RUMOUR: Local Girls (Spectrum, The Very Best Of Graham Parker)'
DONNA SUMMER: Hot Stuff (Mercury, Summer: The Original Hits)
LULU: The Boat That I Row (Rhino, From Crayons To Perfume)
—
THE OVERTURES: Once In A World (Kool Kat Musik, Once In A World)
THE DROWNERS: While My Guitar Gently Weeps (Jealousy, VA: He Was Fab)
IKE & TINA TURNER: You Got What You Wanted (Pompeii, Cussin', Cryin' And Carryin' On)
THE STOOGES: I Wanna Be Your Dog (Virgin, IGGY POP: A Million In Prizes)
ABBA: The Visitors (Polydor, More ABBA Gold)
LES HANDCLAPS: Je Pense Encore O Toi (Handclaps, Sessions; Brooklyn)
—
DOLPH CHANEY: If I Write It Down (Big Stir, Rebuilding Permit)
THE REPLACEMENTS: Alex Chilton (Sire, Pleased To Meet Me)
THE LOVIN' SPOONFUL: Summer In The City (Buddha, Greatest Hits)
THE VELVET UNDERGROUND: Rock And Roll (Polydor, Peel Slowly And See)
MARYKATE O'NEIL: I'm Ready For My Luck To Turn Around (71, 1-800-Bankrupt)
THE SPENCER DAVIS GROUP: I'm A Man (EMI America, The Best Of The Spencer Davis group)
—
THE MONKEES: Pleasant Valley Sunday (Rhino, 50)
MATTHEW SWEET & SUSANNA HOFFS: Different Drum (Shout Factory, Under The Covers, Vol. 1)
THE WEEKLINGS: In The Moment (Jem, 3)
SPLIT ENZ: History Never Repeats (A & M, History Never Repeats)
SLY & THE FAMILY STONE: Thank You (Faletinme Be Mice Elf Agin) (Epic, Greatest Hits)
TRAFFIC: Paper Sun (Island, Heaven Is In Your Mind)
—
POPDUDES: Ridin' In My Car (Big Stir, single)
DAVE EDMUNDS: Girls Talk (Rhino, The Dave Edmunds Anthology)
BILL BERRY: 1-800-Colonoscopy (Kool Kat Musik, VA: For The Record–A Tribute To John Wicks)
HINDU LOVE GODS: Raspberry Beret (Rhino, WARREN ZEVON: Genius)
THE CORNER LAUGHERS: Everything Will Be Alright (Futureman, VA: Garden Of Earthly Delights)
BROWNSVILLE STATION: Smokin' In The Boy's Room (Rhino, Smokin' In The Boy's Room)
—
RICHARD TURGEON: Higher (richardturgeon.bandcamp.com, single)
BUFFALO SPRINGFIELD: Burned (Rhino, Buffalo Springfield)
THE RAMONES: I Just Want To Have Something To Do (Rhino, Road To Ruin)
THE MUFFS: On My Own (Omnivore, No Holiday)
DEAN LANDEW: After Work (deanlandew.bandcamp.com)
THE STRANGLERS: 96 Tears (A & M, Peaches)
—
WILD KISSES: Feels So Fine (wildkisses.bandcamp.com, Wild Kisses)
THE DONNAS: Dancing With Myself (Bulletproof, VA: Mean Girls OST)
THE FLASHCUBES: She's Leaving (Northside, Bright Lights)
MARY LOU LORD: Right On 'Till Dawn (Rubric, Speeding Motorcycle)
THE KINKS: She's Got Everything (Sanctuary, The Ultimate Collection)
SWEET: Action (RCA, Action)
—
POP CO-OP: You Don't Love Me Anymore (Kool Kat Musik, VA: This Is Rock 'n' Roll Radio, Volume 4)
WRECKLESS ERIC & AMY RIGBY: Rebel Girl Rebel Girl (Southern Domestic, A Working Museum)
THE NEW MONKEES: One Of The Boys (unreleased)
THE SPONGETONES: Have You Ever Been Torn Apart? (Black Vinyl, Beat & Torn)
CAROLYNE MAS: Quote Goodbye Quote (Renaissance, Carolyne Mas)
THE MUFFS: Pollyanna (Omnivore, No Holiday)
FOOLS FACE: Nothing To Say (Talk, Tell America)
THE BEATLES: Revolution [U.K. mono mix] (Apple, single)
MR. ACKER BILK: Stranger On The Shore (Moochin' About, VA: The Greatest Instrumentals 1934-1962)