This Is Rock 'n' Roll Radio # 1006: THE COUNTDOWN!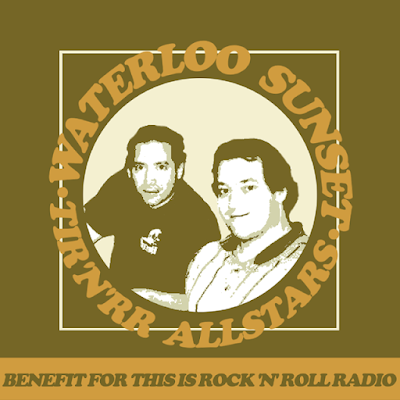 If This Is Rock 'n' Roll Radio with Dana & Carl will ever be remembered for anything, I hope it's for our dedication to one simple ideal, something we've said many times before: great records don't care what year it is.

That ideal certainly isn't unique to our show. Rodney Bingenheimer predates us, Mike Murray and Michael McCartney (among others) have been doing it for quite some time, Little Steven starting doing it a little after us, and there are dozens of wonderful radio shows that continue to embrace a love of rockin' pop music from more than just one era. In Syracuse, both Dave Frisina's Soulshine and The Wax Museum with Ronnie Dark manage to pull this off in commercial settings. But most commercial radio formats view this notion with horror, insisting that playlists must be either classic or contemporary, and never the twain shall meet. 

They are dead wrong.

I will keep insisting on this until I am no longer able to draw breath: Right now is always the best time ever to be a fan of pop music. You can keep listening to every old song you ever loved, and you can mix those proven fave raves with fresh discoveries. You don't need to worry about when a record was born. 2019 was the first time I heard a 1968 soul single called "Breakin' Down The Wall Of Heartache" by The Bandwagon, and I loved it immediately. It made our countdown this year, alongside a number of irresistible 2019 releases and a bunch of gems we've cherished for years, some for decades. Right now. 

Right now. 

The annual countdown show allows us to reflect on the glory of what we played the most often over the past year. Our intrepid pal Fritz Van Leaven keeps track of what we're doing–because Lord knows we don't have a clue–and programs a countdown for us. It's always terrific. How could it not be? Pop music is its own reward. And it doesn't care about the time.

Congratulations to all of our most-played artists and most-played tracks, to all of the other performers and songs we played once or twice or whatever, and to all of the stuff we hope to play in 2020. We salute The Monkees as our most-played artist in 2019, and we celebrate our friends TIR'N'RR Allstars for their wonderful gift to us: "Waterloo Sunset," our most-played track this year. We thank all of you for listening, and we hope you'll remember us for that one thing: yesterday and today. Right now. Always. Right now. This is what rock 'n' roll radio sounded like on Sunday nights in Syracuse this year.

This Is Rock 'n' Roll Radio with Dana & Carl, Sunday nights from 9 to Midnight Eastern, on the air in Syracuse on SPARK! WSPJ-LP 103.3 and 93.7 FM, and on the web at http://sparksyracuse.org/ TAX DEDUCTIBLE DONATIONS are always welcome.

(For those interested in a deeper dive into our back story, I have written a lengthy history of TIRnRR, which I invite you to read at my blog: BOPPIN' THE WHOLE FRIGGIN' PLANET (The History Of THIS IS ROCK 'N' ROLL RADIO)
Fans of pop music will want to check out Waterloo Sunset–Benefit For This Is Rock 'n' Roll Radio, a new pop compilation benefiting SPARK! Syracuse, the home of This Is Rock 'n' Roll Radio with Dana & Carl. TIR'N'RR Allstars–Steve Stoeckel, Bruce Gordon, Joel Tinnel, Stacy Carson, Eytan Mirsky, Teresa Cowles, Dan Pavelich, Irene Peña, Keith Klingensmith, and Rich Firestone–offer a fantastic new version of The Kinks' classic "Waterloo Sunset." That's supplemented by eleven more tracks (plus a hidden bonus track), including previously-unreleased gems from The Click Beetles, Eytan Mirsky, Pop Co-Op, Irene Peña, Michael Slawter (covering The Posies), and The Anderson Council (covering XTC), a new remix of "Infinite Soul" by The Grip Weeds, and familiar TIRnRR Fave Raves by Vegas With Randolph, Gretchen's Wheel, The Armoires, and Pacific Soul Ltd. Oh, and that mystery bonus track? It's exquisite. You need this. You're buying the digital download from Futureman and/or the CD from Kool Kat Musik.

(AND you can still get our previous compilation This Is Rock 'n' Roll Radio, Volume 4 on CD from Kool Kat Musik and as a download from Futureman. We live in a world of plenty!)

PS: SEND MONEY!!!! We need tech upgrades like Elvis needs boats. Spark Syracuse is supported by listeners like you. Tax-deductible donations are welcome at 
http://sparksyracuse.org/support/
You can follow Carl's daily blog Boppin' (Like The Hip Folks Do) at 
https://carlcafarelli.blogspot.com/

Hey, Carl's writin' a book! The Greatest Record Ever Made! (Volume 1) will contain 100 essays (and then some) about 100 songs (plus bonus tracks!), each one of 'em THE greatest record ever made. An infinite number of songs can each be the greatest record ever made, as long as they take turns. Updated initial information can be seen here.
TIRnRR # 1006: 12/29/19 THE COUNTDOWN!

TIRnRR's 6 Most-Played Artists in 2019
# 6 THE COWSILLS: Love American Style (Polydor, 20th Century Masters) 
# 5 THE MUFFS: On And On (Reprise, Blonder And Blonder) 
# 4 THE RAMONES: Now I Wanna Sniff Some Glue (Rhino, Ramones) 
# 3 THE KINKS: You Really Got Me (Sanctuary, The Ultimate Collection) 
# 2 THE BEATLES: I'll Cry Instead (Apple, A Hard Day's Night) 
# 1 THE MONKEES: For Pete's Sake (Rhino, Headquarters) 
—
TIRnRR's 48 Most-Played Tracks In 2019

# 48 STAG: Pied Piper Blues (themightystag.com, Electric Mistress)
# 47 THE BANDWAGON: Breakin' Down The Walls Of Heartache (Kent, Breakin' Down The Walls Of Heartache)
# 46 MONDELLO: Sherilyn (mondello.bandcamp.com, Hello, All You Happy People)
# 45 IN DEED: What Once Was (Big Stir, Everest)
# 44 PAUL REVERE & THE RAIDERS: Good Thing (Columbia, VA: Once Upon A Time In…Hollywood OST)
# 43 GRAHAM PARKER & THE RUMOUR: Local Girls (Spectrum, The Very Best Of Graham Parker & the Rumour)
# 42 SLY AND THE FAMILY STONE: Everybody Is A Star (Epic, Greatest Hits)
# 41 ROBB BENSON: The Tree Mind (Roam, The Tree Mind)
—
# 40 THE NERVES: Walking Out On Love (Alive, One Way Ticket)
# 39 THE ENGLISH BEAT: Mirror In The Bathroom (Shout Factory, Keep The Beat)
# 38 THE BANGLES: The Real World (Omnivore, Ladies And Gentlemen…The Bangles!)
# 37 THE BEVIS FROND: He'd Be A Diamond (Rubric, New River Head)
# 36 EDDIE & THE HOT RODS: Do Anything You Wanna Do (Captain Oi!, The Singles Collection)
# 35 THE ENGLISH BEAT: Save It For Later (IRS, Wha'ppen?)
# 34 THE WHO: I Can't Explain (MCA, My Generation)
# 33 THE KINKS: All Day And All Of The Night (Sanctuary, The Ultimate Collection)
—
# 32 THE NERVES: Hanging On The Telephone (Alive, One Way Ticket)
# 31 THE RAMONES: I Wanna Be Sedated (Rhino, Road To Ruin)
# 30 THE MUFFS: Saying Goodbye (Warner Brothers, The Muffs)
# 29 THE COWSILLS: She Said To Me (JAM, VA: This Is Rock 'n' Roll Radio, Volume 2)
# 28 NICK LOWE: Cruel To Be Kind (Yep Roc, Quiet Please…)
# 27 DAVID BROOKINGS & THE AVERAGE LOOKINGS: I Grow Up Fast (davidbrookings.net, Scorpio Monologue)
# 26 KAI DANZBERG: Nothing In My Head (Big Stir, Not Only Sunshine)
# 25 THE CLICK BEETLES: If Not Now Then When (Kool Kat Musik, VA: Waterloo Sunset–Benefit For This Is Rock 'n' Roll Radio)
—
# 24 IRENE PEÑA: Own Sweet Time (Futureman, VA: Waterloo Sunset–Benefit For This Is Rock 'n' Roll Radio)
# 23 SCREEN TEST: End Of The Line (single)
# 22 TOM PETTY & THE HEARTBREAKERS: American Girl (MCA, Anthology)
# 21 MARY LOU LORD: Right On 'Till Dawn (Rubric, Speeding Motorcycle)
# 20 THE MONKEES: Me & Magdalena [Version 2] (Rhino, Good Times! [digital edition])
# 19 THE KINKS: Waterloo Sunset (Sanctuary, The Ultimate Collection)
# 18 THE WAG: Coat Of Arms (thewagband.com, We Carry On)
# 17 THE ARMOIRES: Appalachukrania (Big Stir, Zibaldone)
—
# 16 DEAN LANDEW: Dance All Night (deanlandew.bandcamp.com, Dean Landew 2019)
# 15 ARETHA FRANKLIN: I Say A Little Prayer (Atlantic, The Atlantic Singles Collection 1967-1970)
# 14 EYTAN MIRSKY: Lingerie Pillow Fight (M-Squared, If Not Now, Later)
# 13 BUCK OWENS & HIS BUCKAROOS: Tall Dark Stranger (Rhino, 21 # 1 Hits)
# 12 HINDU LOVE GODS: Raspberry Beret (Rhino, WARREN ZEVON: Genius)
# 11 THE GREAT SOCIETY: Someone To Love (Sundazed, Born To Be Burned)
—
# 10 CLOCKWORK FLOWERS: Luminous Spinning Discs (theclockworkflowers.com, Colours Vol. 4: Green)
# 9 WARREN ZEVON: Poor Poor Pitiful Me (Rhino, Genius)
# 8 THE BROTHERS STEVE: We Got The Hits (thebrotherssteve.com, # 1)
# 7 T BONE BURNETT: Jellico Coal Man (Columbia, Johnny Cash: Forever Words)
# 6 ANNY CELSI: Sideways Rain (Ragazza, Kaleidoscope Heart: 12 Golden Hits)
# 5 THE O'JAYS: Put Your Hands Together (Epic, Love Train)
# 4 HARMONIC DIRT: Maybe (harmonicdirt.com, Anthracite)
# 3 BIG STAR: September Gurls (Ardent, # 1 Record/Radio City)
# 2 JIM BASNIGHT: Best Lover In The World (Precedent, Not Changing)
# 1 TIR'N'RR ALLSTARS: Waterloo Sunset (Kool Kat Musik [CD] or Futureman [download], VA: Waterloo Sunset–Benefit For This Is Rock 'n' Roll Radio)
—
THE NUTLEY BRASS: I Wanna Be Sedated (Sanctuary, Ramones Songbook)