This Is Rock 'n' Roll Radio # 1004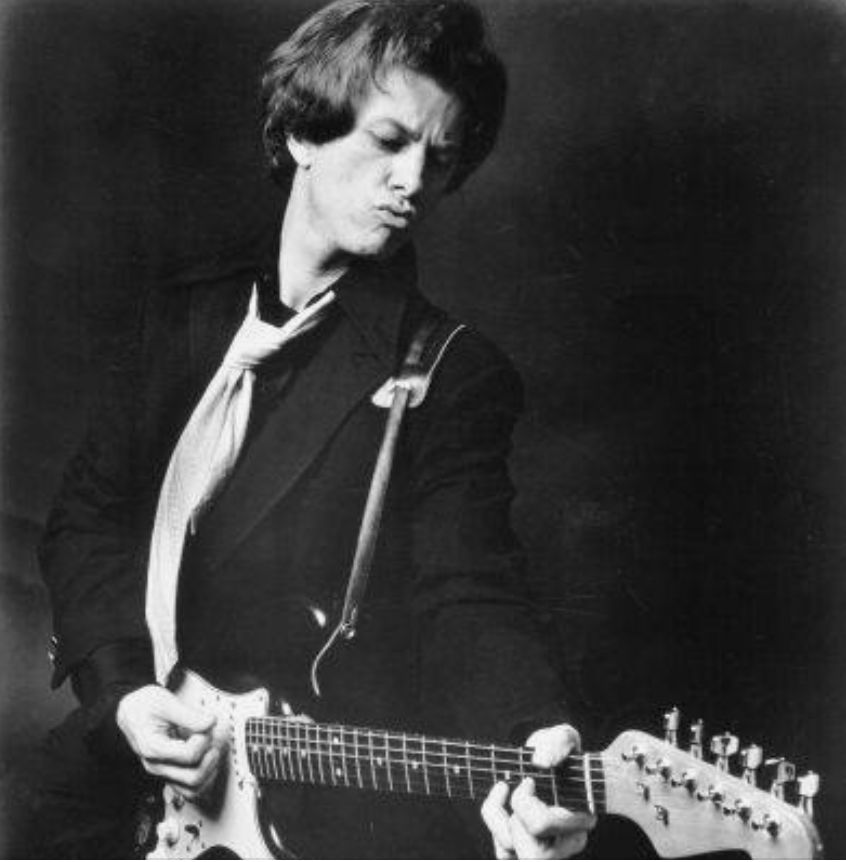 The late Roy Loney was an underground legend. Yes, the term seems an oxymoron, but it's precise and true when referring to an artist who touched the lives of so many without ever raising a blip on the radar of mass appeal. To us–the pop fans, the believers with hearts on wrinkled sleeves and fists in uncertain air–Roy Loney was a superstar. 

Loney was best known as a founding member and original lead singer of The Flamin Groovies, one of This Is Rock 'n' Roll Radio's all-time Fave Rave groups. The Loney-fronted incarnation of the Groovies recorded some stone classic material, and it's been said that Keith Richards of The Rolling Stones preferred the Flamin Groovies album Teenage Head to his own group's Sticky Fingers. 

True story or myth? Even if it's just a baseless fable, fabricated from breathless hype and fanciful daydreams, it's…well, it's plausible. It really is. Teenage Head is a hell of an album. The Flamin Groovies were a hell of a band.

After Loney split from the Groovies in the early '70s, he left the music biz for a bit and eventually returned with a new group, Roy Loney & the Phantom Movers. The Groovies soldiered on with founding members Cyril Jordan, George Alexander, and Danny Mihm, plus new lead singer Chris Wilson and guitarist James Ferrell. The second incarnation of The Flamin' Groovies became known as power pop crusaders, Beatles to the earlier Groovies' Stones…but they still recorded a ferocious Loney-Jordan rocker called "Slow Death." "Slow Death" is one of the defining tracks of '70s rock 'n' roll, no matter how few the number of people who heard it and fell under its thrall. An underground legend. This week, This Is Rock 'n' Roll Radio mourns the passing of Roy Loney.

We supplemented our celebration of Roy Loney with new music from Anton Barbeau, new holiday music from The Bradburys, Jamie Hoover, and The JAC, and a continued dedication to the quixotic cause of underground legends. Steppin' around. Out after dark. Contents under pressure. Panic to a manic degree. It's a slow death. We fight against its grip with every record we play.

Groovy.

NEXT WEEK: The 21st Annual This Is Rock 'n' Roll Radio Christmas Show! And IN TWO WEEKS: THE COUNTDOWN!! And this is what rock 'n' roll radio sounded like on a Sunday night in Syracuse this week. Godspeed, Roy Loney.
This Is Rock 'n' Roll Radio with Dana & Carl, Sunday nights from 9 to Midnight Eastern, on the air in Syracuse on SPARK! WSPJ-LP 103.3 and 93.7 FM, and on the web at http://sparksyracuse.org/ TAX DEDUCTIBLE DONATIONS are always welcome.

(For those interested in a deeper dive into our back story, I have written a lengthy history of TIRnRR, which I invite you to read at my blog: BOPPIN' THE WHOLE FRIGGIN' PLANET (The History Of THIS IS ROCK 'N' ROLL RADIO)
Fans of pop music will want to check out Waterloo Sunset–Benefit For This Is Rock 'n' Roll Radio, a new pop compilation benefiting SPARK! Syracuse, the home of This Is Rock 'n' Roll Radio with Dana & Carl. TIR'N'RR Allstars–Steve Stoeckel, Bruce Gordon, Joel Tinnel, Stacy Carson, Eytan Mirsky, Teresa Cowles, Dan Pavelich, Irene Peña, Keith Klingensmith, and Rich Firestone–offer a fantastic new version of The Kinks' classic "Waterloo Sunset." That's supplemented by eleven more tracks (plus a hidden bonus track), including previously-unreleased gems from The Click Beetles, Eytan Mirsky, Pop Co-Op, Irene Peña, Michael Slawter (covering The Posies), and The Anderson Council (covering XTC), a new remix of "Infinite Soul" by The Grip Weeds, and familiar TIRnRR Fave Raves by Vegas With Randolph, Gretchen's Wheel, The Armoires, and Pacific Soul Ltd. Oh, and that mystery bonus track? It's exquisite. You need this. You're buying the digital download from Futureman and/or the CD from Kool Kat Musik.

(AND you can still get our previous compilation This Is Rock 'n' Roll Radio, Volume 4 on CD from Kool Kat Musik and as a download from Futureman. We live in a world of plenty!)

PS: SEND MONEY!!!! We need tech upgrades like Elvis needs boats. Spark Syracuse is supported by listeners like you. Tax-deductible donations are welcome at 
http://sparksyracuse.org/support/
You can follow Carl's daily blog Boppin' (Like The Hip Folks Do) at 
https://carlcafarelli.blogspot.com/

Hey, Carl's writin' a book! The Greatest Record Ever Made! (Volume 1) will contain 100 essays (and then some) about 100 songs (plus bonus tracks!), each one of 'em THE greatest record ever made. An infinite number of songs can each be the greatest record ever made, as long as they take turns. Updated initial information can be seen here.
TIRnRR # 1004: 12/15/19
This Is Rock 'n' Roll Radio FRESH SPINS! (tracks we think we ain't played before) are listed in bold

THE RAMONES: Do You Remember Rock 'n' Roll Radio? (Rhino, End Of The Century)
—
ROY LONEY & THE PHANTOM MOVERS: Steppin' Around (Norton, The Scientific Bombs Away!)
ROBERT GORDON: Red Hot (Culture Factory, Robert Gordon With Link Wray)
ANNY CELSI: Sideways Rain (Ragazza, Kaleidoscope Heart: 12 Golden Hits)
NRBQ: Me And The Boys (Rounder, Tiddlywinks)
TIR'N'RR ALLSTARS: Waterloo Sunset (Kool Kat Musik, VA: Waterloo Sunset: Benefit For This Is Rock 'n' Roll Radio)
BRINSLEY SCHWARZ: Why Do We Hurt The One We Love? (Parlophone, Please Don't Ever Change)
—
ANTON BARBEAU: Jingle Jangle (Big Stir, Kenny Vs. Thrust)
BASH & POP: Anything Could Happen (Fat Possum, Anything Could Happen)
THE BANDWAGON: Breakin' Down The Walls Of Heartache (Kent, Breakin' Down The Walls Of Heartache)
HUSKER DU: Don't Want To Know If You Are Lonely (Warner Brothers, Candy Apple Grey)
ROY LONEY & THE PHANTOM MOVERS: Born To Be Your Fool (Solid Smoke, Out After Dark)
RAY PAUL: Pretty Flamingo (Permanent Press, Whimsicality)
—
THE BRADBURYS: Everywhere It's Christmastime, Vandalay, single)
THE ENGLISH BEAT: Mirror In The Bathroom (IRS, What Is Beat?)
TOOTS & THE MAYTALS: 54-46 Was My Number (Music Club, The Very Best Of Toots & the Maytals)
MARY LOU LORD: Right On 'Till Dawn (Rubric, Speeding Motorcycle)
ROY LONEY & THE PHANTOM MOVERS: Hundred Miles An Hour (Solid Smoke, Phantom Tracks)
THE NERVES: Hanging On The Telephone (Alive, One Way Ticket)
—
THE FLAMIN' GROOVIES: Slow Death (Grown Up Wrong!, Bucket Of Brains)
THE STOOGES: I Wanna Be Your Dog (Elektra, The Stooges)
THE GO-GO'S: Vacation (Edsel, Vacation)
HARMONIC DIRT: Maybe (n/a, Anthracite)
ROY LONEY & THE PHANTOM MOVERS: Sorry (War Bride, Contents Under Pressure)
THE REPLACEMENTS: I Will Dare (Sire, For Sale)
—
JAMIE HOOVER: Sleigh Bells (Vandalay, Happy Hooverdays)
THE EQUALS: Police On My Back (Sequel, Black Skin Blue Eyed Boys)
THE JAC: Broken Gnome (joealgeri.bandcamp.com, single)
MONDELLO: Sherilyn (mondello.bandcamp.com, Hello, All You Happy People)
ROY LONEY & THE PHANTOM MOVERS: San Francisco Girls (Solid Smoke, Out After Dark)
CREEDENCE CLEARWATER REVIVAL: Commotion (Fantasy, Live At Woodstock)
—
ROY LONEY & THE PHANTOM MOVERS: Dead Ringer (War Bride, Contents Under Pressure)
THE MUFFS: Sick Of This Old World (Omnivore, No Holiday)
THE BEATLES: No Reply (Capitol, Beatles '65)
JOHNATHAN PUSHKAR: Hackensack (Jem, Straighten Up)
DEAN LANDEW: Dance All Night (deanlandew.bandcamp.com, Dean Landew 2019)
WARREN ZEVON: Poor Poor Pitiful Me (Rhino, Genius)
—
THE ARMOIRES: Appalachukrainia (Big Stir, Zibaldone)
CAPT. SKID MARKS: Chick-A-Boom (Grapefruit, VA: I Said, She Said, Ah Cid)
ROY LONEY: Panic To A Manic Degree (War Bride, Rock And Roll Dance Party With…Roy Loney)
NICK LOWE: Cruel To Be Kind (Yep Roc, Quiet Please…)
ROY LONEY & THE PHANTOM MOVERS: I Love It (Solid Smoke, Out After Dark)
THE TROGGS: 66-5-4-3-2-1 (Fontana, Archeology)
—
THE FLAMIN' GROOVIES: Second Cousin (Buddha, Flamingo)
SWEET: The Ballroom Blitz (RCA, Action)
ROY LONEY & THE PHANTOM MOVERS: She Run Away (Solid Smoke, Out After Dark)
GRAHAM PARKER & THE RUMOUR: Local Girls (Spectrum, The Very Best Of Graham Parker & the Rumour)
THE FLAMIN' GROOVIES: Teenage Head (Buddha, Teenage Head)
X-RAY SPEX: Oh Bondage! Up Yours! (Sanctuary, Germfree Adolescents)
THE FLAMIN' GROOVIES: Laurie Did It (Sundazed, Supersnazz)
THE ROLLING STONES: Get Off Of My Cloud (London, Big Hit [High Tides And Green Grass])
THE FLAMIN' GROOVIES: Have You Seen My Baby? (Buddha, Teenage Head)
THE KINKS: David Watts (Sanctuary, The Ultimate Collection)
THE FLAMIN' GROOVIES: Going Out Theme [version 1] (Buddha, Flamingo)