This Is Rock 'n' Roll Radio # 1000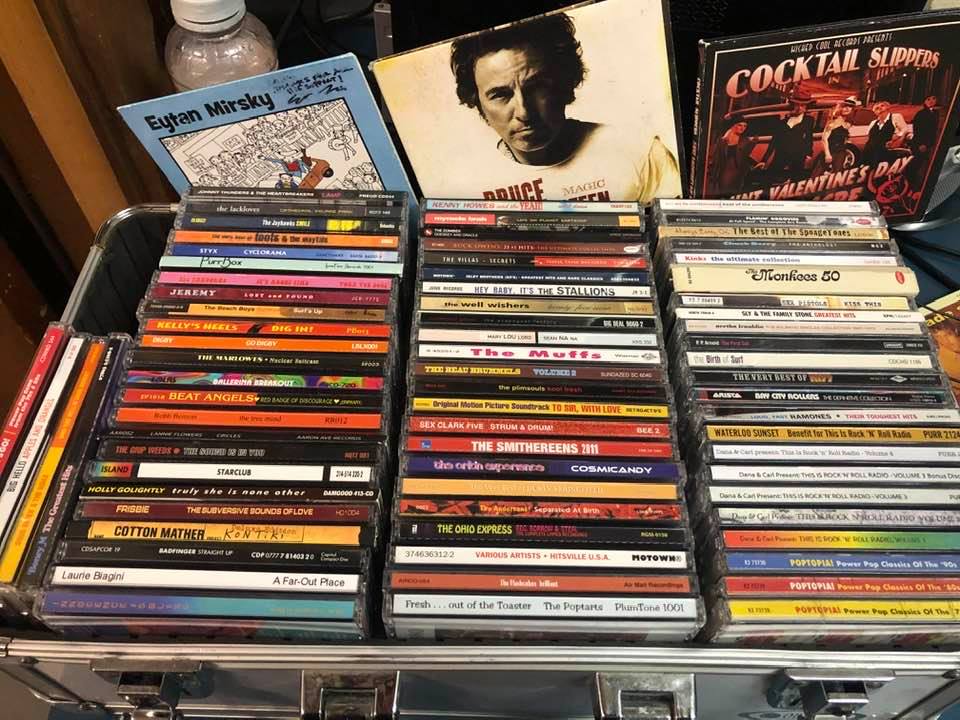 1000 shows. 1000 SHOWS!

People keep telling us we've accomplished something. We're grateful for that, but I have to wonder how much accomplishment we can really claim for something as simple as this: show up on Sunday night, play some records. However we may choose to embellish whatever the hell it is that we do. it's really neither more nor less than that: Show up. Play records.
And I don't say that to minimize the fancy footwork we may have used to dance around the obstacles in our uneven path, nor to deny our stubborn determination in maintaining a little mutant radio show for 1000 shows, in just keeping at it for nearly 21 years. It is an accomplishment; it's not quite on the level of creating a masterpiece, and its benefit to society may be debatable, but it's something we've done, something we've loved, something that has somehow managed to touch the lives of others. 
We could not have done this alone. There are too many people for us to try to thank, from our colleagues (past and present) at Syracuse Community Radio to the artists and labels who've supplied us with fresh sounds to play, the many generous people who've donated to our quixotic and chaotic cause, the labels (JAM Recordings, Kool Kat Musik, and Futureman Records) who've released our TIRnRR compilations, the writers and pundits who've said so many nice things about us over the years, the listeners, the fans…! I can't wrap my mind around it. 1000 shows? 21 years?! Man, you guys are all just the best. The best. Nor could I ask for a better co-host than Dana, even as we continue to squabble over every single thing. That specific dynamic is This Is Rock 'n' Roll Radio; either one of us could do a pretty damned good solo show, but in the long run, neither The Carl Show nor The Dana Show would be This Is Rock 'n' Roll Radio.
We opened this 1000th show with a specific statement of intent: For this celebration of our 1000th show, we're going to play a number of songs that we have played before. We'll play some hits, and we'll play some deep tracks, maybe some things we've played recently, maybe some things we haven't played in a while. You'll hear stuff you know, but if we play something you don't know, turn it up anyway—that's how you discover even more songs to love. 
That's our ongoing credo, and I think we demonstrated it in our 1000th show. I think it's evident in each of our shows. There were so, so many more artists we wanted to include in this week's celebration–Laurie Biagini, Frisbie, The Shaggs, Cotton Mather, The Bay City Rollers, The Grip Weeds, The Isley Brothers, P. P. Arnold, Beat Angels, Kelly's Heels, The Moberlys, The Flamin' Groovies, The Stone Poneys, Ray Paul, Irene Peña, The Villas, Holly Golightly, Toots & the Maytals, The Gants, Badfinger, Big Hello, One Like Son, Little Richard, The Oohs, Robb Benson, The Easybeats, Styx, Guadalcanal Diary, The Sex Pistols, Squeeze, The Hollies, Shoes, The Rare Breed, The Penetrators, KISS, Pacific Soul Ltd., The Lolas, The Marlowes, The Portugal Japan, and dozens and dozens of others–that we weep at our omissions. We had a Dave Clark Five LP track ready to go, and I can't believe we didn't get around to The Beatles.
But it's okay. There's always next week. # 1001. 1002. 1003. Sunday night. Show up. Play records. We thank you all so much for giving us this unique opportunity to accomplish whatever we can. This is what rock 'n' roll radio sounded like on a Sunday night in Syracuse this week.
(For those interested in a deeper dive into our back story, I have written a lengthy history of TIRnRR, which I invite you to read at my blog: BOPPIN' THE WHOLE FRIGGIN' PLANET (The History Of THIS IS ROCK 'N' ROLL RADIO)
This Is Rock 'n' Roll Radio with Dana & Carl, Sunday nights from 9 to Midnight Eastern, on the air in Syracuse on SPARK! WSPJ-LP 103.3 and 93.7 FM, and on the web at http://sparksyracuse.org/ TAX DEDUCTIBLE DONATIONS are always welcome.
Fans of pop music will want to check out Waterloo Sunset–Benefit For This Is Rock 'n' Roll Radio, a new pop compilation benefiting SPARK! Syracuse, the home of This Is Rock 'n' Roll Radio with Dana & Carl. TIR'N'RR Allstars–Steve Stoeckel, Bruce Gordon, Joel Tinnel, Stacy Carson, Eytan Mirsky, Teresa Cowles, Dan Pavelich, Irene Peña, Keith Klingensmith, and Rich Firestone–offer a fantastic new version of The Kinks' classic "Waterloo Sunset." That's supplemented by eleven more tracks (plus a hidden bonus track), including previously-unreleased gems from The Click Beetles, Eytan Mirsky, Pop Co-Op, Irene Peña, Michael Slawter (covering The Posies), and The Anderson Council (covering XTC), a new remix of "Infinite Soul" by The Grip Weeds, and familiar TIRnRR Fave Raves by Vegas With Randolph, Gretchen's Wheel, The Armoires, and Pacific Soul Ltd. Oh, and that mystery bonus track? It's exquisite. You need this. You're buying the digital download from Futureman and/or the CD from Kool Kat Musik.

(AND you can still get our previous compilation This Is Rock 'n' Roll Radio, Volume 4 on CD from Kool Kat Musik and as a download from Futureman. We live in a world of plenty!)

PS: SEND MONEY!!!! We need tech upgrades like Elvis needs boats. Spark Syracuse is supported by listeners like you. Tax-deductible donations are welcome at 
http://sparksyracuse.org/support/
You can follow Carl's daily blog Boppin' (Like The Hip Folks Do) at 
https://carlcafarelli.blogspot.com/

Hey, Carl's writin' a book! The Greatest Record Ever Made! (Volume 1) will contain 100 essays (and then some) about 100 songs (plus bonus tracks!), each one of 'em THE greatest record ever made. An infinite number of songs can each be the greatest record ever made, as long as they take turns. Updated initial information can be seen here.
TIRnRR # 1000: 11/10/19

THE RAMONES: Do You Remember Rock 'n' Roll Radio? (Rhino, End Of The Century)
—
THE RAMONES: Blitzkrieg Bop (Rhino, Ramones)
ELVIS COSTELLO & THE ATTRACTIONS: Radio, Radio (Rhino, The Very Best Of Elvis Costello)
THE FLASHCUBES: When We Close Our Eyes (Northside, Brilliant)
GREGG YETI & THE BEST LIGHTS: My Narcoleptic Sara (Eskimo Kiss, Heart Palpitations Of The Rich And Famous)
SMOKEY ROBINSON & THE MIRACLES: The Tears Of A Clown (Motown, VA: Hitsville USA)
AL GREEN: I Want To Hold Your Hand (The Right Stuff, Green Is Blues)
—
THE OHIO EXPRESS: Had To Be Me (Real Gone Music, Beg, Borrow & Steal)
THE TREND: Peer Pressure (Air Mail, Batman Live At Budokan)
THE ANDERSONS!: From The Get-Go (Lime Vinyl, Separated At Birth)
SUGAR: If I Can't Change Your Mind (Rykodisc, Copper Blue)
DUSTY SPRINGFIELD: I Only Want To Be With You (Mercury, The Very Best Of Dusty Springfield)
TRACEY ULLMAN: Breakaway (Salvo, Move Over Darling)
—
THE FINKERS: Last Thing On My Mind (JAM, VA: This Is Rock 'n' Roll Radio, Volume 1)
POP CO-OP: If Everything Was Easy (Silent Bugler, Four State Solution)
THE SPONGETONES: (My Girl) Maryanne (Loaded Goat, Always Carry On)
MR. ENCRYPTO: The Last Time [a cappella] (unreleased expanded mix)
THE SMITHEREENS: Sorry (Entertainment One, Smithereens 2011)
THE DROWNERS: While My Guitar Gently Weeps (Jealousy, VA: He Was Fab)
—
THE PLIMSOULS: Playing With Jack (Shaky City, Kool Trash)
THE CURE: Friday I'm In Love (Elektra, Greatest Hits)
DEAN LANDEW: After Work (deanlandew.bandcamp.com)
HARMONIC DIRT: Maybe (harmonicdirt.com, Anthracite)
THE BEAU BRUMMELS: Don't Talk To Strangers (Sundazed, Volume 2)
THE GREAT SOCIETY: Someone To Love (Sundazed, Born To Be Burned)
THE ORION EXPERIENCE: Adrianne (Sweet!, Cosmicandy)
THE MUFFS: Oh Nina (Reprise, Blonder And Blonder)
—
CIRCE LINK & CHRISTIAN NESMITH: I'm On Your Side (Kool Kat Musik, VA: This Is Rock 'n' Roll Radio, Volume 4)
ALEX CHILTON: Free Again (Omnivore, Free Again)
CHUCK BERRY: Promised Land (MCA, The Anthology)
LAVA HAY: Baby (Polydor, Lava Hay)
LULU: To Sir, With Love [museum outings montage] (Retroactive, VA: To Sir, With Love OST)
—
SEX CLARK FIVE: Can't Shake Loose (Beehive Rebellion, Strum & Drum!)
MARY LOU LORD: Right On 'Till Dawn (Rubric, Speeding Motorcycle)
COCKEYED GHOST: Big Big Yeah (Big Deal, The Scapegoat Factory)
TOM PETTY & THE HEARTBREAKERS: American Girl (MCA, Greatest Hits)
THE WELL WISHERS: See For The First Time (Not Lame, Twenty-Four Seven)
HELLO HELEN: Fall's Far Away (JAM, VA: This Is Rock 'n' Roll Radio, Volume 1)
—
TIR'N'RR ALLSTARS: Waterloo Sunset (Futureman, VA: Waterloo Sunset–Benefit For This Is Rock 'n' Roll Radio)
MAURA: Summer Coulda Lasted Forever [radio edit]
ANNY CELSI: Empty Hangers (Kool Kat Musik, VA: This Is Rock 'n' Roll Radio, Volume 3)
THREE DAYS AWAKE: Chills (21 Centimeter Line, Thursday Weld)
THE COWSILLS: She Said To Me (JAM, VA: This Is Rock 'n' Roll Radio, Volume 2)
WRECKLESS ERIC & AMY RIGBY: Do You Remember That (Southern Domestic, A Working Museum)
EYTAN MIRSKY: This Year's Gonna Be Our Year (M-Squared, Year Of The Mouse)
THE BEVIS FROND: He'd Be A Diamond (Rubric, New River Head)
THE MONKEES: Love Is Only Sleeping (Rhino, Pisces, Aquarius, Capricorn & Jones, Ltd.)
MANNIX: Highway Lines (Kool Kat Musik, Volume 3)
1.4.5.: Your Own World (Kool Kat Musik, VA: This Is Rock 'n' Roll Radio, Volume 4)
SCREEN TEST: Sound Of The Radio (JAM, VA: This Is Rock 'n' Roll Radio, Volume 2)
THE POPTARTS: I Won't Let You Let Me Go (PlumTone, Fresh…Out Of The Toaster)
THE KINKS: All Day And All Of The Night (Sanctuary, The Ultimate Collection)
THE STALLIONS: Why (Junk, Hey Baby, It's The Stallions)
BIG STAR: September Gurls (Ardent, # 1 Record/Radio City)
THE NUTLEY BRASS: I Wanna Be Sedated (Sanctuary, The Ramones Songbook)