This Is Rock 'n' Roll Radio # 997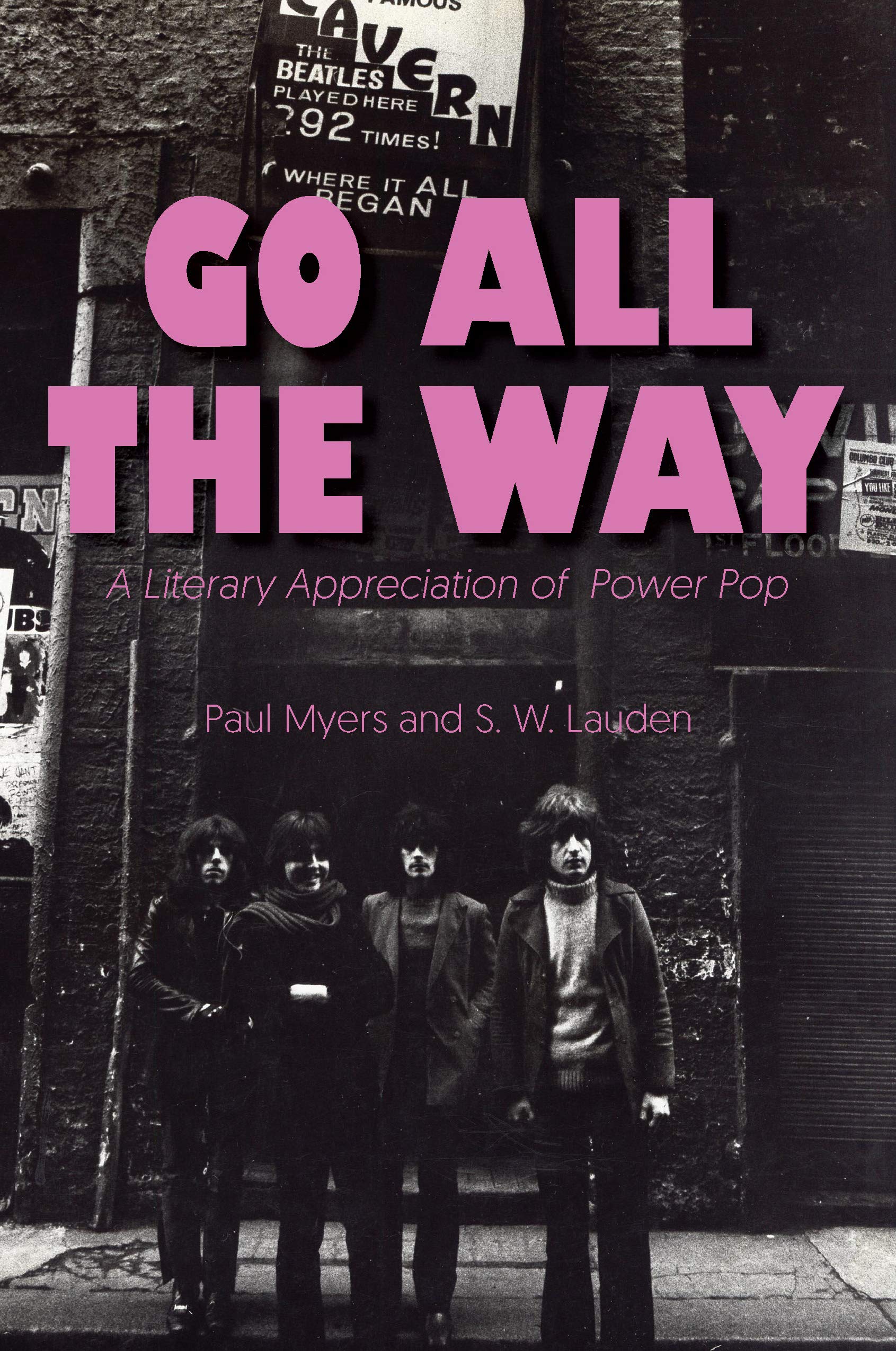 Hmmm. New music from The Muffs, Alice Cooper, The Successful Failures, The GoAllTheWays, The BOTP Band, Sex Clark Five, and ANC4, all mixed with an invigmoratin' blend of fave raves from yesterday, today, and the week after next? Yeah, that's us. From Merle Haggard to Duran Duran, it's all pop music, and pop music is what we do.
(Hey, speaking of pop music! It's worth noting that the GoAllTheWays single is connected to the cool new book Go All The Way: A Literary Appreciation Of Power Pop. The book's edited by Paul Myers and S. W. Lauden, and it includes essays and commentary by such luminaries as John Borack, Ken Sharp, David Bash, Jeff Whalen, Tom Petty, Scott Miller, and MICHAEL CHABON!, among others. You can get it from Rare Bird Books, and you oughtta. I can't wait to read it.)

NEXT WEEK: Our Featured Performers will be JOHNNY JOHNSON & THE BANDWAGON! You don't know The Bandwagon? You will! IN THREE WEEKS: At last! It's THIS IS ROCK 'N' ROLL RADIO # 1000! And this is what rock 'n' roll radio sounded like on a Sunday night in Syracuse this week.
This Is Rock 'n' Roll Radio with Dana & Carl, Sunday nights from 9 to Midnight Eastern, on the air in Syracuse on SPARK! WSPJ-LP 103.3 and 93.7 FM, and on the web at http://sparksyracuse.org/
Fans of pop music will want to check out Waterloo Sunset–Benefit For This Is Rock 'n' Roll Radio, a new pop compilation benefiting SPARK! Syracuse, the home of This Is Rock 'n' Roll Radio with Dana & Carl. TIR'N'RR Allstars–Steve Stoeckel, Bruce Gordon, Joel Tinnel, Stacy Carson, Eytan Mirsky, Teresa Cowles, Dan Pavelich, Irene Peña, Keith Klingensmith, and Rich Firestone–offer a fantastic new version of The Kinks' classic "Waterloo Sunset." That's supplemented by eleven more tracks (plus a hidden bonus track), including previously-unreleased gems from The Click Beetles, Eytan Mirsky, Pop Co-Op, Irene Peña, Michael Slawter (covering The Posies), and The Anderson Council (covering XTC), a new remix of "Infinite Soul" by The Grip Weeds, and familiar TIRnRR Fave Raves by Vegas With Randolph, Gretchen's Wheel, The Armoires, and Pacific Soul Ltd. Oh, and that mystery bonus track? It's exquisite. You need this. You're buying the digital download from Futureman and/or the CD from Kool Kat Musik.

(AND you can still get our previous compilation This Is Rock 'n' Roll Radio, Volume 4 on CD from Kool Kat Musik and as a download from Futureman. We live in a world of plenty!)

PS: SEND MONEY!!!! We need tech upgrades like Elvis needs boats. Spark Syracuse is supported by listeners like you. Tax-deductible donations are welcome at 
http://sparksyracuse.org/support/
You can follow Carl's daily blog Boppin' (Like The Hip Folks Do) at 
https://carlcafarelli.blogspot.com/

Get MORE Carl! Check out the fourth and latest issue of the mighty Big Stir magazine at bigstirrecords.com/magazine

Hey, Carl's writin' a book! The Greatest Record Ever Made! (Volume 1) will contain 100 essays (and then some) about 100 songs (plus bonus tracks!), each one of 'em THE greatest record ever made. An infinite number of songs can each be the greatest record ever made, as long as they take turns. Updated initial information can be seen here.
TIRnRR # 997: 10/20/19
This Is Rock 'n' Roll Radio FRESH SPINS! (tracks we think we ain't played before) are listed in bold
THE RAMONES: Do You Remember Rock 'n' Roll Radio? (Rhino, End Of The Century)
—
THE MUFFS: That's For Me (Omnivore, No Holiday)
THE MUFFS: On My Own (Omnivore, No Holiday)
SWEET: Action (RCA, Action)
MERLE HAGGARD: Mama Tried (Capitol, Hag)
IAN HUNTER: Cleveland Rocks (EMI, The Best Of Ian Hunter
THE RESTLESS: I Wanna Know (Mercury, The Restless)
MONDELLO: Sherilyn (www.mondello.bandcamp.com, Hello, All You Happy People)
—
THE BANDWAGON: Breakin' Down The Walls Of Heartache (Kent, Breakin' Down The Walls Of Heartache)
THE BEACH BOYS: I Can Hear Music (Capitol, Sounds Of Summer)
THE CRICKETS: T-Shirt (CBS, single)
JOHNATHAN PUSHKAR: Hackensack (Jem, Straighten Up)
THE COWSILLS: Love American Style (Cowchip, Captain Sad And His Ship Of Fools/II x II)
THE MONKEES: Me & Madgalena [Version 2] (Rhino, Good Times! [digital edition])
—
ALICE COOPER: East Side Story (Earmusic, Breadcrumbs)
GRAHAM PARKER & THE RUMOUR: Mercury Poisoning (Spectrum, The Very Best Of Graham Parker & the Rumour)
DAVID BROOKINGS & THE AVERAGE LOOKINGS: I Grow Up Fast (www.davidbrookings.net, Scorpio Monologue)
THE SUCCESSFUL FAILURES: Ruby Ruby (FDR, Saratoga)
RONNIE SPECTOR & THE E STREET BAND: Say Goodbye To Hollywood (Cleveland International, VA: Cleveland International Records 1977-1983)
WARREN ZEVON: Werewolves Of London (Rhino, Genius)
—
THE GOALLTHEWAYS: Silly Girl (Big Stir, single)
THE BROTHERS STEVE: We Got The Hits (n/a, # 1)
THE BOTP BAND: She's Got Everything (Futureman, Bop Of The Pops Vol. 4)
THE SECRETS: Radio Heart (Big Beat, VA: Come On Let's Go!)
TIR'N'RR ALLSTARS: Waterloo Sunset (Kool Kat Musik, VA: Waterloo Sunset–Benefit For This Is Rock 'n' Roll Radio)
IRENE PEÑA: Must've Been Good (Kool Kat Musik, VA: This Is Rock 'n' Roll Radio, Volume 4)
—
SEX CLARK FIVE: Feel Too Hard (Records To Russia, Orange Album)
THE PALEY BROTHERS & THE RAMONES: Come On Let's Go (Big Beat, VA: Come On Let's Go!)
SCREEN TEST: End Of The Line (single)
THE BENT BACKED TULIPS: Sweet Young Thing (eggBERT, Looking Through)
RONNIE DARK: Love Will Break Your Heart (3 Records, Sky)
DURAN DURAN: Girls On Film (Capitol, Greatest)
—
ANC4: No More Words (Kool Kat Musik, ANC4)
ANY TROUBLE: Trouble With Love (Cherry Red, VA: Harmony In My Head)
STAG: Pied Piper Blues (themightystag.com, Electric Mistress)
THE TURTLES: Outside Chance (Rhino, 20 Greatest Hits)
THE SPEEDWAYS: In Common With You (Gods Candy, Just Another Regular Summer)
ELVIS COSTELLO & THE ATTRACTIONS: You Belong To Me (Cherry Red, VA: Harmony In My Head)
—
THE MIDNIGHT CALLERS: State Of Me (themidnightcallers.com)
ROBERT JOHNSON: Kerri (Big Beat, VA: Come On Let's Go!)
THE CHERRY BLUESTORMS: Seven League Boots (Roundhouse, Whirligig!)
THE BEATLES: Do You Want To Know A Secret (Vee-Jay, single)
THE RAMONES: Swallow My Pride (Rhino, Leave Home)
THE SMALL FACES: What'cha Gonna Do About It? (Sanctuary, Ultimate Collection)
—
THE SEVEN & SIX: Dreaming With You (the7and6.com, EP # 1)
THE SHIVVERS: Teen Line (Big Beat, VA: Come On Let's Go!)
ANNY CELSI: Sideways Rain (Ragazza, Kaleidoscope Heart: 12 Golden Hits)
SALFORD JETS: She's Gonna Break Your Heart (Cherry Red, VA: Harmony In My Head)
THE BANGLES: The Real World (Omnivore, Ladies And Gentlemen…The Bangles!)
THE NASHVILLE RAMBLERS: The Trains (Big Beat, VA: Come On Let's Go!)
THE WELL WISHERS: Grace & Glory (thewellwishers.bandcamp.com, The Lost Soundtrack)
SQUIRE: Does Stephanie Know? (Cherry Red, VA: Harmony In My Head)
THE KINKS: All Day And All Of The Night (Sanctuary, The Ultimate Collection)
MARY LOU LORD: Right On 'Till Dawn (Rubric, Speeding Motorcycle)
1.4.5.: Rock 'n Roll Part 2 (Northside, 3 Chords & A Cloud Of Dust)