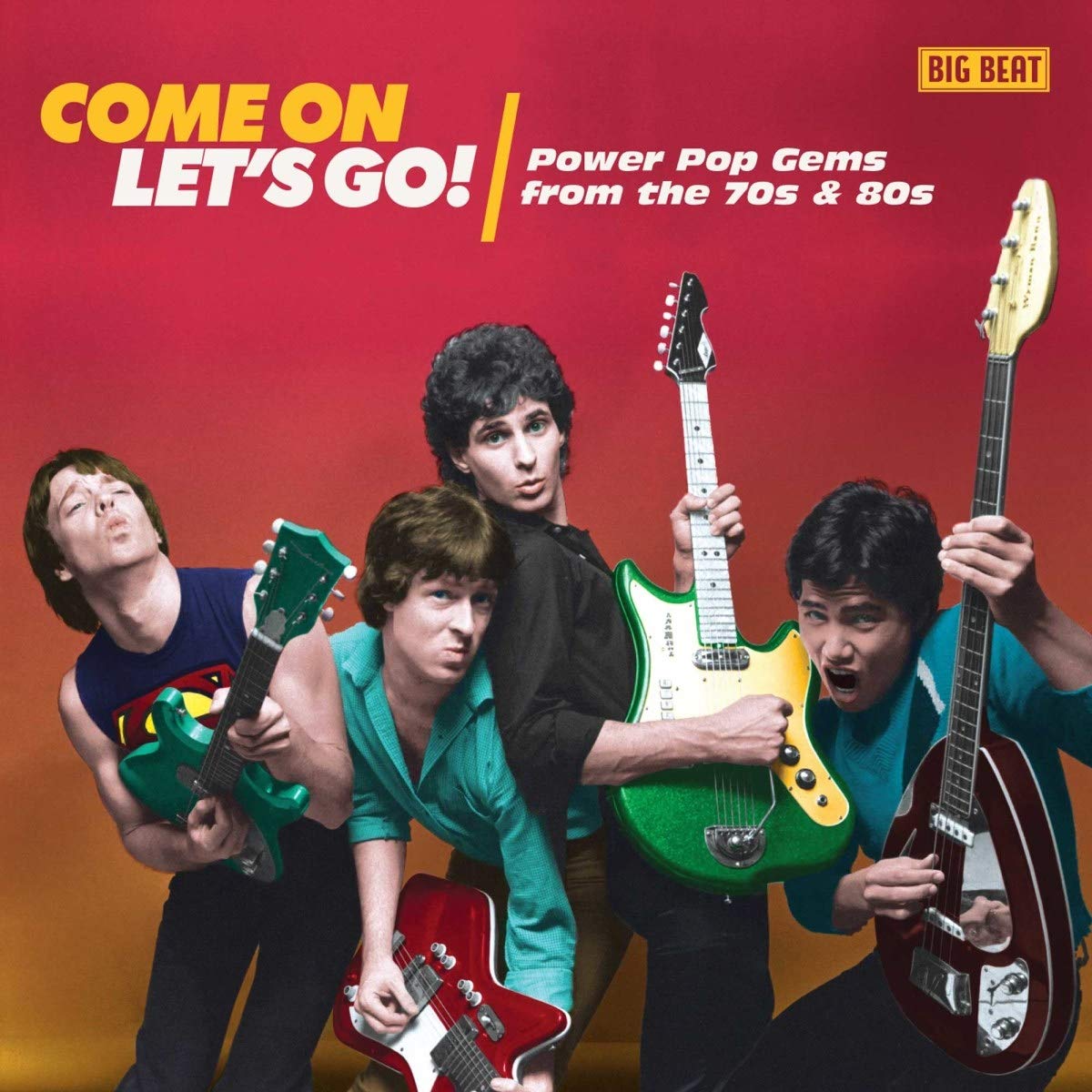 I played hooky from TIRnRR this week, which left Dana lotsa open space to slap together a stellar salute to classic power pop and its sublime periphery. He welcomed our pal (and yours!) Jeanne Chu to the studio, and Dana & Jeanne proceeded to slam their irresistible way through a celebration of all things that jangle and buzz. They opened with history's first power pop record, "Please Please Me" by The Beatles, worked their way to "September Gurls" by Big Star, and dazzled all 'n' sundry with the peerless, impeccable power of pop. "While some purists may say some of what I play is not power pop," says Dana, "for me all these songs invoke the same feelings of joy when I hear them." So say we all!
And with that, 996 episodes are now in the books. IN FOUR WEEKS: no, I wouldn't have bet on it when we started this thing over twenty years ago either. Nonetheless! Please join us on Sunday, November 10th, for our hyperactive observation of THIS IS ROCK 'N' ROLL RADIO # 1000! Join us for the Sundays before that, too. We got a pretty good thing goin' on here. And this is what rock 'n' roll radio sounded like on a Sunday night in Syracuse this week.
This Is Rock 'n' Roll Radio with Dana & Carl, Sunday nights from 9 to Midnight Eastern, on the air in Syracuse on SPARK! WSPJ-LP 103.3 and 93.7 FM, and on the web at http://sparksyracuse.org/
Fans of pop music will want to check out Waterloo Sunset–Benefit For This Is Rock 'n' Roll Radio, a new pop compilation benefiting SPARK! Syracuse, the home of This Is Rock 'n' Roll Radio with Dana & Carl. TIR'N'RR Allstars–Steve Stoeckel, Bruce Gordon, Joel Tinnel, Stacy Carson, Eytan Mirsky, Teresa Cowles, Dan Pavelich, Irene Peña, Keith Klingensmith, and Rich Firestone–offer a fantastic new version of The Kinks' classic "Waterloo Sunset." That's supplemented by eleven more tracks (plus a hidden bonus track), including previously-unreleased gems from The Click Beetles, Eytan Mirsky, Pop Co-Op, Irene Peña, Michael Slawter (covering The Posies), and The Anderson Council (covering XTC), a new remix of "Infinite Soul" by The Grip Weeds, and familiar TIRnRR Fave Raves by Vegas With Randolph, Gretchen's Wheel, The Armoires, and Pacific Soul Ltd. Oh, and that mystery bonus track? It's exquisite. You need this. You're buying the digital download from Futureman and/or the CD from Kool Kat Musik.

(AND you can still get our previous compilation This Is Rock 'n' Roll Radio, Volume 4 on CD from Kool Kat Musik and as a download from Futureman. We live in a world of plenty!)

PS: SEND MONEY!!!! We need tech upgrades like Elvis needs boats. Spark Syracuse is supported by listeners like you. Tax-deductible donations are welcome at 
http://sparksyracuse.org/support/
You can follow Carl's daily blog Boppin' (Like The Hip Folks Do) at 
https://carlcafarelli.blogspot.com/

Get MORE Carl! Check out the fourth and latest issue of the mighty Big Stir magazine at bigstirrecords.com/magazine

Hey, Carl's writin' a book! The Greatest Record Ever Made! (Volume 1) will contain 100 essays (and then some) about 100 songs (plus bonus tracks!), each one of 'em THE greatest record ever made. An infinite number of songs can each be the greatest record ever made, as long as they take turns. Updated initial information can be seen here.
TIRnRR # 996: 10/13/19: This Is Rock 'n' Roll Radio with Dana & Jeanne

THE RAMONES: Do You Remember Rock 'n' Roll Radio? (Rhino, End Of The Century)
—
POWER POP PLAYLIST
THE BEATLES: Please Please Me (Apple, 1962-1966)
THE WHO: I Can't Explain (MCA, My Generation)
THE KINKS: You Really Got Me (Sanctuary, The Ultimate Collection)
THE HOLLIES: Bus Stop (EMI, Clarke, Hicks & Nash Years)
THE BYRDS: Mr. Tambourine Man (Columbia, Mr. Tambourine Man)
THE MONKEES: A Little Bit Me, A Little Bit You (Rhino, 50)
—
THE RASPBERRIES: I Wanna Be With You (Big Beat, VA: Come On Let's Go!)
TOM PETTY & THE HEARTBREAKERS: American Girl (MCA, Greatest Hits)
THE ROMANTICS: What I Like About You (Big Beat, VA: Come On Let's Go!)
THE POLICE: Roxanne (A & M, Message In A Box)
THE RECORDS: Teenarama (Cherry Red, VA: Harmony In My Head)
EDDIE & THE HOT RODS: Do Anything You Wanna Do (Captain Oi!, The Singles Collection)
—
THE FLAMIN' GROOVIES: Shake Some Action [first version] (Big Beat, VA: Come On Let's Go!)
THE NERVES: Walking Out On Love (Alive, One Way Ticket)
THE MONOCHROME SET: He's Frank (Slight Return) (Cherry Red, VA: Harmony In My Head)
THE CHORDS: Maybe Tomorrow (Captain Mod, So Far Away)
DR. FEELGOOD: I Don't Mind (Parlophone, Down By The Jetty)
DIRTY LOOKS: Let Go (Big Beat, VA: Come On Let's Go!)
—
THE BUZZCOCKS: Harmony In My Head (Cherry Red, VA: Harmony In My Head)
THE PALEY BROTHERS AND THE RAMONES: Come On Let's Go (Big Beat, VA: Come On Let's Go!)
THE MOTORS: Dancing The Night Away (Rhino, VA: DIY: Teenage Kicks)
ELVIS COSTELLO & THE ATTRACTIONS: You Belong To Me (Rykodisc, This Year's Model)
THE TWEEDS: I Need That Record (Big Beat, VA: Come On Let's Go!)
THE FLASHCUBES: It's You Tonight (Northside, Bright Lights)
—
BADFINGER: No Matter What (Apple, No Dice)
TODD RUNDGREN: Couldn't I Just Tell You (Rhino, Something/Anything?)
SHOES: Tomorrow Night [first version] (Big Beat, VA: Come On Let's Go!)
THE DUKES OF STRATOSPHEAR: 25 O'Clock (Rhino, VA: Children Of Nuggets)
THE BEVIS FROND: He'd Be A Diamond (Rubric, New River Head)
THE LA'S: There She Goes (Rhino, VA: Children Of Nuggets)
—
THE NASHVILLE RAMBLERS: The Trains (Big Beat, VA: Come On Let's Go!)
LYRES: Help You Ann (Matador, On Fyre)
THE SPONGETONES: She Goes Out With Everybody (Loaded Goat, Always Carry On)
THE ONLY ONES: Another Girl, Another Planet (Rhino, VA: DIY: Teenage Kicks)
THE TIMES: Biff! Bang! Pow! (Cherry Red, VA: Harmony In My Head)
XTC: Life Begins At The Hop (Virgin, Upsy Daisy Assortment)
—
THE CHESTERFIELD KINGS: She Told Me Lies (Rhino, VA: Children Of Nuggets)
THE SMITHEREENS: Yesterday Girl (Capitol, Blown To Smithereens)
THE BANGLES: Real World (Omnivore, Ladies And Gentlemen…The Bangles!)
THE MIGHTY LEMONDROPS: Inside Out (Cherry Red, Roller Coaster)
THE GEORGIA SATELLITES: Battleship Chains (Elektra, Let It Rock)
R.E.M.: So. Central Rain (IRS, Reckoning)
—
SQUEEZE: Take Me I'm Yours (Cherry Red, VA: Harmony In My Head)
20/20: Nuclear Boy (Big Beat, VA: Come On Let's Go!)
THE GO-GO'S: Our Lips Are Sealed (IRS, Beauty And The Beat)
THE UNDERTONES: Teenage Kicks (Rykodisc, The Undertones)
THE dB'S: Amplifier (Rhino, Like This)
NICK LOWE: Born A Woman (Yep Roc, Jesus Of Cool)
THE PRETENDERS: Talk Of The Town (Sire, The Singles)
KATRINA & THE WAVES: Walking On Sunshine (Bongobeat, The Original Recordings)
THE RUBINOOS: I Wanna Be Your Boyfriend (Berserkley, Back To The Drawing Board)
THE MUFFS: Saying Goodbye (Warner Brothers, The Muffs)
VAN DUREN & JODY STEPHENS: Andy, Please (Big Beat, VA: Come On Let's Go!)
BIG STAR: September Gurls (Ardent, # 1 Record/Radio City)
BIG BLITZ: Jungle Jim (Big Blitz, Big Blitz)