This Is Rock 'n' Roll Radio # 994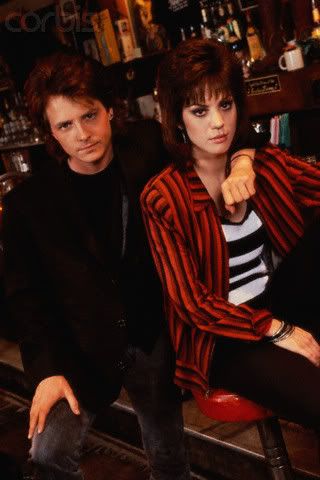 Over the course of 993 shows, we've developed a reputation for making things up as we go. This rep is earned. It's not necessarily true that we don't ever plan anything; we've done theme shows and tributes that required a blueprint and some direction beforehand, we've done a handful of shows that needed extensive plotting, and even most of our regular weekly adventures involve at least some thought about what to make sure to include, what new stuff to exalt alongside established Fave Raves. But yeah, most shows are largely improvised on the fly.

This week's show? I knew two songs I was intent on playing. Dana knew just a few additional songs he wanted to play. The rest of the playlist? Well, that left the balance of three hours to fill, gloriously. Turn it up. It's time to play. This is what rock 'n' roll radio sounded like on a Sunday night in Syracuse this week. (Oh, and Happy Birthday to Irene Peña, and congratulations to newlyweds Circe Link & Christian Nesmith. See, that accounted for two of the planned songs right there!)
This Is Rock 'n' Roll Radio with Dana & Carl, Sunday nights from 9 to Midnight Eastern, on the air in Syracuse on SPARK! WSPJ-LP 103.3 and 93.7 FM, and on the web at http://sparksyracuse.org/
Fans of pop music will want to check out Waterloo Sunset–Benefit For This Is Rock 'n' Roll Radio, a new pop compilation benefiting SPARK! Syracuse, the home of This Is Rock 'n' Roll Radio with Dana & Carl. TIR'N'RR Allstars–Steve Stoeckel, Bruce Gordon, Joel Tinnel, Stacy Carson, Eytan Mirsky, Teresa Cowles, Dan Pavelich, Irene Peña, Keith Klingensmith, and Rich Firestone–offer a fantastic new version of The Kinks' classic "Waterloo Sunset." That's supplemented by eleven more tracks (plus a hidden bonus track), including previously-unreleased gems from The Click Beetles, Eytan Mirsky, Pop Co-Op, Irene Peña, Michael Slawter (covering The Posies), and The Anderson Council (covering XTC), a new remix of "Infinite Soul" by The Grip Weeds, and familiar TIRnRR Fave Raves by Vegas With Randolph, Gretchen's Wheel, The Armoires, and Pacific Soul Ltd. Oh, and that mystery bonus track? It's exquisite. You need this. You're buying the digital download from Futureman and/or the CD from Kool Kat Musik.

(AND you can still get our previous compilation This Is Rock 'n' Roll Radio, Volume 4 on CD from Kool Kat Musik and as a download from Futureman. We live in a world of plenty!)

PS: SEND MONEY!!!! We need tech upgrades like Elvis needs boats. Spark Syracuse is supported by listeners like you. Tax-deductible donations are welcome at 
http://sparksyracuse.org/support/
You can follow Carl's daily blog Boppin' (Like The Hip Folks Do) at 
https://carlcafarelli.blogspot.com/

Get MORE Carl! Check out the fourth and latest issue of the mighty Big Stir magazine at bigstirrecords.com/magazine

Hey, Carl's writin' a book! The Greatest Record Ever Made! (Volume 1) will contain 100 essays (and then some) about 100 songs (plus bonus tracks!), each one of 'em THE greatest record ever made. An infinite number of songs can each be the greatest record ever made, as long as they take turns. Updated initial information can be seen here.
TIRnRR # 994: 9/22/19
THE RAMONES: Do You Remember Rock 'n' Roll Radio? (Rhino, End Of The Century)
—
THE CARS: Bye Bye Love (Elektra, The Cars)
THE REPLACEMENTS: My Little Problem (Sire, All Shook Down)
DOUG POWELL: Bye Bye Magpie (The Paisley Pop Label, Four Seasons)
BLONDIE: Dreaming (Chrysalis, The Platinum Collection)
THE PARTIES: Let's Call It Love (Rainbow Quartz, Coast Garde)
SHONEN KNIFE: Top Of The World (A & M, VA: If I Were A Carpenter)
—
IRENE PEÑA: Own Sweet Time (Kool Kat Musik, VA: Waterloo Sunset–Benefit For This Is Rock 'n' Roll Radio)
KIRSTY MacCOLL: A New England (Salvo, VA: Born Stiff)
THE ISLEY BROTHERS: Got To Have You Back (Motown, Greatest Hits And Rare Classics)
AL GREEN: Take Me To The River (Hi, Unchained Melody)
TIR'N'RR ALLSTARS: Waterloo Sunset (Futureman, VA: Waterloo Sunset–Benefit For This Is Rock 'n' Roll Radio)
THE CLASH: Train In Vain (Epic, The Singles)
—
CIRCE LINK & CHRISTIAN NESMITH: I'm On Your Side (Kool Kat Musik, VA: This Is Rock 'n' Roll Radio, Volume 4)
SWEET: Love Is Like Oxygen (RCA, Action)
UTOPIA: Take It Home (Rhino, Deface The Music)
THE MODERN LOVERS: Roadrunner [alternative version] (Castle, The Modern Lovers)
THE RAVES: Every Little Bit Hurts (Hologramophone, Past Perfect Tense)
THE CARS: Just What I Needed (Elektra, The Cars)
—
THE STALLIONS: Why (Junk, Hey Baby, It's The Stallions)
THE DAMNED: Neat Neat Neat (Salvo, VA: Born Stiff)
DIANE RENAY: Navy Blue (Mercury, VA: Growin' Up Too Fast)
HANK WILLIAMS: Your Cheatin' Heart (Polydor, 40 Greatest Hits)
PHIL SEYMOUR: Let Her Dance (The Right Stuff, Precious To Me)
THE ARCHIES: Sugar, Sugar (Varese Sarabande, VA: 25 All-Time Greatest Bubblegum Hits)
—
JOHNATHAN PUSHKAR: We Could Be Together (Jem, Straighten Up)
SHOES: The Things You Do (Black Vinyl, Double Exposure)
EYTAN MIRSKY: Lingerie Pillow Fight (M-Squared, If Not Now…Later)
ELVIS COSTELLO & THE ATTRACTIONS: (I Don't Want To Go To) Chelsea (Rhino, The Very Best Of Elvis Costello)
DEAN LANDEW: Dance All Night (deanlandew.bandcamp.com, Dean Landew 2019)
NICK LOWE: So It Goes (Yep Roc, Jesus Of Cool)
—
THE BAY CITY ROLLERS: Turn On The Radio (Arista, The Definitive Collection)
THE RAMONES: Do You Wanna Dance? (Rhino, Rocket To Russia)
JOAN JETT & THE BLACKHEARTS: Light Of Day (Blackheart, Fit To Be Tied)
CREEDENCE CLEARWATER REVIVAL: Commotion (Fantasy, Green River)
THE SPINNERS: (One Of A Kind) Love Affair (Rhino, The Very Best Of The Spinners)
GRAND FUNK RAILROAD: The Loco-Motion (Capitol, Capitol Collectors Series)
—
THE MONKEES: Terrifying (Rhino, Good Times! [digital version])
WARREN ZEVON: Lawyers, Guns And Money (Rhino, Genius)
VEGAS WITH RANDOLPH: Give In To Love (vegaswithrandolph.bandcamp.com, single)
THE REPLACEMENTS: Bent Out Of Shape (Sire, All Shook Down)
RONNIE DARK: Love Will Break Your Heart (3, Sky)
THE BEVIS FROND: And Now She's Gone (Rubric, London Stone)
—
IN DEED: What Once Was (Big Stir, Everest)
THE BROTHERS STEVE: We Got The Hits (n/a, # 1)
STAG: Pied Piper Blues (themightystag.com, Electric Mistress)
THE BEATLES: I've Just Seen A Face (Capitol, Rubber Soul)
THE BOOKENDS: Sing This Song (Nah Nah Nah Nah Yeah Yeah Yeah) (Jem, single)
BIG STAR: I'm In Love With A Girl (Ardent, # 1 Record/Radio City)
THE KINKS: All Day And All Of The Night (Sanctuary, The Ultimate Collection)
THE CARS: My Best Friend's Girl (Elektra, The Cars)
LOS STRAITJACKETS: Pop Rocks & Coke (Yep Roc, Jet Set)