This Is Rock 'n' Roll Radio # 992 (with LANNIE FLOWERS and DANNY WILKERSON)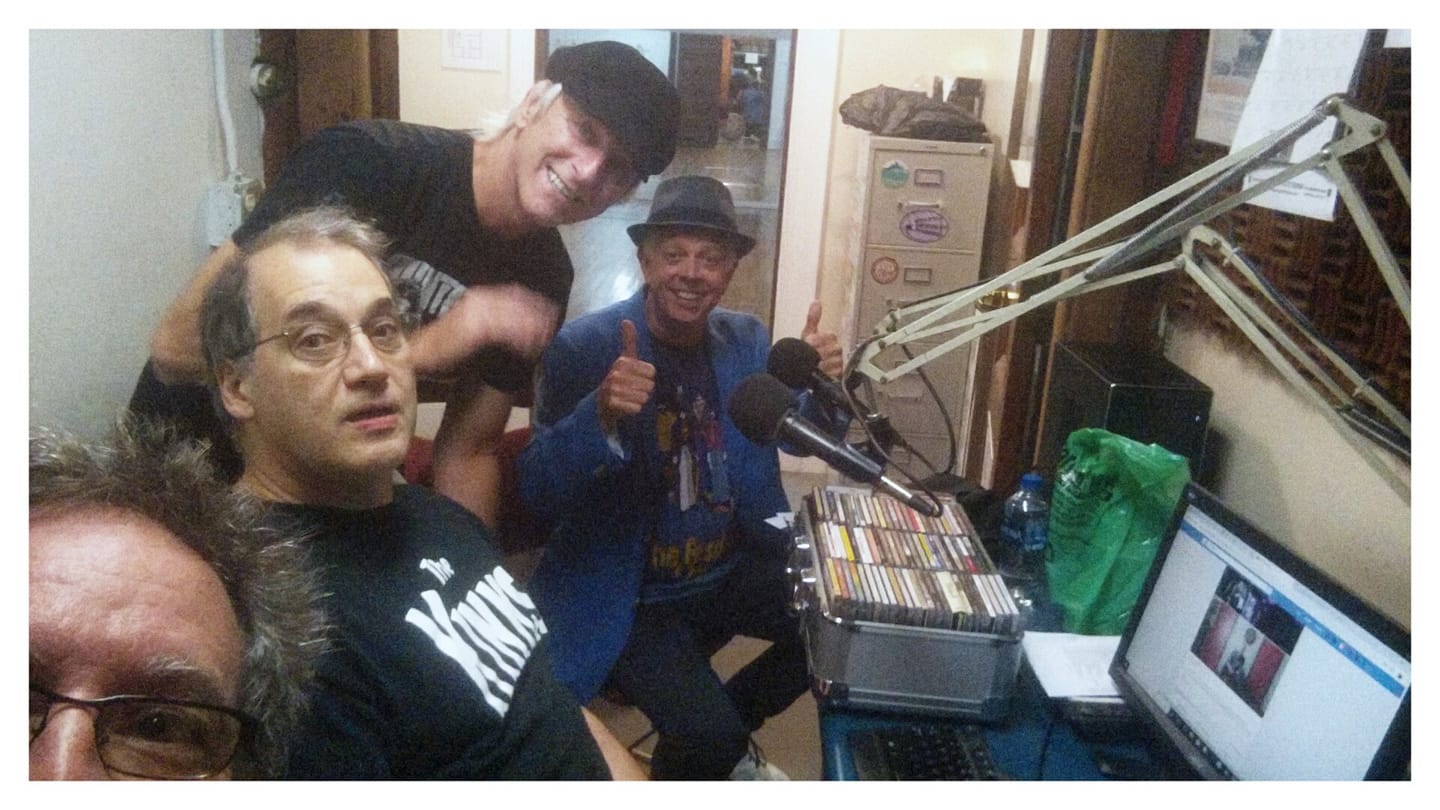 One of the purest enduring pleasures this life can offer us is the occasional chance to get together with some friends and listen to some music. On Tuesday night, our friends Lannie Flowers and Danny Wilkerson stopped by the wee widdle Spark Syracuse studio to do just that.
And it was a blast! Both of these phenomenal Texas rockin' pop performers have been TIRnRR Fave Raves for a while now, and it was a kick to finally meet them and to have them join us for a special weeknight edition of The Best Two Hours Of Radio On The Whole Friggin' Planet. Dana and I wanted to make sure the playlist included at least one track by each of them: Danny's as-yet-unreleased cover of "Where Did The Ordinary People Go" (from Futureman Records' forthcoming XTC tribute album), and Lannie's recent single "Flavor Of The Month." The rest of the song selections were up to Lannie 'n' Danny, and they did not disappoint. 
If you're in the vicinity of New York City this weekend, you can see Lannie Flowers and Danny Wilkerson (along with pop legend Bill Lloyd) LIVE in two Spyderpop Records showcases: Friday, September 13th at Bowery Electric (with special guests Slyboots) and Sunday September 15th at The Bitter End. Go! Dance! And revel in the pure, enduring pleasure of music with friends. This is what rock 'n' roll radio sounded like on a Tuesday night in Syracuse this week.
This Is Rock 'n' Roll Radio with Dana & Carl, Sunday nights from 9 to Midnight Eastern, on the air in Syracuse on SPARK! WSPJ-LP 103.3 and 93.7 FM, and on the web at http://sparksyracuse.org/
Fans of pop music will want to check out Waterloo Sunset–Benefit For This Is Rock 'n' Roll Radio, a new pop compilation benefiting SPARK! Syracuse, the home of This Is Rock 'n' Roll Radio with Dana & Carl. TIR'N'RR Allstars–Steve Stoeckel, Bruce Gordon, Joel Tinnel, Stacy Carson, Eytan Mirsky, Teresa Cowles, Dan Pavelich, Irene Peña, Keith Klingensmith, and Rich Firestone–offer a fantastic new version of The Kinks' classic "Waterloo Sunset." That's supplemented by eleven more tracks (plus a hidden bonus track), including previously-unreleased gems from The Click Beetles, Eytan Mirsky, Pop Co-Op, Irene Peña, Michael Slawter (covering The Posies), and The Anderson Council (covering XTC), a new remix of "Infinite Soul" by The Grip Weeds, and familiar TIRnRR Fave Raves by Vegas With Randolph, Gretchen's Wheel, The Armoires, and Pacific Soul Ltd. Oh, and that mystery bonus track? It's exquisite. You need this. You're buying the digital download from Futureman and/or the CD from Kool Kat Musik.

PS: SEND MONEY!!!! We need tech upgrades like Elvis needs boats. Spark Syracuse is supported by listeners like you. Tax-deductible donations are welcome at 
http://sparksyracuse.org/support/
You can follow Carl's daily blog Boppin' (Like The Hip Folks Do) at 
https://carlcafarelli.blogspot.com/

Get MORE Carl! Check out the fourth and latest issue of the mighty Big Stir magazine at bigstirrecords.com/magazine

Hey, Carl's writin' a book! The Greatest Record Ever Made! (Volume 1) will contain 100 essays (and then some) about 100 songs (plus bonus tracks!), each one of 'em THE greatest record ever made. An infinite number of songs can each be the greatest record ever made, as long as they take turns. Updated initial information can be seen here.
Our most recent compilation CD This Is Rock 'n' Roll Radio, Volume 4 is available from Kool Kat Musik! 29 tracks of irresistible rockin' pop, starring Pop Co-Op, Ray Paul, Circe Link & Christian Nesmith, Vegas With Randolph Featuring Lannie Flowers, The Slapbacks, P. Hux, Irene Peña, Michael Oliver & the Sacred Band Featuring Dave Merritt, The Rubinoos, Stepford Knives, The Grip Weeds, Popdudes, Ronnie Dark, The Flashcubes, Chris von Sneidern, The Bottle Kids, 1.4.5., The Smithereens, Paul Collins' Beat, The Hit Squad, The Rulers, The Legal Matters, Maura & the Bright Lights, Lisa Mychols, and Mr. Encrypto & the Cyphers. You gotta have it, so order it at https://tinyurl.com/ycnly8oz Digital download version (minus The Smithereens' track) now available at https://tinyurl.com/ycauy9xt

TIRnRR # 992: 9/10/19
This Is Rock 'n' Roll Radio FRESH SPINS! (tracks we think we ain't played before) are listed in bold
THE RAMONES: Do You Remember Rock 'n' Roll Radio? (Rhino, End Of The Century)
—
WILKERSON: Where Did The Ordinary People Go (Futureman, VA: [untitled XTC tribute album])
THE FLIRTATIONS: Nothing But A Heartache (RPM, Sounds Like The Flirtations)
THE JACKSON FIVE: Goin' Back To Indiana (Motown, Goin' Back To Indiana)
20/20: Nuclear Boy (Big Beat, VA: Come On Let's Go!)
JIM BOGGIA: Listening To NRBQ (Bluhamrock, Misadventures In Stereo)
SLY & THE FAMILY STONE: Hot Fun In The Summertime (Epic, Greatest Hits)
—
LANNIE FLOWERS: Flavor Of The Month (Spyderpop, single)
THE MONKEES: Goin' Down (Rhino, 50)
LISA LAUREN: Love Me Do (Planet Jazz, Lisa Lauren Loves The Beatles)
PEZBAND: Stella Blue (Jem, Cover To Cover Remixed)
WORLD PARTY: Man We Was Lonely (Seaview, Arkeology)
THE SPONGETONES: (My Girl) Maryanne (Loaded Goat, Always Carry On)
—
THE JUDY'S: She's Got The Beat (Wasted Talent, Washarama)
BUCK OWENS & HIS BUCKAROOS: Together Again (Rhino, 21 # 1 Hits)
FLIGHT OF THE CONCHORDS: Business Time (Sub Pop, Flight Of The Conchords)
DAVE EDMUNDS: Almost Saturday Night (Rhino, The Dave Edmunds Anthology)
SUGARBOMB: Hello (RCA, Bully)
CANDY: Whatever Happened To Fun (Rhino, VA: Poptopia! Power Pop Classics Of The '80s)
—
STEVIE WONDER: Sugar (Tamla, Signed, Sealed & Delivered)
THE GREENBERRY WOODS: Trampoline (Rhino, VA: Poptopia! Power Pop Classics Of The '90s)
MANFRED MANN'S EARTH BAND: Living Without You (Philips, Manfred Mann's Earth Band)
VELVET CRUSH: Hold Me Up (Rhino, VA: Poptopia! Power Pop Classics Of The '90s)
THE JUDYS: The Moo Song (Wasted Talent, The Moo Album)
THE HOODOO GURUS: I Want You Back (Rhino, VA: Poptopia! Power Pop Classics Of The '80s)
—
NRBQ: Never Take The Place Of You (Red Rooster, Tiddlywinks)
MARSHALL CRENSHAW: Whenever You're On My Mind (Rhino, VA: Poptopia! Power Pop Classics Of The '80s)
THE SPINNERS [with DIONNE WARWICK]: Then Came You (Rhino, The Very Best Of The Spinners)
THE DAVE CLARK FIVE: Catch Us If You Can (Hollywood, The History Of The Dave Clark Five)
BILLY PRESTON: That's The Way God Planned It [Parts 1 & 2] (Apple, That's The Way God Planned It)
THE SPONGETONES: She Goes Out With Everybody (Loaded Goat, Always Carry On)
JACKIE DeSHANNON: What The World Needs Now Is Love (EMI, What The World Needs Now Is…Jackie DeShannon)
THE KINKS: Waterloo Sunset (Sanctuary, The Ultimate Collection)
PONCHO SANCHEZ: Watermelon Man (Concord, Conga Blue)