This Is Rock 'n' Roll Radio # 988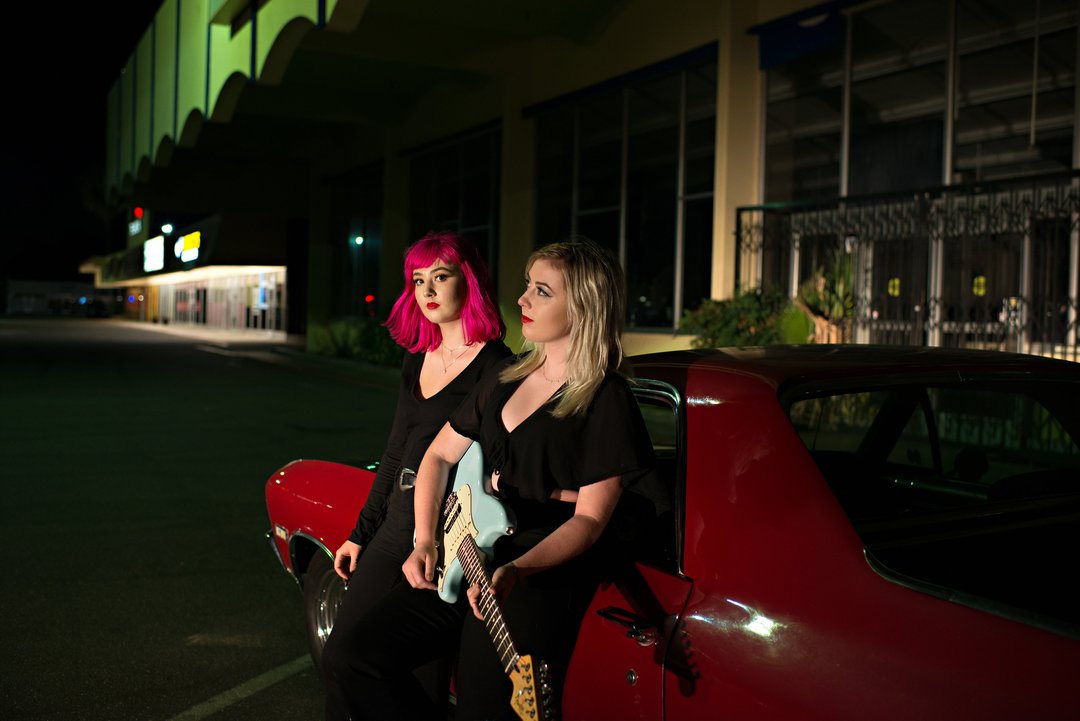 One of the purest ongoing delights of being a rockin' pop fan is the opportunity to discover sounds you either didn't know or didn't fully appreciate. Our friend Mark Hughson has been playing the music of Dog Party on his great radio show Everyone's Invited (Sunday nights from 7 to 9 Eastern here on SPARK!), and I've heard them and liked them. But they didn't really register in my ADOS consciousness (that's Attention Deficit…Oooo, SHINY!).

Dog Party opened for CJ Ramone at a show in the Syracuse area last week. I witnessed their set, and made a beeline to the merch table to buy every CD they had available there (four out of the six they've released; I'll grab the first two shortly from the band's online store at https://dogpartylive.com/). Dog Party consists of two sisters, Gwendolyn Giles on guitar/vocals and Lucy Giles on drums/vocals, creating an energetic pop duo proudly besotted by The Ramones and Wanda Jackson and The Ramones (again), with vocals occasionally reminiscent of Nikki & the Corvettes. This band has TIRnRR written all over it, so of course Gwen and Lucy are our Featured Performers this week.

But wait! There's MORE! New music from Johnathan Pushkar, The Well Wishers, Richard Turgeon, and Stag, representation from our current TIRnRR benefit compilation Waterloo Sunset, and our usual assortment of absolute wow. There's still a lot out there we haven't discovered yet, irresistible songs and performers old and new. We'll keep on playin' em. The delight remains pure, both in fresh discovery and in appreciation of what we already love. Shiny! And we all shine on.

NEXT WEEK: The return of a beloved annual TIRnRR tradition. Get set to sweat with the 2019 edition of DANA'S FUNKY SOUL PIT!! And this is what rock 'n' roll radio sounded like on a Sunday night in Syracuse this week.

This Is Rock 'n' Roll Radio with Dana & Carl, Sunday nights from 9 to Midnight Eastern, on the air in Syracuse on SPARK! WSPJ-LP 103.3 and 93.7 FM, and on the web at http://sparksyracuse.org/
Fans of pop music will want to check out Waterloo Sunset–Benefit For This Is Rock 'n' Roll Radio, a new pop compilation benefiting SPARK! Syracuse, the home of This Is Rock 'n' Roll Radio with Dana & Carl. TIR'N'RR Allstars–Steve Stoeckel, Bruce Gordon, Joel Tinnel, Stacy Carson, Eytan Mirsky, Teresa Cowles, Dan Pavelich, Irene Peña, Keith Klingensmith, and Rich Firestone–offer a fantastic new version of The Kinks' classic "Waterloo Sunset." That's supplemented by eleven more tracks (plus a hidden bonus track), including previously-unreleased gems from The Click Beetles, Eytan Mirsky, Pop Co-Op, Irene Peña, Michael Slawter (covering The Posies), and The Anderson Council (covering XTC), a new remix of "Infinite Soul" by The Grip Weeds, and familiar TIRnRR Fave Raves by Vegas With Randolph, Gretchen's Wheel, The Armoires, and Pacific Soul Ltd. Oh, and that mystery bonus track? It's exquisite. You need this. You're buying the digital download from Futureman and/or the CD from Kool Kat Musik.
PS: SEND MONEY!!!! We need tech upgrades like Elvis needs boats. Spark Syracuse is supported by listeners like you. Tax-deductible donations are welcome at 
http://sparksyracuse.org/support/
You can follow Carl's daily blog Boppin' (Like The Hip Folks Do) at 
https://carlcafarelli.blogspot.com/

Hey, Carl's writin' a book! The Greatest Record Ever Made! (Volume 1) will contain 100 essays (and then some) about 100 songs (plus bonus tracks!), each one of 'em THE greatest record ever made. An infinite number of songs can each be the greatest record ever made, as long as they take turns. Updated initial information can be seen here.
Our most recent compilation CD This Is Rock 'n' Roll Radio, Volume 4 is available from Kool Kat Musik! 29 tracks of irresistible rockin' pop, starring Pop Co-Op, Ray Paul, Circe Link & Christian Nesmith, Vegas With Randolph Featuring Lannie Flowers, The Slapbacks, P. Hux, Irene Peña, Michael Oliver & the Sacred Band Featuring Dave Merritt, The Rubinoos, Stepford Knives, The Grip Weeds, Popdudes, Ronnie Dark, The Flashcubes, Chris von Sneidern, The Bottle Kids, 1.4.5., The Smithereens, Paul Collins' Beat, The Hit Squad, The Rulers, The Legal Matters, Maura & the Bright Lights, Lisa Mychols, and Mr. Encrypto & the Cyphers. You gotta have it, so order it at https://tinyurl.com/ycnly8oz Digital download version (minus The Smithereens' track) now available at https://tinyurl.com/ycauy9xt

TIRnRR # 988: 8/18/19
This Is Rock 'n' Roll Radio FRESH SPINS! (tracks we think we ain't played before) are listed in bold
THE RAMONES: Do You Remember Rock 'n' Roll Radio? (Rhino, End Of The Century)
—
DOG PARTY: 'Til You're Mine (Asian Man, 'Til You're Mine)
THE BUSH TETRAS: Neverending Hum (MOJO, VA: Let's Shake Hands)
WANDA JACKSON: Let's Have A Party (Metro Select, First Lady Of Rockabilly)
JOSHUA HEDLEY: Mr. Jukebox (Third Man, Mr. Jukebox)
ARETHA FRANKLIN: I Say A Little Prayer (Atlantic, The Atlantic Singles Collection 1967-1970)
BUFFALO SPRINGFIELD: Burned (Rhino, Buffalo Springfield)
—
RICHARD TURGEON: The One That Got Away (Kool Kat Musik, Go Deep)
THE BYRDS: The Ballad Of Easy Rider (Columbia, The Essential Byrds)
JOHN LENNON: Instant Karma! (Capitol, The John Lennon Collection)
MATTHEW SWEET: Evangeline (Sony, Playlist)
DOG PARTY: The World Is Not A Game (Asian Man, Lost Control)
THE MUFFS: Rock And Roll Girl (Sympathy For The Record Industry, Hamburger)
—
CIRCE LINK & CHRISTIAN NESMITH: I'm On Your Side (Kool Kat Musik, VA: This Is Rock 'n' Roll Radio, Volume 4)
HARMONIC DIRT: Maybe (harmonicdirt.com, Anthracite)
DOG PARTY: Peanut Butter Dream (Asian Man, Vol. 4)
PAUL McCARTNEY & WINGS: Band On The Run (Capitol, Band On The Run)
THE DAVE CLARK FIVE: Catch Us If You Can (Hollywood, The History Of The Dave Clark Five)
THE YARDBIRDS: Over Under Sideways Down (Rhino, Ultimate!)
—
STAG: Pied Piper Blues (themightystag.com, Electric Mistress)
PINK FLOYD: See Emily Play (EMI, The Piper At The Gates Of Dawn)
DOG PARTY: Operator (Brat, Hit & Run)
SQUEEZE: Farfisa Beat (A & M, Argybargy)
TIRnRR ALLSTARS: Waterloo Sunset (Kool Kat Musik, VA: Waterloo Sunset–Benefit For This Is Rock 'n' Roll Radio)
SQUEEZE: Another Nail For My Heart (A & M, Argybargy)
—
JOHNATHAN PUSHKAR: Isabella (Jem, single)
PRINCE: Manic Monday (NPG, Originals)
DOG PARTY: I Can't Believe That You're Real (Asian Man, Vol. 4)
MONDELLO: Heather Martin (mondello.bandcamp.com, Hello, All You Happy People)
THE ANDERSON COUNCIL: Lads & Lasses (Jem, Worlds Collide)
THE RAMONES: Don't Come Close (Rhino, Road To Ruin)
—
HAROLD MELVIN & THE BLUE NOTES: Don't Leave Me This Way (Epic, The Ultimate Blue Notes)
OTIS REDDING: (Sittin' On) The Dock Of The Bay (Rhino, Otis!)
CJ RAMONE: One High One Low (Fat Wreck Chords, The Holy Spell…)
SQUEEZE: Take Me, I'm Yours (A & M, single)
DOG PARTY: Fujiyama Mama (Brat, Hit & Run)
SQUEEZE: Pulling Mussels (From The Shell) (A & M, Argybargy)
—
THE WELL WISHERS: Back Door (thewellwishers.bandcamp.com, The Lost Soundtrack)
BASKERY: Haunt You (Glitterhouse, Fall Among Thieves)
DOG PARTY: Cry (Asian Man, Lost Control)
THE CLICK BEETLES: If Not Now Then When (Futureman, VA: Waterloo Sunset–Benefit For This Is Rock 'n' Roll Radio)
NIKKI & THE CORVETTES: He's A Mover (Bomp, Nikki & the Corvettes)
THE JAGS: Back Of My Hand (Rhino, VA: DIY: Starry Eyes)
—
DOG PARTY: Hit & Run (Brat, Hit & Run)
THE GREENHORNES: Saying Goodbye (Third Man, Four Stars)
CHUCK BERRY: Promised Land (MCA, The Anthology)
SLEEPY LA BEEF: You Can't Catch Me (Sony, VA: Rock-A-Billy Rock)
DOG PARTY: I Don't Need You (Asian Man, 'Til You're Mine)
THE BANGLES: The Real World (Omnivore, Ladies And Gentlemen…The Bangles!)
DOG PARTY: In Your Eyes (Brat, Hit & Run)
TOM PETTY & THE HEARTBREAKERS: American Girl (MCA, Playback)
DOG PARTY: Bad Dream (Brat, Hit & Run)
THE BEATLES: Baby You're A Rich Man (Apple, Yellow Submarine Songtrack)
DOG PARTY: G Diddly (Asian Man, Vol. 4)