This Is Rock 'n' Roll Radio # 985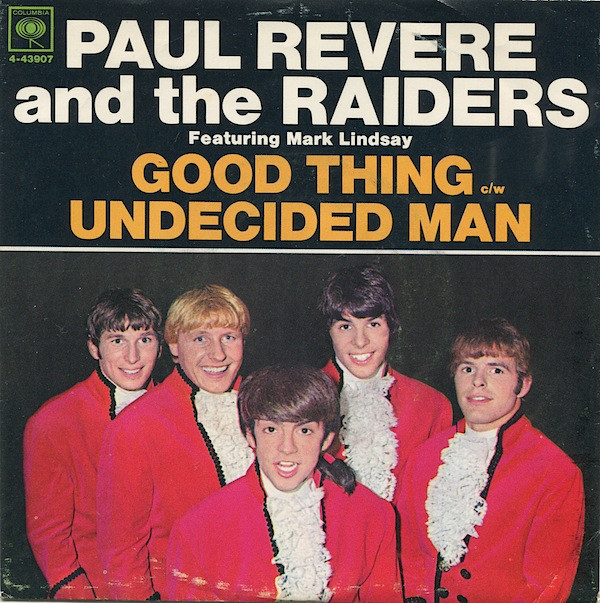 A long time ago
We used to be friends
But I haven't thought of you lately at all
On this show (and in my writing in general), we talk a lot about how right now is always the best time ever to be a pop fan. All of yesterday's sounds can remain relevant to you if you feel it, and new sounds are there for the taking, enriching your soundtrack, giving voice and volume. I'm never going to stop playing The Beatles. I'm never going to stop diggin' for more things to dig, too. Always look forward. Always look back.

A couple of new items in pop culture this week did a little looking back of their own. One of my favorite TV series Veronica Mars returned with a new eight-episode season, and it's still one of my favorite TV series; Quentin Tarantino's new film Once Upon A Time…In Hollywood (which I haven't seen yet) seeks to re-create the world of Southern California in 1969. We celebrated this willful blending of then 'n' now with a one-two opening of The Dandy Warhols and Paul Revere & the Raiders, and proceeded to shake-shake-shake-a-puddin' with great new music from Screen Test, Bob Mould, The Vapor Trails, Lannie Flowers, The Junior League, and Broken Arrows, more from the recent TIRnRR benefit compilation Waterloo Sunset (available now as a download from Futureman Records, available soon as a CD from Kool Kat Musik), and a few of the other decades-spanning ditties playing with gusto in our heads. 

It's a sturdy accompaniment. The Go-Go's. XTC. Rick James. The Jive Five. sparkle*jets u.k. The Zombies. Eddie Cochran. The Cherry Bluestorms. Chris von Sneidern. Aretha Franklin. The Monkees. Bowie. The Ramones. Buck Owens. Tammi Terrell. The Anderson Council. The Pretenders. The Kinks. All of it. Always. All ways. This is what rock 'n' roll radio sounded like on a Sunday night in Syracuse this week.
Waterloo Sunset–Benefit For This Is Rock 'n' Roll Radio is now available for download from our friends at Futureman Records and on CD from our friends at Kool Kat Musik. Your purchase of Waterloo Sunset in either format will benefit WSPJ Spark Syracuse.

This Is Rock 'n' Roll Radio with Dana & Carl, Sunday nights from 9 to Midnight Eastern, on the air in Syracuse on SPARK! WSPJ-LP 103.3 and 93.7 FM, and on the web at http://sparksyracuse.org/

PS: SEND MONEY!!!! We need tech upgrades like Elvis needs boats. Spark Syracuse is supported by listeners like you. Tax-deductible donations are welcome at 
http://sparksyracuse.org/support/
You can follow Carl's daily blog Boppin' (Like The Hip Folks Do) at 
https://carlcafarelli.blogspot.com/

Hey, Carl's writin' a book! The Greatest Record Ever Made! (Volume 1) will contain 100 essays (and then some) about 100 tracks, plus two bonus instrumentals, each one of 'em THE greatest record ever made. An infinite number of songs can each be the greatest record ever made, as long as they take turns. Updated initial information can be seen here: https://carlcafarelli.blogspot.com/2019/06/the-greatest-record-ever-made-updated.html

Our new compilation CD This Is Rock 'n' Roll Radio, Volume 4 is now available from Kool Kat Musik! 29 tracks of irresistible rockin' pop, starring Pop Co-Op, Ray Paul, Circe Link & Christian Nesmith, Vegas With Randolph Featuring Lannie Flowers, The Slapbacks, P. Hux, Irene Peña, Michael Oliver & the Sacred Band Featuring Dave Merritt, The Rubinoos, Stepford Knives, The Grip Weeds, Popdudes, Ronnie Dark, The Flashcubes, Chris von Sneidern, The Bottle Kids, 1.4.5., The Smithereens, Paul Collins' Beat, The Hit Squad, The Rulers, The Legal Matters, Maura & the Bright Lights, Lisa Mychols, and Mr. Encrypto & the Cyphers. You gotta have it, so order it at https://tinyurl.com/ycnly8oz Digital download version (minus The Smithereens' track) now available at https://tinyurl.com/ycauy9xt

TIRnRR # 985: 7/28/19
This Is Rock 'n' Roll Radio FRESH SPINS! (tracks we think we ain't played before) are listed in bold
THE RAMONES: Do You Remember Rock 'n' Roll Radio? (Rhino, End Of The Century)
—
THE DANDY WARHOLS: We Used To Be Friends (Capitol, The Capitol Years 1995-2007)
PAUL REVERE & THE RAIDERS: Good Thing (Sundazed, The Spirit Of '67)
THE GO-GO'S: Turn To You (IRS, Greatest)
XTC: Generals And Majors (Virgin, Upsy Daisy Assortment)
TIR'N'RR ALLSTARS: Waterloo Sunset (Futureman, VA: Waterloo Sunset–Benefit For This Is Rock 'n' Roll Radio)
THE CURE: In Between Days (Elektra, Greatest Hits)
—
SCREEN TEST: End Of The Line (unreleased)
BOB MOULD: What Do You Want Me To Do (Merge, Sunshine Rock)
RICK JAMES: Super Freak (Motown, Icon)
NICK LOWE: So It Goes (Salvo, VA: Born Stiff)
THE JIVE FIVE: What Time Is It (Collectables, Their Greatest Hits)
IAN HUNTER: Lisa Likes Rock n' Roll (EMI, The Best Of Ian Hunter)
—
THE VAPOUR TRAILS: See You In The Next World (Futureman, See You In The Next World)
THE VIRTUES: One Eyed Car (Pop Geek Heaven, VA: International Pop Overthrow Vol. 20)
THE BEATLES: Thank You, Girl (Capitol, The Beatles' Second Album)
THE ZOMBIES: I Must Move (Big Beat, The Singles Collection)
GENE SIMMONS: See You Tonite (Mercury, KISS: Gene Simmons)
SPARKLE*JETS U.K.: The Ballad Of El Goodo (Big Stir, single)
—
DEAN LANDEW: Dance All Night (deanlandew.bandcamp.com, Dean Landew 2019)
THE MOTORS: Dancing The Night Away (Rhino, VA: DIY: Teenage Kicks)
EDDIE COCHRAN: Jeanie, Jeanie, Jeanie (Razor & Tie, Somethin' Else)
KURSAAL FLYERS: Television Generation (Rhino, VA: DIY: Teenage Kicks)
IRENE PEÑA: Own Sweet Time (Kool Kat Musik, VA: Waterloo Sunset–Benefit For This Is Rock 'n' Roll Radio)
THE BEATLES: All You Need Is Love (Apple, Yellow Submarine Songtrack)
—
LANNIE FLOWERS: Flavor Of The Month (SpyderPop, single)
WARREN ZEVON: Poor Poor Pitiful Me (Rhino, Genius)
THE CHERRY BLUESTORMS: Baby, You're A Rich Man (thecherrybluestorms.bandcamp.com, Transit Of Venus)
THE HOT DOGS: I Walk The Line (Big Beat, VA: Thank You Friends)
THE MOBERLYS: Blow Your Life Away (Precedent, JIM BASNIGHT: We Rocked And Rolled)
CARGO: Feel Alright (Big Beat, VA: Thank You Friends)
—
THE JUNIOR LEAGUE: Heavy (Kool Kat Musik, Adventureland)
CHRIS VON SNEIDERN: Hey Ron (cvsmusic.com, Emerge)
ARETHA FRANKLIN: Chain Of Fools (Atlantic, The Atlantic Singles Collection 1967-1970)
THE FACTOTUMS: I Can't Give You Anything But Love (RPM, VA: Fab Gear)
THE MONKEES: Valleri (Rhino, 50)
DAVID BOWIE: Queen Bitch (Virgin, Bowie At The Beeb)
—
BROKEN ARROWS: Behind The Eight Ball (Big Stir, single)
THE RAMONES: I Wanna Be Sedated (Rhino, Road To Ruin)
JOHNATHAN PUSHKAR: The Girl Next Door (Jem, single)
THE TIME: Take A Bit Of Notice (RPM, VA: Fab Gear)
BUCK OWENS & HIS BUCKAROOS: Tall Dark Stranger (Rhino, 21 # 1 Hits)
TAMMI TERRELL: What A Good Man He Is (Universal, Essential Collection)
—
THE ANDERSON COUNCIL: Grey Heavenly Lane (Jem, Worlds Collide)
THE PRETENDERS: Day After Day (Sire, The Singles)
THE ARMOIRES: Appalachukrania (Big Stir, Zibaldone)
THE HONEY JUG: In 1582 We (Craft, VA: Poppies)
THE CLICK BEETLES: If Not Now Then When (Futureman, VA: Waterloo Sunset–Benefit For This Is Rock 'n' Roll Radio)
THE BEATLES: Think For Yourself (Apple, Yellow Submarine Songtrack)
THE KINKS: See My Friends (Sanctuary, The Ultimate Collection)
THE YARDBIRDS: A Certain Girl (Rhino, Ultimate!)
TIR'N'RR ALLSTARS: [super secret bonus track] (Kool Kat Musik, VA: Waterloo Sunset–Benefit For This Is Rock 'n' Roll Radio)
BIG STAR: September Gurls (Ardent, # 1 Record/Radio City)
BROKEN ARROWS: Shroomitized (Big Stir, single)