This Is Rock 'n' Roll Radio # 984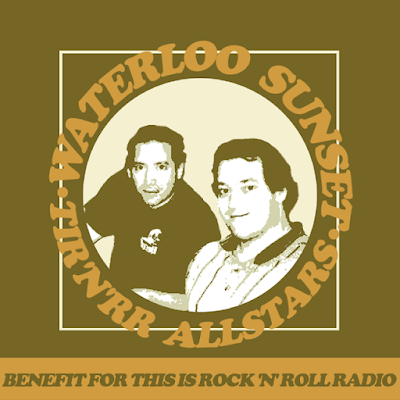 Awright! It's the intergalactic debut of TIR'N'RR Allstars' new cover of The Greatest Record Ever Made, The Kinks' classic "Waterloo Sunset." Our 2019 edition of the Allstars includes Steve Stoeckel, Bruce Gordon, Joel Tinnel, Stacy Carson, Eytan Mirsky, Teresa Cowles, Irene Peña, Keith Klingensmith, Dan Pavelich, and Rich Firestone, and although they embrace nonviolence as the power pop way, rest assured that our Allstars can beat the tar outta your Allstars.

This new version of "Waterloo Sunset" will cause joy and merriment in all pop fans possessed of a pulse, and proceeds from its sale will directly benefit SPARK! Syracuse, the home of This Is Rock 'n' Roll Radio. But it's NOT a single release! It's the lead-off number from a new 12-track (plus a bonus!) TIRnRR benefit compilation, available RIGHT NOW from the good folk at Futureman Records. In addition to the titular tune, Waterloo Sunset–Benefit For This Is Rock 'n' Roll Radio includes previously-unreleased tracks from The Click Beetles, Eytan Mirsky, Pop Co-Op, Irene Peña, Michael Slawter (covering The Posies), and The Anderson Council (covering XTC), a new remix of "Infinite Soul" by The Grip Weeds, and familiar TIRnRR Fave Raves by Vegas With Randolph, Gretchen's Wheel, The Armoires, and Pacific Soul Ltd. Oh, and that mystery bonus track? It's exquisite. You need this. You're buying it from Futureman. And we played all of it on this week's show. Waterloo Sunset's fine. Real fine!

We also found time for new music from Dean Landew, sparkle*jets u.k., and Dime Box Band, the long-overdue TIRnRR debut of The Cherry Bluestorms, and the boppin' 'n' swayin' delights detailed below. We've got a radio show. Thanks to our friends, our fans, and our supporters, we'll still here, more than twenty years on, for nearly one thousand shows. Thanks to the TIR'N'RR Allstars for surprising us with all of…this. This. We are big, big fans of THIS. And this is what rock 'n' roll radio sounded like on a Sunday night in Syracuse this week.

Waterloo Sunset–Benefit For This Is Rock 'n' Roll Radio is now available for download from our friends at Futureman Records. All proceeds benefit WSPJ Spark Syracuse.

This Is Rock 'n' Roll Radio with Dana & Carl, Sunday nights from 9 to Midnight Eastern, on the air in Syracuse on SPARK! WSPJ-LP 103.3 and 93.7 FM, and on the web at http://sparksyracuse.org/

PS: SEND MONEY!!!! We need tech upgrades like Elvis needs boats. Spark Syracuse is supported by listeners like you. Tax-deductible donations are welcome at 
http://sparksyracuse.org/support/
You can follow Carl's daily blog Boppin' (Like The Hip Folks Do) at 
https://carlcafarelli.blogspot.com/

Hey, Carl's writin' a book! The Greatest Record Ever Made! (Volume 1) will contain 100 essays (and then some) about 100 tracks, plus two bonus instrumentals, each one of 'em THE greatest record ever made. An infinite number of songs can each be the greatest record ever made, as long as they take turns. Updated initial information can be seen here: https://carlcafarelli.blogspot.com/2019/06/the-greatest-record-ever-made-updated.html

Our new compilation CD This Is Rock 'n' Roll Radio, Volume 4 is now available from Kool Kat Musik! 29 tracks of irresistible rockin' pop, starring Pop Co-Op, Ray Paul, Circe Link & Christian Nesmith, Vegas With Randolph Featuring Lannie Flowers, The Slapbacks, P. Hux, Irene Peña, Michael Oliver & the Sacred Band Featuring Dave Merritt, The Rubinoos, Stepford Knives, The Grip Weeds, Popdudes, Ronnie Dark, The Flashcubes, Chris von Sneidern, The Bottle Kids, 1.4.5., The Smithereens, Paul Collins' Beat, The Hit Squad, The Rulers, The Legal Matters, Maura & the Bright Lights, Lisa Mychols, and Mr. Encrypto & the Cyphers. You gotta have it, so order it at https://tinyurl.com/ycnly8oz Digital download version (minus The Smithereens' track) now available at https://tinyurl.com/ycauy9xt

TIRnRR # 984: 7/21/19
This Is Rock 'n' Roll Radio FRESH SPINS! (tracks we think we ain't played before) are listed in bold
THE RAMONES: Do You Remember Rock 'n' Roll Radio? (Rhino, End Of The Century)
—
TIR'N'RR ALLSTARS: Waterloo Sunset (Futureman, VA: Waterloo Sunset–Benefit For This Is Rock 'n' Roll Radio)
—
IRENE PEÑA: Own Sweet Time (Futureman, VA: Waterloo Sunset–Benefit For This Is Rock 'n' Roll Radio)
THE CLICK BEETLES: If Not Now Then When (Futureman, VA: Waterloo Sunset–Benefit For This Is Rock 'n' Roll Radio)
EYTAN MIRSKY: Flakes (Futureman, VA: Waterloo Sunset–Benefit For This Is Rock 'n' Roll Radio)
THE ANDERSON COUNCIL: Are You Receiving Me (Futureman, VA: Waterloo Sunset–Benefit For This Is Rock 'n' Roll Radio)
MICHAEL SLAWTER: Any Other Way (Futureman, VA: Waterloo Sunset–Benefit For This Is Rock 'n' Roll Radio)
THE GRIP WEEDS: Infinite Soul [2019 remix] (Futureman, VA: Waterloo Sunset–Benefit For This Is Rock 'n' Roll Radio)
—
POP CO-OP: Ten Times Today (Futureman, VA: Waterloo Sunset–Benefit For This Is Rock 'n' Roll Radio)
DEXY'S MIDNIGHT RUNNERS: Burn It Down (Warner Brothers, Searching For The Young Soul Rebels)
RICHARD X. HEYMAN: Everything Must Go (Turn-Up, Pop Circles)
ALTERED IMAGES: Happy Birthday (Sony, VA: New Wave Hits Of The 70's & 80's)
MARSHALL CRENSHAW: Whenever You're On My Mind (Rhino, This Is Easy)
THE BEATLES: Birthday (Apple, The Beatles)
—
THE CHERRY BLUESTORMS: Seven League Boots (Roundhouse, Whirligig!)
SPARKLE*JETS U.K.: Ballad Of El Goodo (Big Stir, single)
PETER & GORDON: True Love Ways (Rhino, VA: The British Invasion Vol. 3)
IRENE PEÑA: Must've Been Good (Kool Kat Musik, VA: This Is Rock 'n' Roll Radio, Volume 4)
PACIFIC SOUL LTD.: We Go High (Futureman, VA: Waterloo Sunset–Benefit For This Is Rock 'n' Roll Radio)
THE BEATLES: When I'm 64 (Apple, Yellow Submarine Songtrack)
—
TIR'N'RR ALLSTARS: [super secret bonus track] (Futureman, VA: Waterloo Sunset–Benefit For This Is Rock 'n' Roll Radio)
MR. ENCRYPTO: The Last Time [a cappella] (JAM, VA: This Is Rock 'n' Roll Radio, Volume 2)
THE COWSILLS: Cross That Line (Robin, Global)
ASTROPUPPEES: Over Her Head (Manatee, Little Chick Tsunami)
ROXY MUSIC: More Than This (Reprise, Avalon)
ASTROPUPPEES: Little Chick Tsunami (Manatee, Little Chick Tsunami)
—
DEAN LANDEW: Top Down (deanlandew.bandcamp.com)
STATUS QUO WITH THE BEACH BOYS: Fun Fun Fun (PolyGram, single)
VEGAS WITH RANDOLPH: She's An Intellectual (Futureman, VA: Waterloo Sunset–Benefit For This Is Rock 'n' Roll Radio)
SWEET: Fox On The Run (Capitol, The Best Of Sweet)
JIM BASNIGHT: Living The Way I Want (Precedent, Not Changing)
—
DIME BOX BAND: All Of Nothing (Avebury, Happy)
THE BANGLES: Hero Takes A Fall (Music Club, Manic Monday)
THE ARMOIRES: Responsible (Reuptake) (Futureman, VA: Waterloo Sunset–Benefit For This Is Rock 'n' Roll Radio)
SPARKLE*JETS U.K.: You And Your Sister (Big Stir, single)
P. P. ARNOLD: The First Cut Is The Deepest (Immediate, The First Cut)
BIG STAR: Feel (Ardent, # 1 Record/Radio City)
—
GRETCHEN'S WHEEL: Plans (Futureman, VA: Waterloo Sunset–Benefit For This Is Rock 'n' Roll Radio
XTC: Respectable Street (Virgin, Upsy Daisy Assortment)
THE BROTHERS STEVE: We Got The Hits (n/a, # 1)
QUICKSILVER MESSENGER SERVICE: Dino's Song (BGO, Anthology)
ANNY CELSI: Sideways Rain (Ragazza, Kaleidoscope Heart: 12 Golden Hits)
THE BEACH BOYS: Sloop John B (Capitol, Pet Sounds)
THE RAMONES: I Believe In Miracles (Rhino, Loud, Fast Ramones)
BLONDIE: One Way Or Another (Chrysalis, The Platinum Collection)
THE KINKS: Death Of A Clown (Sanctuary, The Ultimate Collection)
THE BEATLES: Nowhere Man (Apple, Yellow Submarine Songtrack)
MFSB: TSOP (The Sound Of Philadelphia) (Legacy, End Of Phase 1)