"Waterloo Sunset" by TIR'N'RR ALLSTARS: Benefit For THIS IS ROCK 'N' ROLL RADIO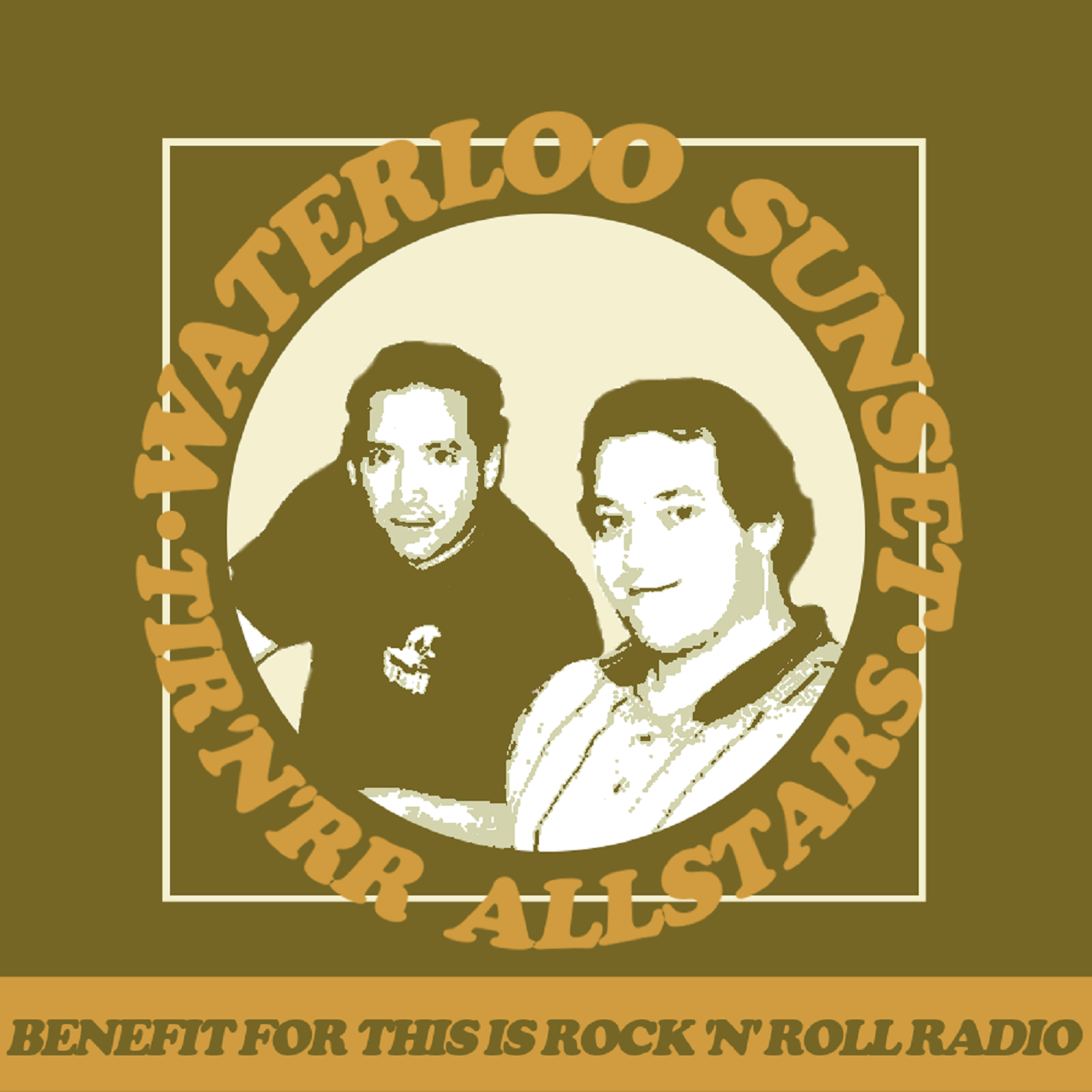 This Is Rock 'n' Roll Radio with Dana & Carl has friends. A lot of our friends have a lot of talent. Now, some of those friends are putting their talent to use to help us out.
It's no secret that TIRnRR has always teetered on the brink of oblivion, perpetually cash-strapped but buoyed by the support of our listeners. To raise some much-needed money for our ongoing radio crusade, Steve Stoeckel of the legendary pop group The Spongetones concocted a plan: round up some of his (and our) musical super-friends to record and release a new track, with all proceeds going to benefit Syracuse Community Radio/SPARK!, the community radio station that lets Dana and I take over the airwaves for three hours every Sunday night. Radio's job is to sell records. Now, a record would sell radio!

So out went the call, to one and to all, and Steve assembled his own power pop Avengers. He started with his bandmates in Pop Co-Op (Bruce Gordon, Joel Tinnel, and Stacy Carson), then roped in Eytan Mirsky, Teresa Cowles, Irene Peña, Keith Klingensmith, Dan Pavelich, and Rich Firestone to form his Magnificent Ten. And they pooled their super powers to craft a brand-new cover of The Greatest Record Ever Made.
"The Greatest Record Ever Made" has been a long-standing fixture on TIRnRR. An infinite number of songs can each be THE greatest record ever made, as long as they take turns. We've played a lot of worthy GREM candidates over the years, and I'm writing a book about some of them. But only one Greatest Record Ever Made could be the right GREM for these TIR'N'RR Allstars, a bridge over a dirty old river, rolling into the night.
Yeah. It had to be a song by TIRnRR's House Band. It had to be The Kinks. It had to be "Waterloo Sunset."
And furthermore: in such capable pop hands, it had to be magnificent. And it is. You'll hear it on the radio Sunday night. It will then be available to purchase as a download from Futureman Records, with each purchase directly benefiting our little mutant radio thing. You'll want it. You'll buy it.
BUT! You won't be getting that song by itself. Waterloo Sunset–Benefit For This Is Rock 'n' Roll Radio is a compilation of 12+ tracks, supplementing TIR'N'RR Allstars' "Waterloo Sunset" will 11 more tracks from some of your rockin' pop fave raves. Six of these 11 tracks are previously-unreleased, one is an exclusive new remix, and the other four are much-loved previous TIRnRR picks t'click. We'll reveal that information on Sunday, and we'll play the lot of 'em during this week's show.
(And, if you're asking yourself why it says 12+ tracks above, well, what would a power pop Avengers be without a post-credits bonus scene? Er…track. A bonus track. Assemble awready!)
We lack the proper word-type things to express our gratitude to our friends, TIR'N'RR Allstars. With great power pop comes great responsibility. Sha la la. We do need our friends. And we are in paradise.  Join us there on Sunday.
This Is Rock 'n' Roll Radio with Dana & Carl, Sunday nights from 9 to Midnight Eastern, on the air in Syracuse at SPARK! WSPJ 103.3 and 93.7 FM, and on the web at http://sparksyracuse.org/