This Is Rock 'n' Roll Radio # 980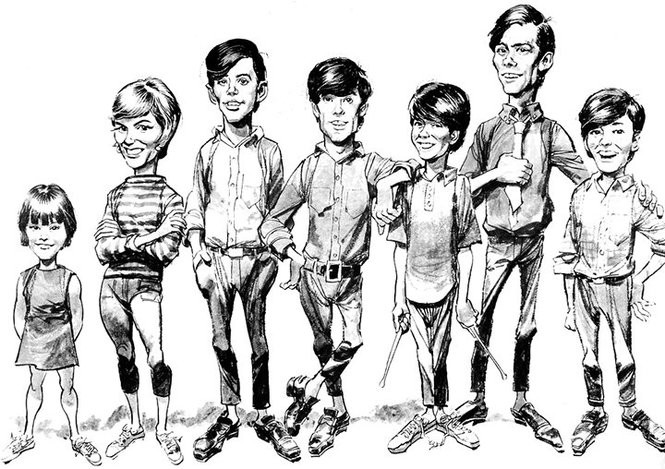 The story we've heard is that back in the '90s, a veteran pop group recorded a new album and shopped it around to every record label under the sun; but the group didn't let the suits know who the band was, just submitted the tracks blind, hoping the music would sell itself without whatever positive or negative prejudice the group's familiar name would inspire. The album would eventually be released under the title Global. That was after all those record label weasels heard the record, loved it, figured it was a sure-fire hit, and ultimately rejected it once they found out that it was by The Cowsills.
The Cowsills' Global was one of the best albums of the '90s. Yet the group had to release it themselves. No record label would touch it.
This is why we drink.
With The Cowsills coming to Syracuse this week as part of the current Happy Together tour, it seemed high time that TIRnRR finally paid proper tribute to this beloved family band, our Featured Performers on this week's show. We played tracks from Global, of course–we know an irresistibly great record when we hear it–as well as a mix of the group's hits and lesser-known tracks from the '60s and '70s, plus NEW MUSIC from In Deed, David Brookings & the Average Lookings, Mondello, Joe Sullivan, Butch Young, and The Brothers Steve. All fantastic pop music. No matter what name's on the label. This is what rock 'n' roll radio sounded like on a Sunday night in Syracuse this week.
This Is Rock 'n' Roll Radio with Dana & Carl, Sunday nights from 9 to Midnight Eastern, on the air in Syracuse on SPARK! WSPJ-LP 103.3 and 93.7 FM, and on the web at http://sparksyracuse.org/
PS: SEND MONEY!!!! We need tech upgrades like Elvis needs boats. Spark Syracuse is supported by listeners like you. Tax-deductible donations are welcome at
You can follow Carl's daily blog Boppin' (Like The Hip Folks Do) at
https://carlcafarelli.blogspot.com/
Hey, Carl's writin' a book! The Greatest Record Ever Made! will contain 100 essays (and then some) about 100 tracks, plus two bonus instrumentals, each one of 'em THE greatest record ever made. An infinite number of records can each be the greatest record ever made, as long as they take turns. Updated initial information can be seen here: https://carlcafarelli.blogspot.com/2019/06/the-greatest-record-ever-made-updated.html
Our new compilation CD This Is Rock 'n' Roll Radio, Volume 4 is now available from Kool Kat Musik! 29 tracks of irresistible rockin' pop, starring Pop Co-Op, Ray Paul, Circe Link & Christian Nesmith, Vegas With Randolph Featuring Lannie Flowers, The Slapbacks, P. Hux, Irene Peña, Michael Oliver & the Sacred Band Featuring Dave Merritt, The Rubinoos, Stepford Knives, The Grip Weeds, Popdudes, Ronnie Dark, The Flashcubes, Chris von Sneidern, The Bottle Kids, 1.4.5., The Smithereens, Paul Collins' Beat, The Hit Squad, The Rulers, The Legal Matters, Maura & the Bright Lights, Lisa Mychols, and Mr. Encrypto & the Cyphers. You gotta have it, so order it at https://tinyurl.com/ycnly8oz Digital download version (minus The Smithereens' track) now available at https://tinyurl.com/ycauy9xt
TIRnRR # 980: 6/23/19
This Is Rock 'n' Roll Radio FRESH SPINS! (tracks we think we ain't played before) are listed in bold
THE RAMONES: Do You Remember Rock 'n' Roll Radio? (Rhino, End Of The Century)
—
THE COWSILLS: What About Love? (Robin, Global)
PETE TOWNSHEND & RONNIE LANE: My Baby Gives It Away (Atco, Rough Mix)
DAVID BROOKINGS & THE AVERAGE LOOKINGS: Tired Of Waiting For You (Big Stir, single)
THUNDERCLAP NEWMAN: Look Around (Polydor, Hollywood Dream)
ALEX CHILTON: (Every Time I) Close My Eyes [Version 1] (Razor & Tie, Bach's Bottom)
ALEX CHILTON: Don't Worry, Baby [fragment] (Big Beat, VA: Thank You Friends)
—
IN DEED: What Once Was (Big Stir, Everest)
MONDELLO: Sherilyn (www.mondello.bandcamp.com, Hello, All You Happy People)
THE COWSILLS: On My Side [mono 45 mix] (Now Sounds, On My Side)
THE CLOCKWORK ORANGES: After Tonight (RPM, VA: Fab Gear)
—
TSAR: Kathy Fong Is The Bomb (Hollywood, Tsar)
THE MONKEES: Pleasant Valley Sunday (Rhino, Pisces, Aquarius, Capricorn & Jones, Ltd.)
THE COWSILLS: You've Got No Time (Robin, Global)
THE SEARCHERS: Hearts In Her Eyes (Rhino, VA: DIY: Starry Eyes)
HAROLD MELVIN & THE BLUE NOTES: Don't Leave Me This Way (Philadelphia International, single)
ANY TROUBLE: Second Choice (Salvo, VA: Born Stiff)
—
THE COWSILLS: All I Really Wanta Be Is Me (JoDa, single)
WRECKLESS ERIC & AMY RIGBY: Here Comes My Ship (Salvo, VA: Born Stiff)
THE GRACES: Lay Down Your Arms (A & M, Perfect View)
KING CRIMSON: 21st Century Schizoid Man [radio edit] (MOJO, VA: A MOJO Anthology)
THE COWSILLS: Cross That Line (Robin, Global)
TONY JACKSON WITH THE VIBRATIONS: Love Potion No. 9 (RPM, VA: Fab Gear)
—
JOE SULLIVAN: Time Machine (Futureman, Growing Up Schlockstar)
MONDELLO: Heather Martin (www.mondello.bandcamp.com, Hello, All You Happy People)
THE COWSILLS: Love American Style (Polydor, 20th Century Masters)
THE BEATLES: Strawberry Fields Forever (Capitol, single)
BUTCH YOUNG: Captain Serious (Big Stir, single)
THE CHAMBERS BROTHERS: Time Has Come Today (Sony, VA: Pure…Psychedelic Rock)
—
THE COWSILLS: Indian Lake (Rebound, The Best Of The Cowsills)
THE ZOMBIES: Care Of Cell 44 (Big Beat, The Singles Collection)
THE RAMONES: Listen To My Heart (Rhino, Ramones)
THE BUZZCOCKS: What Do I Get (Rhino, VA: DIY: The Modern World)
THE WEEKLINGS: I Want You Again (Jem, single)
THE KINGSMEN: That's Cool, That's Trash (Sundazed, Volume 3)
—
THE BROTHERS STEVE: Angeline (Big Stir, single)
THE GO-GO'S: We Got The Beat (IRS, Beauty And The Beat)
THE COWSILLS: What's It Gonna Be Like (Philips, single)
THE BUCKINGHAMS: She Lied (RPM, VA: Fab Gear)
JIM BASNIGHT: Living The Way I Want (Precedent, Not Changing)
RORY STORM & THE HURRICANES: Lend Me Your Comb (RPM, VA: Fab Gear)
—
THE COWSILLS: She Said To Me (Robin, Global)
THE ROLLING STONES: Happy (Virgin, Forty Licks)
THE COWSILLS: Make The Music Flow (Cowchip, Captain Sad And His Ship Of Fools & II x II)
THE KNACK: Take Your Love (RPM, VA: Fab Gear)
THE COWSILLS: The Rain, The Park And Other Things (Rebound, The Best Of The Cowsills)
THE KINKS: Waterloo Sunset (Sanctuary, The Ultimate Collection)
THE COWSILLS: Is It Any Wonder? (Robin, Global)
THE YACHTS: Suffice It To Say (Salvo, VA: Born Stiff)
THE COWSILLS: II x II (Cowchip, Captain Sad And His Ship Of Fools & II x II)
THE SPORTS: Who Listens To The Radio? (Salvo, VA: Born Stiff)
THE COWSILLS: Hair (Rebound, The Best Of The Cowsills)
PAUL McCARTNEY: Maybe I'm Amazed (Apple, McCartney)
MIKE NICHOLSON: Bellew's Creek (New Atlas, Industry)