This Is Rock 'n' Roll Radio # 970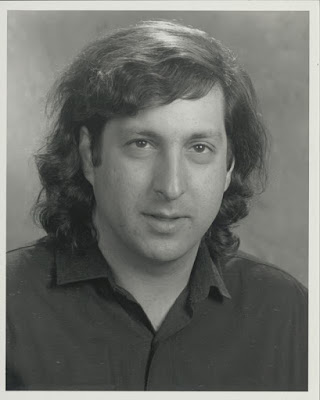 We love every show we do, every week. We're fans of pop music, and that's why we do this. But this week's show was special: a celebration of someone we've all just lost, someone whose work and legacy meant so much to us, the fans of pop music.
Because this week, many of our friends in the pop community are mourning the passing of former Rhino Records executive Gary Stewart. We lost a hero; many lost a friend, a mentor, an inspiration. We wish we could offer more comfort. All we're capable of offering is some music.
In its heyday, Rhino Records was always an outstanding label, and most would agree that Stewart deserves a lot of credit for that. The company did so much to preserve and provide essential rockin' pop music from across the decades, returning an endless array of magic sounds to retail racks, and occasionally providing us with great new stuff, too. From The Monkees' catalog (new and old) through boxed sets like Nuggets, Can You Dig It?, and One Kiss Can Lead To Another, series like D.I.Y., The British Invasion, and Poptopia! Power Pop Classics, and a plethora of single-artist retrospectives, Rhino kept the faith, baby. Partnership with WEA allowed Rhino access to The Ramones and a motherlode of soul gems from Atlantic Records, and the label's wide-ranging interests resulted in Rhino releases touching upon everything from folk to rockabilly to doo-wop to metal to hip hop to punk to funk to country to new wave to comedy. This perfunctory list is nowhere within light years of a comprehensive acknowledgement of the vast greatness of Rhino Records.
That's Gary Stewart's legacy. Even as we bid him farewell, we play the music his former company provided us for so many years, decades. Rhino may well have been This Is Rock 'n' Roll Radio's favorite label. Over the course of more than twenty years here, we have played more tracks released by Rhino than we've played from any other resource. This week, that's all we played. Godspeed, Gary Stewart. This is what rock 'n' roll Rhino radio sounded like on a Sunday night in Syracuse this week.
This Is Rock 'n' Roll Radio with Dana & Carl, Sunday nights from 9 to Midnight Eastern, on the air in Syracuse on The Spark WSPJ-LP 103.3 and 93.7 FM, and on the web at http://sparksyracuse.org/
You can follow Carl's daily blog Boppin' (Like The Hip Folks Do) at
https://carlcafarelli.blogspot.com/
Hey, Carl's writin' a book! The Greatest Record Ever Made will contain 60 essays (and then some) on 60 tracks, plus one bonus instrumental, each one of 'em THE greatest record ever made. An infinite number of records can be the greatest record ever made, as long as they take turns. Initial information can be seen here: https://carlcafarelli.blogspot.com/2019/04/work-in-progress-update-greatest-record.html
PS: SEND MONEY!!!! We need tech upgrades like Elvis needs boats. Spark Syracuse is supported by listeners like you. Tax-deductible donations are welcome at
Our new compilation CD This Is Rock 'n' Roll Radio, Volume 4 is) now available from Kool Kat Musik! 29 tracks of irresistible rockin' pop, starring Pop Co-Op, Ray Paul, Circe Link & Christian Nesmith, Vegas With Randolph Featuring Lannie Flowers, The Slapbacks, P. Hux, Irene Peña, Michael Oliver & the Sacred Band Featuring Dave Merritt, The Rubinoos, Stepford Knives, The Grip Weeds, Popdudes, Ronnie Dark, The Flashcubes, Chris von Sneidern, The Bottle Kids, 1.4.5., The Smithereens, Paul Collins' Beat, The Hit Squad, The Rulers, The Legal Matters, Maura & the Bright Lights, Lisa Mychols, and Mr. Encrypto & the Cyphers. You gotta have it, so order it at https://tinyurl.com/ycnly8oz Digital download -version (minus The Smithereens' track) now available at https://tinyurl.com/ycauy9xt
TIRnRR # 970: 4/14/19
THE RAMONES: Do You Remember Rock 'n' Roll Radio? (Rhino, End Of The Century)
—
THE MONKEES: I Don't Think You Know Me (Rhino, Missing Links)
ALEX CHILTON: Free Again (Rhino, 19 Years)
OTIS REDDING: Respect [live] (Rhino, Otis!)
BOB McFADDEN & DOR: The Beat Generation (Rhino, VA: The Beat Generation)
BEBE BUELL: Funtime (Rhino, Covers Girl)
BUDDY HOLLY: Rave On (Rhino, VA: Loud, Fast & Out Of Control
THE RICE UNIVERSITY MARCHING OWL BAND: Louie, Louie (Rhino, VA: The Best Of Louie, Louie)
—
THE RAMONES: Carbona Not Glue (Rhino, Leave Home)
THE CARS: You're All I've Got Tonight [demo] (Rhino, VA: DIY: Mass. Ave)
THE KNACK: Smilin' (Rhino, Zoom)
ELVIS COSTELLO & THE ATTRACTIONS: (What's So Funny 'Bout) Peace, Love & Understanding (Rhino, The Very Best Of Elvis Costello)
FREDA PAYNE: Band Of Gold (Rhino, VA: Can You Dig It?)
NICK GILDER: Hot Child In The City (Rhino, VA: Billboard Top Hits 1978)
—
WONDERMINTS: Proto-Pretty (Rhino, VA: Poptopia! Power Pop Classics Of The '90s)
THE BOBBY FULLER FOUR: Let Her Dance (Rhino, VA: Texas Music, Vol. 3)
HUSKER DU: Could You Be The One? (Rhino, VA: Never Mind The Mainstream…The Best Of MTV's 120 Minutes)
THE SIMPSONS: Dr. Zaius (Rhino, Songs In The Key Of Springfield)
BIS: The Powerpuff Girls [End Theme] (Rhino, VA: The Powerpuff Girls: Heroes & Villains)
THE JAM: Town Called Malice (Rhino, VA: More Music From The Soundtrack: Valley Girl)
—
THE PANDORAS: Stop Pretending (Rhino Handmade, Stop Pretending)
THE MOTORCYCLE ABELINE: (You Used To) Ride So High (Rhino, VA: Where The Action Is!)
TRACEY ULLMAN: They Don't Know (Rhino, The Best Of Tracey Ullman)
THE KINKS: Everybody's Gonna Be Happy (Rhino, Greatest Hits)
THE dB's: Love Is For Lovers (Rhino, Like This)
TOMMY JAMES & THE SHONDELLS: Hanky Panky (Rhino, Anthology)
—
THE FLASHCUBES: Christi Girl (Rhino, VA: DIY: Come Out And Play)
THE SPONGETONES: She Goes Out With Everybody (Rhino, VA: Children Of Nuggets)
UTOPIA: I Just Want To Touch You (Rhino, Deface The Music)
THE BANGLES: The Real World (Rhino, VA: Children Of Nuggets)
THE FLIRTATIONS: Nothing But A Heartache (Rhino, VA: One Kiss Can Lead To Another)
THE BEVIS FROND: Lights Are Changing (Rhino, VA: Children Of Nuggets)
—
THE BEAU BRUMMELS: Woman (Rhino, From The Vault)
FIRE: Father's Name Was Dad (Rhino, VA: Nuggets II)
WEDNESDAY WEEK: You Wanted Me To Hang Around (Rhino, VA: The Girls Can't Help It)
THE FACTORY: Path Through The Forest (Rhino, VA: Nuggets II)
BRYAN BOWERS: The Scotsman (Rhino, VA: The Very Best Of Dr. Demento)
THE YARDBIRDS: Little Games [single version] (Rhino, Ultimate!)
—
SOLOMON BURKE: Everybody Needs Somebody To Love (Rhino, The Very Best Of Solomon Burke)
CURTIS MAYFIELD: Superfly [single mix] (Rhino, Superfly)
THE BAY CITY ROLLERS: Yesterday's Hero (Rhino, VA: Yesterday's Heroes: '70s Teen Idols)
KOOL & THE GANG: Jungle Boogie (Rhino, VA: In Yo' Face! The History Of Funk, Vol. 1)
PHIL OCHS: Tape From California [live] (Rhino, Farewells & Fantasies)
THE GREAT! SOCIETY: Somebody To Love [LP version] (Rhino, VA: Love Is The Song We Sing)
—
THE RUTLES: Hold My Hand (Rhino, The Rutles)
THE JAGS: Back Of My Hand (I've Got Your Number) (Rhino, VA: DIY: Starry Eyes)
ELVIS PRESLEY: That's All Right (Mama) (Rhino, VA: The Sun Story)
THE CASTAWAYS: Liar, Liar (Rhino, VA: Nuggets)
THE BEATLES: Ain't She Sweet (Rhino, VA: The British Invasion: The History Of British Rock, Vol. 5)
THE STRANGELOVES: I Want Candy (Rhino, VA: Nuggets)
THE LAST: She Don't Know Why I'm Here (Rhino, VA: DIY: We're Desperate)
THE MUSIC MACHINE: Double Yellow Line (Rhino, VA: Nuggets)
BADFINGER: Just A Chance (Rhino, The Best Of Badfinger, Vol. 2)
THE MUSIC EXPLOSION: Little Bit O' Soul (Rhino, VA: Nuggets)
THE CROSSFIRES: Out Of Control (Rhino, VA: The History Of Surf Music Volume One)