This Is Rock 'n' Roll Radio # 964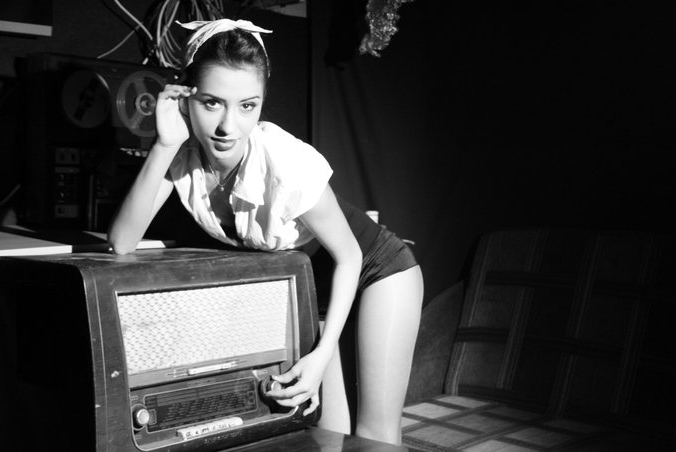 We actually do have a format. No, really. We do.
The format might not seem obvious to those on the outside looking in. It's a power pop format in theory, but an opening set that segues from a brand-new Gretchen's Wheel cover of a Nada Surf tune into The Morells (covering The Monkees), Nazareth, New Order, The O'Jays, and Siouxsie & the Banshees might not quite coincide with anyone's notion of what "power pop" means. Hell, it certainly doesn't coincide with my notion of power pop. Add on plays for Adam Sandler, The Mal Thursday Quintet, Dwight Yoakam & Buck Owens, The Velvet Underground, The Sex Pistols, The Raspberries, and The Dave Clark Five, as well as spins in memory of soul singer Jackie Shane and Talk Talk's Mark Hollis, and some may ask: This is a format?
And yeah, it is indeed a format. It's not random. It's not razzafrazzin' shuffle-play. And it's for damned sure not meant to be quirky. I hate quirky. We have a vision. We know what we're doing. New stuff and old stuff, famous and obscure, rock 'n' roll, soul, country, punk, psychedelia, and yes, power pop. Whatever the genre, they all have one thing in common: it's all pop music. It's the AM Top 40 I loved as a kid, and it's the left-of-the-dial alternative I embraced in college. It's oldies. It's the now sound. It's everything that we love, played loud. We know. We know what song fits where, and when, and why.
It's a format. It's a great format, second to none. You might not be able to see it. We see it. We'll take care of everything for you. Don't worry. The format is as simple and secure as you could ever want it to be, as steady as it comes: This Is Rock 'n' Roll Radio.
Hey! Local advocates of the irresistible This Is Rock 'n' Roll Radio format have a chance to experience a smidgen of this experience LIVE, as Buffalo's legendary punks The Enemies come to Syracuse for a show with the mighty 1.4.5., plus 61 Ghosts and S.F.B. That's this Saturday, March 9th at Funk 'N Waffles. Details? Details! https://www.funknwaffles.com/event/9152175/the-enemies-1-4-5-s-f-b-61-ghosts/ They promise to have rock AND roll in abundant supply. And this is what rock 'n' roll radio sounded like on a Sunday night in Syracuse this week.
This Is Rock 'n' Roll Radio with Dana & Carl, Sunday nights from 9 to Midnight Eastern, on the air in Syracuse on The Spark WSPJ-LP 103.3 and 93.7 FM, and on the web at http://sparksyracuse.org/
Spark Syracuse is supported by listeners like you. Tax-deductible donations are welcome at http://sparksyracuse.org/support/
You can follow Carl's daily blog Boppin' (Like The Hip Folks Do) at
https://carlcafarelli.blogspot.com/
Our new compilation CD This Is Rock 'n' Roll Radio, Volume 4 is now available from Kool Kat Musik! 29 tracks of irresistible rockin' pop, starring Pop Co-Op, Ray Paul, Circe Link & Christian Nesmith, Vegas With Randolph Featuring Lannie Flowers, The Slapbacks, P. Hux, Irene Peña, Michael Oliver & the Sacred Band Featuring Dave Merritt, The Rubinoos, Stepford Knives, The Grip Weeds, Popdudes, Ronnie Dark, The Flashcubes, Chris von Sneidern, The Bottle Kids, 1.4.5., The Smithereens, Paul Collins' Beat, The Hit Squad, The Rulers, The Legal Matters, Maura & the Bright Lights, Lisa Mychols, and Mr. Encrypto & the Cyphers. You gotta have it, so order it at https://tinyurl.com/ycnly8oz Digital download version (minus The Smithereens' track) now available -at https://tinyurl.com/ycauy9xt
TIRnRR # 964: 3/3/19
This Is Rock 'n' Roll Radio FRESH SPINS! (tracks we think we ain't played before) are listed in bold
THE RAMONES: Do You Remember Rock 'n' Roll Radio? (Rhino, End Of The Century)
—
GRETCHEN'S WHEEL: No Quick Fix (Futureman, Moth To Lamplight: A Tribute To Nada Surf)
THE MORELLS: Let's Dance On (Hightone, Think About It)
NAZARETH: Holiday (A & M, Classics Volume 16)
NEW ORDER: Dreams Never End (Factory, Movement)
THE O'JAYS: Put Your Hands Together (Epic, Love Train)
SIOUXSIE & THE BANSHEES: Hong Kong Garden (Polydor, VA: Marie Antoinette OST)
—
NAZARETH: Hair Of The Dog (A & M, Classics Volume 16)
ADAM SANDLER: Werewolves Of London (Artemis, VA: Enjoy Every Sandwich)
IGGY & THE STOOGES: I Got A Right! (Virgin, IGGY POP: A Million In Prizes)
JACKSON BROWNE WITH BONNIE RAITT: Poor Poor Pitiful Me (Artemis, VA: Enjoy Every Sandwich)
THE SIGHS: Living In Dreams (Charisma, What Goes On)
HINDU LOVE GODS: Raspberry Beret (Rhino, WARREN ZEVON: Genius)
—
THE MAL THURSDAY QUINTET: The Other Side Of This Life (Chunk Archives, single)
TALK TALK: Talk Talk (Parlophone, Essential)
THE YARDBIRDS: For Your Love (Rhino, Ultimate!)
TALK TALK: It's My Life (Parlophone, Essential)
GENE SIMMONS: See You Tonite (Mercury, KISS: Gene Simmons)
TALK TALK: Life's What You Make It (Parlophone, Essential)
—
TRIP WIRE: Bottle Rocket (Big Stir, Once & Always)
THE CHESTERFIELD KINGS: Rosalyn (Corduroy, VA: Not So Pretty)
DWIGHT YOAKAM & BUCK OWENS: Streets Of Bakersfield (Rhino, BUCK OWENS: 21 # 1 Hits)
DON DIXON & JAMIE HOOVER: Horizon (Laughing Outlaw, VA: Every Word: A Tribute To Let's Active)
THE MONKEES: For Pete's Sake (Rhino, Headquarters)
THE VELVET UNDERGROUND: Who Loves The Sun (Rhino, Loaded)
—
RICHIE PARSONS: Beverly (Lawless, Black Throated Blue)
BILL LLOYD: Every Word Means No (Laughing Outlaw, VA: Every Word: A Tribute To Let's Active)
GRETCHEN'S WHEEL: See These Bones (Futureman, Moth To Lamplight: A Tribute To Nada Surf)
MORGEN: Purple (Sunbeam, Morgen)
URGE OVERKILL: Positive Bleeding (Geffen, Saturation)
TOMORROW: My White Bicycle (Rhino, VAL: Nuggets II)
—
NADA SURF: Whose Authority (Barsuk, Lucky)
JACKIE SHANE: Sticks And Stones (Numero, Any Other Way)
THE KINKS: Brainwashed (Essential, Arthur Or The Decline And Fall Of The British Empire)
JACKIE SHANE: You Are My Sunshine (Numero, Any Other Way)
THE ENEMIES: Degeneration (Raw, Products Of The Streets)
JACKIE SHANE: New Way Of Lovin' (Numero, Any Other Way)
—
1.4.5.: Pahk Your Cah (Northside, single)
THE SEX PISTOLS: Anarchy In The UK (Warner Brothers, Never Mind The Bollocks, Here's The Sex Pistols)
THE LIVING DOLLS: Everything That Happened (Big Stir, single)
MARY LOU LORD: Stars Burn Out (Tee Pee, Baby Blue)
BEN VAUGHN: Sundown Sundown (Bar/None, Mono U.S.A.)
GANG OF FOUR: Damaged Goods (Rhino, VA: Classic Punk)
THE RASPBERRIES: Go All The Way (RPM, Power Pop Volume One)
ROCKPILE: Heart (Columbia, Seconds Of Pleasure)'
JIM BASNIGHT: Never Get Lost (Precedent, Not Changing)
WRECKLESS ERIC: Whole Wide World (Salvo, VA: Born Stiff)
THE DAVE CLARK FIVE: Glad All Over (Hollywood, The History Of The Dave Clark Five)
BIG STAR: September Gurls (Big Beat, VA: Thank You Friends)
THE RAMONETURES: The KKK Took My Baby Away (Blood Red, Ramonetures)