This Is Rock 'n' Roll Radio # 959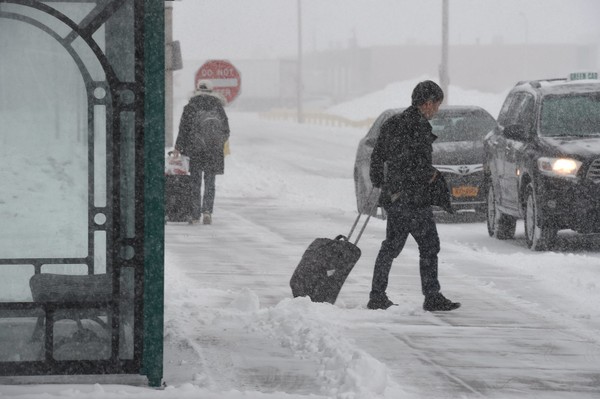 Let's Go!
For folks like us, living in places like Syracuse, where the ache and chill of winter often seem to freeze us into immobility, our fancy may drift to thoughts of escape. A train, plane, or automobile could take us elsewhere, to exotic comfort and freewheelin' fun on some distant shore. Instead, we wrap ourselves in layer upon layer, fire up the ol' Cub Cadet, and slip slide away, dashing through the yuchh.
Let's go.
It would be nice to get away some time. Not just from icy seasonal woes; it would be nice to go on holiday. Vacation. It sounds so inviting, so…far away. Some day. Some day, when our promises don't hold us in place. Some day.
I'm lucky. I've had the chance to travel. From an early age, I started visiting my grandparents in Missouri most summers. I went to Vermont when I was seven, California when I was eight, Florida when I was ten, New York City when I was twelve. Cleveland. Columbus. Toronto. Montreal. England. Virginia Beach. Washington, DC. I've seen Belgium and Spain, had dinner at a restaurant in Calais, even took a day trip to Tangier. I've been fortunate, and I know it.
But it's been a while. I miss the feeling of taking flight, of getting away. Maybe you miss it, too. Maybe you've never even been able to feel it for yourself. For many, this sweet relief may be nothing more than the stuff of fantasy.
Promises to keep, miles to go before we sleep. Yeah, it's snowing. Yes, it's cold. We're here. Our minds are still free. Howzabout some traveling music, Mr. DJ?
Turn it up. Let's go. Even if we must remain in place where we are, we can close our eyes, we can hear the music, and we can dream. Our music can take us anywhere we want to go. We can arrive without traveling. Let's go. Let's go. This is what rock 'n' roll radio sounded like on a Sunday night in Syracuse this week.
This Is Rock 'n' Roll Radio with Dana & Carl, Sunday nights from 9 to Midnight Eastern, on the air in Syracuse on The Spark WSPJ-LP 103.3 and 93.7 FM, and on the web at http://sparksyracuse.org/
Spark Syracuse is supported by listeners like you. Tax-deductible donations are welcome at http://sparksyracuse.org/support/
You can follow Carl's daily blog Boppin' (Like The Hip Folks Do) at
https://carlcafarelli.blogspot.com/
Our new compilation CD This Is Rock 'n' Roll Radio, Volume 4 is now available from Kool Kat Musik! 29 tracks of irresistible rockin' pop, starring Pop Co-Op, Ray Paul, Circe Link & Christian Nesmith, Vegas With Randolph Featuring Lannie Flowers, The Slapbacks, P. Hux, Irene Peña, Michael Oliver & the Sacred Band Featuring Dave Merritt, The Rubinoos, Stepford Knives, The Grip Weeds, Popdudes, Ronnie Dark, The Flashcubes, Chris von Sneidern, The Bottle Kids, 1.4.5., The Smithereens, Paul Collins' Beat, The Hit Squad, The Rulers, The Legal Matters, Maura & the Bright Lights, Lisa Mychols, and Mr. Encrypto & the Cyphers. You gotta have it, so order it at https://tinyurl.com/ycnly8oz Digital download version (minus The Smithereens' track) now available at https://tinyurl.com/ycauy9xt
TIRnRR # 959: 1/27/19
This Is Rock 'n' Roll Radio FRESH SPINS! (tracks we think we ain't played before) are listed in bold
THE RAMONES: Do You Remember Rock 'n' Roll Radio? (Rhino, End Of The Century)
—
THE REDUCERS: Let's Go (Rave On, Redux)
MOTT THE HOOPLE: All The Way From Memphis (Columbia, Greatest Hits)
THE GO-GO'S: Vacation (Edsel, Vacation)
THE SINGLES: He Can Go, You Can't Stay (Rainbow Quartz, Better Than Before)
SLY & THE FAMILY STONE: Hot Fun In The Summertime (Epic, Greatest Hits)
THE TEARJERKERS: Syracuse Summer (Kool Kat Musik, VA: This Is Rock 'n' Roll Radio, Volume 3)
—
THE JELLYBRICKS: Brooklyn (Wicked Cool, single)
THE THREE O'CLOCK: Getting Out Of Hand (Yep Roc, VA: [3 x 4])
RACHEL SWEET: Shadows Of The Night (CBS, …And Then He Kissed Me)
THE DREAM SYNDICATE: Hero Takes A Fall (Yep Roc, VA: [3 x 4])
THE SUPREMES: Nathan Jones (Motown, VA: Hitsville USA)
RAIN PARADE: Real World (Yep Roc, VA: [3 x 4])
—
JIM BASNIGHT: Best Lover In The World (Precedent, Not Changing)
JOE NORMAL & THE ANYTOWN'rs: Anytown (joenormalusa.com, Entering Anytown USA)
THE 5TH DIMENSION: Aquarius/Let The Sunshine In (The Flesh Failures) (Arista, The Ultimate 5th Dimension)
NEW ORDER: Age Of Consent (Factory, Power, Corruption & Lies)
SONS OF MORNING: Cold And Blue (Big Stir, single)
BEVERLEY: Where The Good Times Are (Ace, VA: Love Hit Me!)
—
IN DEED: Break Away (Dead Frog, At 4000 Meters)
THE BANGLES: Jet Fighter (Yep Roc, VA: [3 x 4])
BADFINGER: Love Is Easy (Real Gone Music, Badfinger)
EYTAN MIRSKY: Record Collection (Mirsky Mouse, Get Ready For Eytan!)
THE RAMONES: Let's Dance (Rhino, Ramones)
THE BEATLES: Two Of Us (Apple, Let It Be…Naked)
—
THE KINKS: Animal (Guardian, To The Bone)
THE ARGONAUTS: Ten Feet Tall (Acid Jazz, VA: Sugarlumps)
KAI DANZBERG: Nothing In My Head (Big Stir, Not Only Sunshine)
CLOCKWORK FLOWERS: Luminous Spinning Discs (theclockworkflowers.com, Colours Vol. 4 Green)
BOB SEGER & THE LAST HEARD: East Side Story (Cameo, single)
THE STOOGES: 1969 (Elektra, The Stooges)
—
THE VAPOUR TRAILS: The Inner Truth (Futureman, Godspeed It)WARREN ZEVON: Werewolves Of London (Rhino, Genius)
MR! MOURAY: Sunshine Supermarket (Bullseye, single)
LINK WRAY: Rumble (Not Now, The Rumbling Guitar Sound Of Link Wray)
THE MONKEES: Steam Engine (Rhino, Missing Links, Volume Three)
LINK WRAY: Rawhide (Not Now, The Rumbling Guitar Sound Of Link Wray)
—
THE EGO RITUAL: Serenade The Ley Line (Kool Kat Musik, The Ego Ritual)
THE FIRST CLASS: Beach Baby (Collectables, Beach Baby)
PoP: New Again (p-o-p.bandcamp.com, 3)
KIM WESTON: Take Me In Your Arms (Rock Me A Little While) (Motown, VA: Hitsville USA)
ANNYLAND: Sank Without A Bubble (AsFab, She Walks In)
THE FLATMATES: I Could Be In Heaven (Cherry Red, Potpourri)
—
THE BOB SEGER SYSTEM: Lucifer (Capitol, single)
SIMON & GARFUNKEL: Cecilia (Columbia, Greatest Hits)
THE DAMNED: New Rose (Castle, Smash It Up)
TOMMY JAMES & THE SHONDELLS: Mirage (Rhino, Anthology)
DEAN LANDEW: I Miss Your Lovin' (deanlandew.bandcamp.com)
THE NERVES: When You Find Out (Alive, One Way Ticket)
THE RAMONES: Now I Wanna Sniff Some Glue (Rhino, Ramones)
THE BEATLES: Get Back (Apple, Let It Be)
JOHNNY & THE HURRICANES: James Bond Theme (Varese Sarabande, The Very Best Of Johnny & the Hurricanes)