This Is Rock 'n' Roll Radio # 956: The 20th Anniversary Show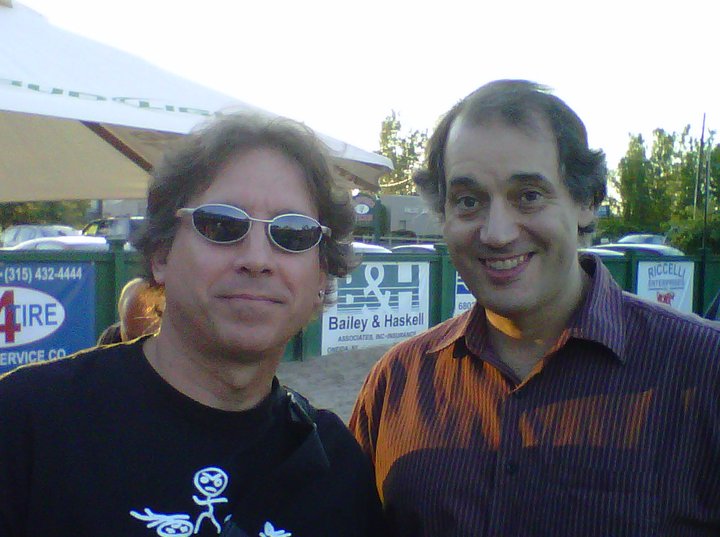 20 YEARS OF THIS IS ROCK 'N' ROLL RADIO!
Back on December 27, 1998, as a spin of "I Won't Let You Let Me Go" by The Poptarts kicked off the very first TIRnRR, maybe Dana thought our strange new radio show would still be on the air 20 years later. I did not believe that to be likely. Yet here we are, a full two decades later, still trying to pull off sight gags on the radio, still playing songs we love for whatever audience we can find, still convinced that this is great, great radio. "Great radio?" No. The BEST. Before Little Steven, before anyone else, Dana & Carl were already serving up The Best Three Hours Of Radio On The Whole Friggin' Planet! That's radio you can believe in.
Our pal Dave Murray asked me the other day if I still thought doing the show was fun. Oh, man…! Once a week, I get to come in and play a bunch of my favorite records on the radio. How could that be anything other than the most fun thing ever? Still fun. Still invigorating. And for 20 years now, still This Is Rock 'n' Roll Radio with Dana & Carl.
(For those sufficiently curious to wanna know more about our little mutant radio show's back story, I've just begun writing a history of This Is Rock 'n' Roll Radio for my blog Boppin' (Like The Hip Folks Do). You can read Part 1: The Kids Are Alright and Part 2: We're Your Friends For Now! right now at carlcafarelli.blogspot.com, with Part 3: I'll Send You A Tape From Central New York coming soon.)
NEXT WEEK: THE COUNTDOWN!!! And it's like we've been telling you for the past 20 years: this is what rock 'n' roll radio sounded like on a Sunday night in Syracuse this week.
This Is Rock 'n' Roll Radio with Dana & Carl, Sunday nights from 9 to Midnight Eastern, on the air in Syracuse on The Spark WSPJ-LP 103.3 and 93.7 FM, and on the web at http://sparksyracuse.org/
Spark Syracuse is supported by listeners like you. Tax-deductible donations are welcome at http://sparksyracuse.org/support/
You can follow Carl's daily blog Boppin' (Like The Hip Folks Do) at
https://carlcafarelli.blogspot.com/
Our new compilation CD This Is Rock 'n' Roll Radio, Volume 4 is now available from Kool Kat Musik! 29 tracks of irresistible rockin' pop, starring Pop Co-Op, Ray Paul, Circe Link & Christian Nesmith, Vegas With Randolph Featuring Lannie Flowers, The Slapbacks, P. Hux, Irene Peña, Michael Oliver & the Sacred Band Featuring Dave Merritt, The Rubinoos, Stepford Knives, The Grip Weeds, Popdudes, Ronnie Dark, The Flashcubes, Chris von Sneidern, The Bottle Kids, 1.4.5., The Smithereens, Paul Collins' Beat, The Hit Squad, The Rulers, The Legal Matters, Maura & the Bright Lights, Lisa Mychols, and Mr. Encrypto & the Cyphers. You gotta have it, so order it at https://tinyurl.com/ycnly8oz Digital download version (minus The Smithereens' track) now available at https://tinyurl.com/ycauy9xt
TIRnRR # 956: The 20th Anniversary Show 12/30/18
THE RAMONES: Do You Remember Rock 'n' Roll Radio? (Rhino, End Of The Century)
—
THE PLEASERS: The Kids Are Alright (Lost Moment, Thamesbeat)
THE NERVES: Walking Out On Love (Alive, One Way Ticket)
WILSON PICKETT: Sugar Sugar (Rhino, A Man And A Half)
THE JOHNNY POPSTAR LUV EXPLOSION: Oh Renee (JAM, VA: This Is Rock 'n' Roll Radio, Volume 1)
THE SPONGETONES: Are You Gonna, Do You Need To (Love Me) (Black Vinyl, Oh Yeah!)
SWEET: Fox On The Run (Capitol, The Best Of Sweet)
—
THE RAMONES: Sheena Is A Punk Rocker (Rhino, Rocket To Russia)
THE EXPLODING HEARTS: (Making) Teenage Faces (Dirtnap, Shattered)
THE SELECTER: On My Radio (EMI, Greatest Hits)
THE FACTORY: Path Through The Forest (Rhino, VA: Nuggets II)
OUTRAGEOUS CHERRY: Girl, You Have Magic Inside You (Rainbow Quartz, Supernatural Equinox)
THE LEAVES: Too Many People (Rhino, VA: Nuggets)
—
COCKEYED GHOST: About Jill (Big Deal, Keep Yourself Amused)
THE FLASHING ASTONISHERS: Period Exclamatory (JAM, VA: This Is Rock 'n' Roll Radio, Volume 1)
KYLE VINCENT: Wake Me Up (When The World's Worth Waking Up For) (Carport, Kyle Vincent)
THE KENNEDYS: And Your Bird Can Sing (JAM, VA: This Is Rock 'n' Roll Radio, Volume 1)
LITTLE RICHARD: The Girl Can't Help It (Specialty, The Georgia Peach)
GREGG YETI & THE BEST LIGHTS: My Narcoleptic Sara (Kool Kat Musik, VA: This Is Rock 'n' Roll Radio, Volume 3)
—
THE LOLAS: The Best Part (JAM, Ballerina Breakout)
THE CHORDS: Maybe Tomorrow (Captain Mod, So Far Away)
P. P. ARNOLD: The First Cut Is The Deepest (Immediate, The First Cut)
COTTON MATHER: My Before And After (Copper, Kontiki)
THE SMITHEREENS: Sorry (Entertainment One, Smithereens 2011)
KENNY HOWES & THE YEAH!: Sheila, She (TallBoy, Until Dawn)
—
THE KINKS: Waterloo Sunset (Sanctuary, The Ultimate Collection)
SHOES: The Things You Do (Elektra, Tongue Twister)
GLADHANDS: Forget All About It (Big Deal, La Di Da)
THE MERRYMAKERS: I'll Feel A Whole Lot Better (Not Lame, VA: Full Circle)
THE BAY CITY ROLLERS: Wouldn't You Like It (Arista, The Definitive Collection)
HOLE: Heaven Tonight (Geffen, Celebrity Skin)
—
BOB SEGER: Get Out Of Denver (Reprise, Seven)
THE EASYBEATS: She's So Fine (Albert, Absolute Anthology)
HELIUM ANGEL: Georgie (Pilot Error, An Early Clue To The New Direction)
CHICKLET: Out Of Sight (Satellite, Wanderlust)
THE MONKEES: A Little Bit Me, A Little Bit You (Colgems, single)
ASTROPUPPEES: Over Her Head (Manatee, Little Chick Tsunami)
—
EYTAN MIRSKY: This Year's Gonna Be Our Year (M-Squared, Year Of The Mouse)
WRECKLESS ERIC & AMY RIGBY: Do You Remember That (Southern Domestic, A Working Museum)
THE FLASHCUBES: No Promise (Northside, Bright Lights)
THE MUFFS: Saying Goodbye (Warner Brothers, The Muffs)
SEX CLARK FIVE: Can't Shake Loose (Beehive Rebellion, Strum & Drum!)
MING TEA: BBC (Hollywood, VA: Austin Powers International Man Of Mystery OST)
—
STYX: Kiss Your Ass Goodbye (Sanctuary, Cyclorama)
THE NEW PORNOGRAPHERS: The Laws Have Changed (Matador, Electric Version)
ED JAMES: Here We Go (JAM, Meet Ed James!)
THE CRICKLE: Place In My Heart (ROIR, VA: Garage Sale)
LULU: To Sir, With Love [museum outings montage] (Retroactive, VA: To Sir, With Love OST)
THE SMALL FACES: Up The Wooden Hills To Bedfordshire (Sanctuary, Ultimate Collection)
BIG STAR: September Gurls [single version] (Stax, The Best Of Big Star)
MANNIX: Highway Lines (Kool Kat Musik, VA: This Is Rock 'n' Roll Radio, Volume 3)
THE STALLIONS: Why (Junk, Hey Baby It's The Stallions)
THE TEARJERKERS: Syracuse Summer (Kool Kat Musik, VA: This Is Rock 'n' Roll Radio, Volume 3)
THE POPTARTS: I Won't Let You Let Me Go (Plum-Tone, Fresh…Out Of The Toaster)
THE RUBINOOS: Walk Don't Run (Bezerkley, VA: Bezerk Times)