This Is Rock 'n' Roll Radio # 950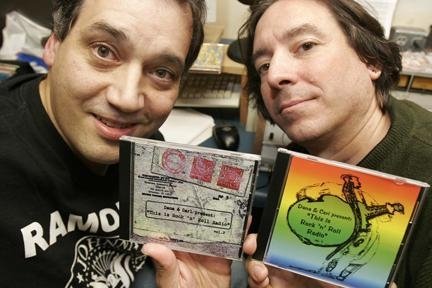 With this week's This Is Rock 'n' Roll Radio with Dana & Carl, we've now completed a whompin', stompin' 950 of these things.
Man, what level of stubborn does it take for a couple of music fans to keep up a weekly radio show for 950 episodes? I dunno, but that's us! 950. Nine-hunnert-and-fifty! Please enjoy our gala celebration of whatever the hell it is we do, with old favorites, new favorites, and our ongoing embrace of The Joy Of Radio. Because whatever it is that we do, it's still The Best Three Hours Of Radio On The Whole Friggin' Planet. And if we've told you once, we've told you 950 times: this is what rock 'n' roll radio sounded like on a Sunday night in Syracuse this week.
This Is Rock 'n' Roll Radio with Dana & Carl, Sunday nights from 9 to Midnight Eastern, on the air in Syracuse on The Spark WSPJ-LP 103.3 and 93.7 FM, and on the web at http://sparksyracuse.org/
Spark Syracuse is supported by listeners like you. Tax-deductible donations are welcome at http://sparksyracuse.org/support/
You can follow Carl's daily blog Boppin' (Like The Hip Folks Do) at
https://carlcafarelli.blogspot.com/
Our new compilation CD This Is Rock 'n' Roll Radio, Volume 4 is now available from Kool Kat Musik! 29 tracks of irresistible rockin' pop, starring Pop Co-Op, Ray Paul, Circe Link & Christian Nesmith, Vegas With Randolph Featuring Lannie Flowers, The Slapbacks, P. Hux, Irene Peña, Michael Oliver & the Sacred Band Featuring Dave Merritt, The Rubinoos, Stepford Knives, The Grip Weeds, Popdudes, Ronnie Dark, The Flashcubes, Chris von Sneidern, The Bottle Kids, 1.4.5., The Smithereens, Paul Collins' Beat, The Hit Squad, The Rulers, The Legal Matters, Maura & the Bright Lights, Lisa Mychols, and Mr. Encrypto & the Cyphers. You gotta have it, so order it at https://tinyurl.com/ycnly8oz Digital download version (minus The Smithereens' track) now available at https://tinyurl.com/ycauy9xt
TIRnRR # 950: 11/18/18
THE RAMONES: Do You Remember Rock 'n' Roll Radio? (Rhino, End Of The Century)
—
CIRCE LINK & CHRISTIAN NESMITH: I'm On Your Side (Kool Kat Musik, VA: This Is Rock 'n' Roll Radio, Volume 4)
GENE CLARK: That's Alright By Me (Omnivore, Gene Clark Sings For You)
THE ISLEY BROTHERS: Summer Breeze (Sony, VA: A Tribute To Black Entertainers)
NRBQ: Me And The Boys (Rounder, Tiddly Winks)
EYTAN MIRSKY: Don't Bother Me (Jealousy, VA: He Was Fab)
STAN LEE: Narration (Lifesong, HERO: Spider-Man: Rock Reflections Of A Superhero)
N/A: The Amazing Spider-Man [1967 TV theme]
THE RAMONES: I Don't Want To Grow Up (Radioactive, Adios Amigos!)
—
DIGBY: Spirit (Label X, Go Digby)
THE BEATLES: Hey Bulldog (Apple, Yellow Submarine Songtrack)
THE FLASHCUBES: Carl (You Da Man) (JAM, VA: This Is Rock 'n' Roll Radio, Volume 1)
MARY LOU LORD: Fearless (Rubric, Baby Blue)
THE HOLLIES: I Can't Let Go (EMI, Clarke, Hicks & Nash Years)
THE GENTRYS: Cinnamon Girl (Charly, VA: Alice In Wonderland)
—
THE BOB SEGER SYSTEM: 2 + 2 = ? (Capitol, single)
THE HUMBUGS: She's Not Sad (Oddvious, Twist The Truth)
RAY PAUL: How Do You Know? (Permanent Press, The Charles Beat)
HARMONIC DIRT: Maybe (n/a, Anthracite)
ANNY CELSI: Empty Hangers (Kool Kat Musik, VA: This Is Rock 'n' Roll Radio, Volume 3)
THE BANGLES: Want You (Omnivore, Ladies And Gentlemen…The Bangles!)
—
ROBB BENSON: The Tree Mind (Roam, The Tree Mind)
THE NERVES: Walking Out On Love (Alive, One Way Ticket)
P76: Let's Get Back To Where We Started (Zip, Into The Sun)
HINDU LOVE GODS: Raspberry Beret (Rhino, WARREN ZEVON: Genius)
PRINCE: I Could Never Take The Place Of Your Man (Warner Brothers, The Hits/The B-Sides)
THE PRETENDERS: Back On The Chain Gang (Sire, Learning To Crawl)
—
THE MONKEES: Sometime In The Morning (Rhino, 50)
THE GANTS: I Wonder (Rhino, VA: Nuggets)
THE SPONGETONES: (My Girl) Maryanne (Loaded Goat, Always Carry On)
THE SMITHEREENS: Behind The Wall Of Sleep (Capitol, Blown To Smithereens)
MR. ENCRYPTO: The Last Time [a cappella–expanded mix] (unreleased)
POP CO-OP: If Everything Was Easy (Silent Bugler, Four State Solution)
—
SEX CLARK FIVE: Fool I Was (Skyclad, Antedium)
THE RECORDS: Teenarama (On The Beach, The Records/Shades In Bed)
DEAN LANDEW: After Work (deanlandew.bandcamp.com)
THE JOHNNY POPSTAR LUV EXPLOSION: Guess I'm Just A Friendly Guy [alternate mix–Flo & Eddie's Zappa characters] (n/a, Lizzy The Supermarket Drag Queen)
CHUCK BERRY: Johnny B. Goode (MCA, The Anthology)
AL GREEN: I Want To Hold Your Hand (The Right Stuff, Green Is Blues)
—
SCREEN TEST: Sound Of The Radio (JAM, VA: This Is Rock 'n' Roll Radio, Volume 2)
THE JAM: In The City (Polydor, Direction Reaction Creation)
THE CATHOLIC GIRLS: Should Have Been Mine (Kool Kat Musik, VA: This Is Rock 'n' Roll Radio, Volume 3)
HELLO HELEN: Fall's Far Away (JAM, VA: This Is Rock 'n' Roll Radio, Volume 1)
THE GRIP WEEDS: Vibrations (Jem, Trip Around The Sun)
THE FLASHING ASTONISHERS: Period Exclamatory (JAM, VA: This Is Rock 'n' Roll Radio, Volume 1)
FRISBIE: Momentito (Hear Diagonally, The Subversive Sounds Of Love)
MANNIX: Highway Lines (Kool Kat Musik, VA: This Is Rock 'n' Roll Radio, Volume 3)
THE POPTARTS: I Won't Let You Let Me Go (PlumTone, Fresh…Out Of The Toaster)
THE KINKS: You Really Got Me (Sanctuary, The Ultimate Collection)
THE STALLIONS: Why (Junk, Hey Baby, It's The Stallions)
BIG STAR: September Gurls [single version] (Stax, The Best Of Big Star)
HERB ALPERT & THE TIJUANA BRASS: Mexican Road Race, Shout Factory, SRO)