This Is Rock 'n' Roll Radio # 943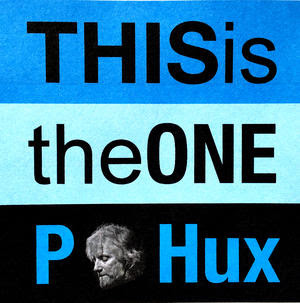 Chapel Hill, NC's native son Rick Miller, aka Rick Rock, is better known in pop circles as the one and only Parthenon Huxley–the name he used for his stunning 1988 album Sunny Nights–and as producer of records by E (better known today as front man of The Eels). Nowadays, singer/guitarist Huxley fronts a threesome called P. Hux. P. Hux is resolutely rock-solid and proved it on Deluxe, a record proclaimed by readers of Audities magazine ("The Journal Of Insanely Great Pop") as the very best of '95. If "Every Minute" is your first dose of Huxley, then you've got some catching up to do.
I wrote the above paragraph for the liner notes of Rhino Records' 1997 pop compilation Poptopia! Power Pop Classics Of The '90s, a set which contained the ace P. Hux track "Every Minute." In spite of my presumed bluster above, "Every Minute" was the first and (up to that point) only P. Hux track that I ever heard after the Sunny Nights LP. I had some catching up to do.
But catching up is what I do best! Today, I'm a proud P. Hux fan. And when I listened to the new P. Hux CD This Is The One last week, I was amazed to realize it was the best P. Hux release to date. That's saying something, man; Parthenon's catalog is loaded with a bounty of simply terrific pop material. My favorite's always been "Double Our Numbers" from Sunny Nights, but ya gotta love "Better Than Good" (a track from 2007's Kiss The Monster CD, which Parthenon let us use on This Is Rock 'n' Roll Radio, Volume 4), and "The Best Is Yet To Come" from the eponymous album by Parthenon's group VeG, and "Live Like A King" from Deluxe, and "Goldmine" from Purgatory Falls, and "This Isn't Yesterday" from Mile High Fan, and "Long Way To Go" from Thank You Bethesda. This Is The One has nine new tracks of equal fabosity. This Is The One is the one! We needed to play it, and we needed to play a bunch of previous Huxley fave raves. Which meant Parthenon Huxley needed to be our Featured Artist on TIRnRR this week. We had some catching up to do. (And you, dear listener, can catch up to this latest P. Hux masterwork at thisistheonecd.com.)
While catching up with P. Hux, we also commemorated the career of the late Marty Balin of Jefferson Airplane, and we shilled on behalf of LOUD LOVE LIVE 4 LAVERNE, a live extravaganza occurring this Saturday, October 6th at The Palace Theatre in Syracuse. LOUD LOVE LIVE 4 LAVERNE brings together the talents of Screaming Meemies, The Frenay/Lenin Band, Wallmen, Stone Cold Miracle, and The Trend, all in tribute to the late singer Nicholas J. LaVerne, who passed away in March. All proceeds benefit Nicholas' young son, and we urge you to go if you can. If you can't go, we urge you to buy a ticket anyway, just to support those who need your help: Loud Love Live 4 Laverne: https://loudlovelive4laverne.brownpapertickets.com/. A worthy cause, and we thank you kindly. This is what rock 'n' roll radio sounded like on a Sunday night in Syracuse this week.
This Is Rock 'n' Roll Radio with Dana & Carl, Sunday nights from 9 to Midnight Eastern, on the air in Syracuse on The Spark WSPJ-LP 103.3 and 93.7 FM, and on the web at http://sparksyracuse.org/
Spark Syracuse is supported by listeners like you. Tax-deductible donations are welcome at http://sparksyracuse.org/support/
You can follow Carl's daily blog Boppin' (Like The Hip Folks Do) at
https://carlcafarelli.blogspot.com/
Our new compilation CD This Is Rock 'n' Roll Radio, Volume 4 is now available from Kool Kat Musik! 29 tracks of irresistible rockin' pop, starring Pop Co-Op, Ray Paul, Circe Link & Christia-n Nesmith, Vegas With Randolph Featuring Lannie Flowers, The Slapbacks, P. Hux, Irene Peña, Michael Oliver & the Sacred Band Featuring Dave Merritt, The Rubinoos, Stepford Knives, The Grip Weeds, Popdudes, Ronnie Dark, The Flashcubes, Chris von Sneidern, The Bottle Kids, 1.4.5., The Smithereens, Paul Collins' Beat, The Hit Squad, The Rulers, The Legal Matters, Maura & the Bright Lights, Lisa Mychols, and Mr. Encrypto & the Cyphers. You gotta have it, so order it at https://tinyurl.com/ycnly8oz
TIRnRR # 943: 9/30/18
THE RAMONES: Do You Remember Rock 'n' Roll Radio? (Rhino, End Of The Century)
—
P. HUX: This Is The One (Nine 18, This Is The One)
THE WHO: Substitute (MCA, Who's Better, Who's Best)
IT'S MY PARTY!: Can I Get To Know You Better (Mister Cat, Can I Get To Know You Better?)
JEFFERSON AIRPLANE: Plastic Fantastic Lover (RCA, Surrealistic Pillow)
THE GRIP WEEDS: Vibrations (Jem, Trip Around The Sun)
XTC: No Thugs At Our House (Virgin, Upsy Daisy Assortment)
—
THE MONKEES: Love Is Only Sleeping (Rhino, Pisces, Aquarius, Capricorn & Jones, Ltd.)
JOY DIVISION: Love Will Tear Us Apart (Rhino, Heart And Soul)
P. HUX: Every Minute (Black Olive, Deluxe)
JEFFERSON AIRPLANE: It's No Secret (RCA, Takes Off)
THE HANDCUFFS: Wonderful Life (OOFL, Electroluv)
THE ZOMBIES: She's Not There (Big Beat, Zombie Heaven)
—
PARTHENON HUXLEY: Double Our Numbers (Columbia, Sunny Nights)
THE PRETENDERS: Cuban Slide (Rhino, Pretenders)
P. HUX: Just Sayin' (Nine 18, This Is The One)
JEFFERSON AIRPLANE: Come Up The Years (RCA, Takes Off)
SCREEN TEST: Notes From Trevor (Northside, Through The Past Brightly)
THE DIODES: Tired Of Waking Up Tired (Sony, Tired Of Waking Up Tired)
—
THE TREND: Peer Pressure (Screaming Skull, J Marc Memorial Show)
ELVIS COSTELLO & THE ATTRACTIONS: Pump It Up (Columbia, This Year's Model)
THE KINKS: Waterloo Sunset (Sanctuary, The Ultimate Collection)
WARREN ZEVON: Mr. Bad Example (Rhino, Genius)
VeG: The Best Is Yet To Come (Cactus Boy, VeG)
JEFFERSON AIRPLANE: 3/5 Of A Mile In 10 Seconds (RCA, Surrealistic Pillow)
—
P. HUX: Goldmine (Nine 18, Purgatory Falls)
THE MUFFS: Rock And Roll Girl (Sympathy For The Record Industry, Hamburger)
PAUL McCARTNEY: Who Cares (Capitol, Egypt Station)
JEFFERSON AIRPLANE: Share A Little Joke (RCA, Crown Of Creation)
PRINCE: I Could Never Take The Place Of Your Man (Warner Brothers, The Hits/The B-Sides)
NEW ORDER: Temptation (Warner Brothers, Singles)
—
DEAN LANDEW: After Work (deanlandew.bandcamp.com)
THE REZILLOS: Top Of The Pops (Sire, Can't Stand The Rezillos)
P. HUX: Inside Your Shoes (Nine 18, This Is The One)
JEFFERSON STARSHIP: Miracles (RCA, Red Octopus)
THE RAMONES: Babysitter (Rhino, Leave Home)
THE SEARCHERS: Hearts In Her Eyes (Omnivore, Another Night: The Sire Recordings 1979-1981)
—
P. HUX: Better Than Good (Kool Kat Musik, VA: This Is Rock 'n' Roll Radio, Volume 4)
THE JAGS: Back Of My Hand (I've Got Your Number) (Rhino, VA: DIY: Starry Eyes)
PARTHENON HUXLEY: Long Way To Go (Nine 18, Thank You Bethesda)
MANNIX: Highway Lines (Kool Kat Musik, VA: This Is Rock 'n' Roll Radio, Volume 3)
P. HUX: This Isn't Yesterday (Not Lame, Mile High Fan)
JEFFERSON AIRPLANE: Blues From An Airplane (RCA, Takes Off)
—
P. HUX: Honey Sweet Baby (Nine 18, This Is The One)
JEFFERSON AIRPLANE: Comin' Back To Me (RCA, Surrealistic Pillow)
P. HUX: Live Like A King (Black Olive, Deluxe)
THE CHURCH: The Unguarded Moment (Rhino, VA: Children Of Nuggets)
P. HUX: Wear My Ring (Nine 18, Kiss The Monster)
THE CHESTERFIELD KINGS: She Told Me Lies (Rhino, VA: Children Of Nuggets)
THE CHEVELLS: Let There Be Surf (Ace, VA: The Birth Of Surf)