This Is Rock 'n' Roll Radio # 939: The Brenda, Dana & Carl Show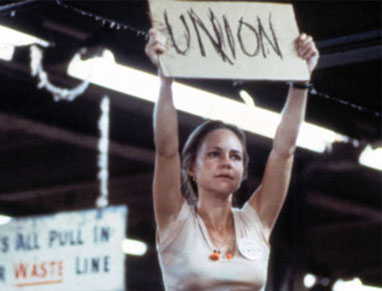 In union there is strength! We didn't plan this weekend's extravaganza on This Is Rock 'n' Roll Radio with Dana & Carl as a Labor Day tribute, but it certainly celebrated the strength-in-numbers ideal by welcoming my lovely wife Brenda as a fully deputized guest co-host. We've had many guest hosts in the past, and even a few guest co-hosts here 'n' there, but this was the first time we ever split a TIRnRR playlist equally between more than two programmers in a single show. I played a record. Dana played a record. Brenda played a record. This went on for yet another working example of The Best Three Hours Of Radio On The Whole Friggin' Planet. You can't scare us; we're stickin' with the union.
This union paid its dues with new music from Ken Sharp, Caddy, and Paul McCann, a mix of old and new fave raves by New Order, Eytan Mirsky, PoP, Aretha Franklin, Blondie, The Carpenters, The Impressions, Gang Of Four, Wilkerson, Gladys Knight & the Pips, Alison Krauss, The Bay City Rollers, Lady Gaga, Buck Owens, Devo, Bob Marley, The Ramones, Badfinger, and more. We saluted 41 years of Syracuse's own Power Pop Powerhouse The Flashcubes, sort of commemorated Jerry Lewis' Labor Day telethons with a spin of "You'll Never Walk Alone" by Gerry & the Pacemakers, and delighted in the giddy power of music shared.
We also played "What's It All About" by Orbis Max, as that group's Craig Carlstrom and his wife Paula are trying to pick up the pieces after a devastating electrical fire destroyed their home last month. There's a GoFundMe set up to help with that effort, and we urge all friends and supporters of TIRnRR to give whatever they can: https://www.gofundme.com/y6634 Please donate–in union there is strength. This is what rock 'n' roll radio sounded like on a Sunday night in Syracuse this week.
This Is Rock 'n' Roll Radio with Dana & Carl, Sunday nights from 9 to Midnight Eastern, on the air in Syracuse on The Spark WSPJ-LP 103.3 and 93.7 FM, and on the web at http://sparksyracuse.org/
Spark Syracuse is supported by listeners like you. Tax-deductible donations are welcome at http://sparksyracuse.org/support/
You can follow Carl's daily blog Boppin' (Like The Hip Folks Do) at
https://carlcafarelli.blogspot.com/
Our new compilation CD This Is Rock 'n' Roll Radio, Volume 4 is now available from Kool Kat Musik! 29 tracks of irresistible rockin' pop, starring Pop Co-Op, Ray Paul, Circe Link & Christia-n Nesmith, Vegas With Randolph Featuring Lannie Flowers, The Slapbacks, P. Hux, Irene Peña, Michael Oliver & the Sacred Band Featuring Dave Merritt, The Rubinoos, Stepford Knives, The Grip Weeds, Popdudes, Ronnie Dark, The Flashcubes, Chris von Sneidern, The Bottle Kids, 1.4.5., The Smithereens, Paul Collins' Beat, The Hit Squad, The Rulers, The Legal Matters, Maura & the Bright Lights, Lisa Mychols, and Mr. Encrypto & the Cyphers. You gotta have it, so order it at https://tinyurl.com/ycnly8oz
TIRnRR # 939: 9/2/18
THE RAMONES: Do You Remember Rock 'n' Roll Radio? (Rhino, End Of The Century)
—
KEN SHARP: No One Seems To Stay Together (ken-sharp.com, Beauty In The Backseat)
NEW ORDER: Age Of Consent (Factory, Power, Corruption & Lies)
EYTAN MIRSKY: This Year's Gonna Be Our Year (M-Squared, Year Of The Mouse)
HOLLY GOLIGHTLY: Time Will Tell (Damaged Goods, Truly She Is None Other)
PoP: The Weight Of Something (p-o-p.bandcamp.com, 3)
ARETHA FRANKLIN: (You Make Me Feel Like) A Natural Woman (Atlantic, The Atlantic Singles Collection 1967-1970)
—
GERRY & THE PACEMAKERS: You'll Never Walk Alone (EMI, The Best Of Gerry & the Pacemakers)
BLONDIE: Hanging On The Telephone (Chrysalis, The Platinum Collection)
SIMPLE MINDS: Don't You (Forget About Me) (Virgin, The Best Of Simple Minds)
P. P. ARNOLD: The First Cut Is The Deepest (Immediate, The First Cut)
THE SMALL FACES: Afterglow (Of Your Love) (Immediate, The Autumn Stone)
THE CARPENTERS: We've Only Just Begun (A & M, Singles 1969-1981)
—
CADDY: The Good Ones (Kool Kat Musik, Ten Times Four)
ORBIS MAX: What's It All About (single)
THE IMPRESSIONS: People Get Ready (Kent, Definitive Impressions)
THE MONKEES: Porpoise Song (Theme From "Head") (Rhino, 50)
THE BEATLES: Glass Onion (Apple, The Beatles)
CAST OF THE ROCKY HORROR PICTURE SHOW: Time Warp (Ode, The Rocky Horror Picture Show OST)
—
THE FLASHCUBES: No Promise (Northside, Bright Lights)
GANG OF FOUR: At Home He's A Tourist (Rhino, Entertainment!)
THE TEARJERKERS: Syracuse Summer (Kool Kat Musik, VA: This Is Rock 'n' Roll Radio, Volume 3)
WILKERSON: Let It Go Tonight (SpyderPop, single)
NEW ORDER: Love Vigilantes (Rhino, New Order)
GLADYS KNIGHT & THE PIPS: Friendship Train (Motown, The Definitive Collection)
—
PAUL McCANN: It's Only A Fantasy (Kool Kat Musik, Here Comes The Rapture)
QUINT: Good Morning London (Zero Charisma, single)
ISAAC HAYES: Theme From Shaft (Stax, Ultimate Isaac Hayes)
THE BOB SEGER SYSTEM: 2 + 2 = ? (Capitol, single)
SUGAR: Gee Angel (Rykodisc, single)
ALISON KRAUSS: Down In The River To Pray (Mercury, VA: O Brother Where Art Thou OST)
—
THE BAY CITY ROLLERS: Rock And Roll Love Letter (Arista, The Definitive Collection)
BLONDIE: Heart of Glass (Chrysalis, The Platinum Collection)
LADY GAGA: Born this Way (Interscope, Born This Way)
BUCK OWENS & HIS BUCKAROOS: Who's Gonna Mow Your Grass (Rhino, 21 # 1 Hits)
DEVO: Freedom Of Choice (Rhino, Pioneers Who Got Scalped)
THE PROCLAIMERS: I'm Gonna Be (500 Miles) (EMI, The Very Best Of The Proclaimers)
—
THE MORELLS: Red's (ESD, Shake And Push)
THE BEATLES: Savoy Truffle (Apple, The Beatles)
THE SKELETONS: Trans Am (ESD, In The Flesh!)
THE KNICKERBOCKERS: I Must Be Doing Something Right (Big Beat, A Rave Up With…The Knickerbockers)
THE CRYAN' SHAMES: If I Needed Someone (Sundazed, Sugar And Spice)
BOB MARLEY & THE WAILERS: One Love/People Get Ready (Island, Legend)
THE RAMONES: Blitzkrieg Bop (Rhino, Ramones)
THE POSIES: I'm Looking Through You (MOJO, VA: Beatlemania Volume 1)
FREDA PAYNE: Band Of Gold (Rhino, VA: Can You Dig It?)
NORMAN'S NORMANS: 9-9-9! (normansnormans.bandcamp.com, Music From Ripped!)
BADFINGER: Day After Day (Apple, Straight Up)
THE ROYAL GUARDSMEN: Snoopy Vs. The Red Baron (One Way, Anthology)
ASIA MINOR: Kokomo (Moochin About, VA: The Greatest Instrumentals 1934-1961)