This Is Rock 'n' Roll Radio # 934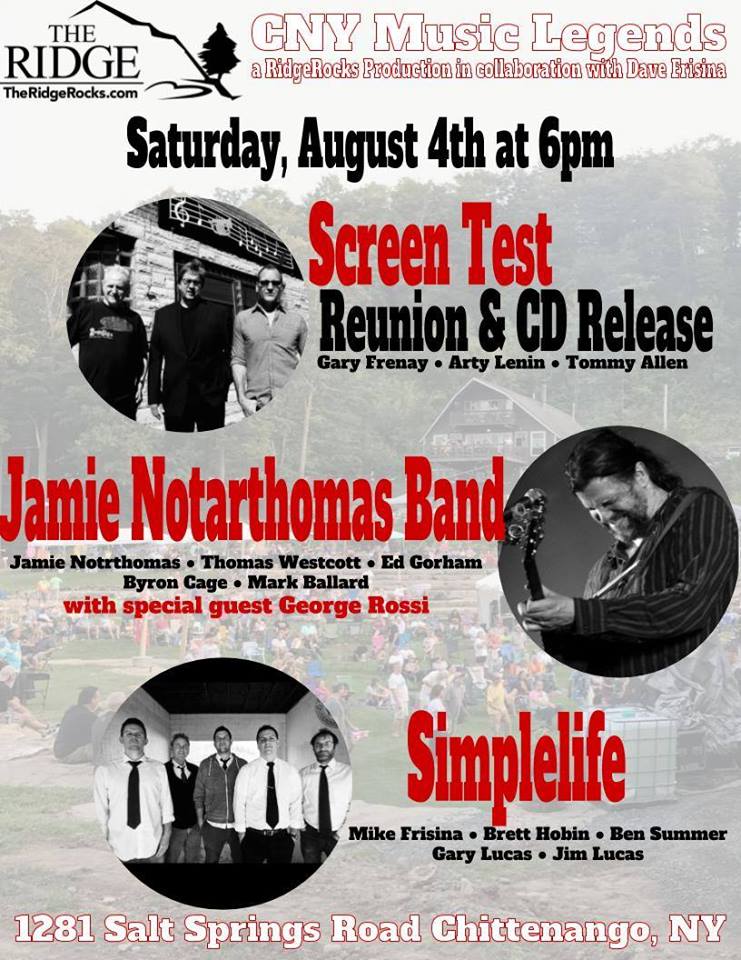 Greetings yet again from This Is Rock 'n' Roll Radio with Dana & Carl. Business, gents. Got to care of business. I wanna tell you about my new boys The Wonders….
Wait–sorry! I thought I was Play-Tone Records president Sol Siler for a second there. We wanna talk about the legendary Syracuse pop trio Screen Test, who have a new CD called Through The Past, Brightly due out this week. And it's just in time for a rare live Screen Test show this Saturday, August 4th, at The Ridge in Chittenango. If you're anywhere in the Western Hemisphere this Saturday, well, you need to be at The Ridge at 6 pm for SCREEN TEST! You have your orders. Carry on.
We opened this week's Best Three yadda yadda Friggin' Planet with a track from that very same new Screen Test CD, and then it was on to MORE adventure. A new single from The Jangle Band! A new 7″ white vinyl EP from Sex Clark Five (sportin' the unforgettable title Mrs. Von Braun You've Got A Lovely Daughter)! Another new Harry Nilsson cover by TIRnRR Fave Raves Steve Stoeckel & Rich Firestone! All this, and THE BAY CITY ROLLERS! We got a radio show! We're always willing to use it!
And NEXT WEEK: we use it for a cherished annual tradition on This Is Rock 'n' Roll Radio! Yes, it's the return of DANA'S FUNKY SOUL PIT! And this is what rock 'n' roll radio sounded like on a Sunday night in Syracuse this week.
This Is Rock 'n' Roll Radio with Dana & Carl, Sunday nights from 9 to Midnight Eastern, on the air in Syracuse on The Spark WSPJ-LP 103.3 and 93.7 FM, and on the web at http://sparksyracuse.org/
Spark Syracuse is supported by listeners like you. Tax-deductible donations are welcome at http://sparksyracuse.org/support/
You can follow Carl's daily blog Boppin' (Like The Hip Folks Do) at
https://carlcafarelli.blogspot.com/
Our new compilation CD This Is Rock 'n' Roll Radio, Volume 4 is now available from Kool Kat Musik! 29 tracks of irresistible rockin' pop, starring Pop Co-Op, Ray Paul, Circe Link & Christian Nesmith, Vegas With Randolph Featuring Lannie Flowers, The Slapbacks, P. Hux, Irene Peña, Michael Oliver & the Sacred Band Featuring Dave Merritt, The Rubinoos, Stepford Knives, The Grip Weeds, Popdudes, Ronnie Dark, The Flashcubes, Chris von Sneidern, The Bottle Kids, 1.4.5., The Smithereens, Paul Collins' Beat, The Hit Squad, The Rulers, The Legal Matters, Maura & the Bright Lights, Lisa Mychols, and Mr. Encrypto & the Cyphers. You gotta have it, so order it here.
TIRnRR # 934: 7/29/18
THE RAMONES: Do You Remember Rock 'n' Roll Radio? (Rhino, End Of The Century)
—
SCREEN TEST: Notes From Trevor (Northside, Through The Past, Brightly)
THE WONDERS: That Thing You Do! (Play-Tone, VA: That Thing You Do! OST)
TODD RUNDGREN: I Saw The Light (Rhino, Something/Anything?)
GEORGE HARRISON: Cheer Down (Apple, Let It Roll)
THE COWSILLS: Make The Music Flow (Cowchip, Captain Sad And His Ship Of Fools & II X II)
THE BEE GEES: Every Christian Lion Hearted Man Will Show You (Rebound, Bee Gees' 1st)
—
SEX CLARK FIVE: Quasar (Records To Russia, Mrs. Von Braun You've Got A Lovely Daughter)
BUFFALO SPRINGFIELD: Bluebird (Atco, Buffalo Springfield Again)
THE SPONGETONES: Talking Around It (Loaded Goat, Scrambled Egg)
THE STOOGES: I Wanna Be Your Dog (Elektra, The Stooges)
BUCK OWENS & HIS BUCKAROOS: Tall Dark Stranger (Rhino, 21 # 1 Hits)
BUFFALO SPRINGFIELD: Mr. Soul (Atco, Buffalo Springfield Again)
—
STEVE STOECKEL & RICH FIRESTONE: Everybody's Talkin' (unreleased)
THE ISLEY BROTHERS: Summer Breeze (Sony, VA: A Tribute To Black Entertainers)
DEAN LANDEW: After Work (deanlandew.bandcamp.com)
KATRINA & THE WAVES: Going Down To Liverpool (Bongobeat, The Original Recordings 1983-1984)
THE KINKS: Animal Farm (Universal, The Village Green Preservation Society)
THE CLASH: Train In Vain (Epic, Clash On Broadway)
—
THE BAY CITY ROLLERS: Who'll Be My Keeper (7T's, Elevator)
GLORIA JONES: Tainted Love (EMI, VA: Girl Crazy!)
THE BAY CITY ROLLERS: Wouldn't You Like It (Arista, The Definitive Collection)
STIFF LITTLE FINGERS: Alternative Ulster (Rhino, VA: Punk & New Wave Smash Hits)
THE TARTAN HORDE: Bay City Rollers, We Love You (United Artists, single)
NICK LOWE: So It Goes (Yep Roc, Quiet Please…)
—
MATERIAL ISSUE: Kim The Waitress (Mercury, Freak City Soundtrack)
THE BOB SEGER SYSTEM: 2 + 2 = ? (Capitol, single)
CAST: Promised Land (Polydor, All Change)
JUPITER AFFECT: White Knuckle Sound (eggBERT, Instructions For The Two Ways Of Becoming Alice)
MICHAEL SLAWTER: Mick In '69 (Futureman, Last Call For Breaking Hearts)
HOLLY & THE ITALIANS: Tell That Girl To Shut Up (Wounded Bird, The Right To Be Italian)
—
THE JANGLE BAND: The Guy Who Used To Care (joealgeri.bandcamp.com)
THE TREND: Electric Chair (Screaming Skull, J Marc Memorial Show)
THE BEATLES: Rain (Capitol, single)
PUBLIC IMAGE, LTD.: Rise (Universal, VA: Greatest Ever Alternative 80s)
DUSTY SPRINGFIELD: I Only Want To Be With You (Mercury, The Very Best Of Dusty Springfield)
THE RAMONES: Needles And Pins (Rhino, Road To Ruin)
—
JAMES BROWN: Please, Please, Please (Polydor, 50th Anniversary Collection)
LOUIS JORDAN & HIS TYMPANI FIVE: Saturday Night Fish Fry (MOJO, VA: Dance The Blues)
THE AVENGERS: We Are The One (Superior Viaduct, Avengers)
THE PRETENDERS: Kid (Sire, Pretenders)
THE BOOKENDS: Laugh Or Cry (Otto, Far Away But Around)
THE MONKEES: Sometime In The Morning (Rhino, More Of The Monkees)
CHRIS PAINE & THE LETTERTRAIN: Might Have Found Me (www.chrispainemusic.com, Indiscriminate Chatter)
THE ROSE GARDEN: Down To The Wire (Omnivore, The Rose Garden)
THE NEW YORK DOLLS: Personality Crisis (Mercury, New York Dolls)
THE OUTLETS: Knock Me Down (Rhino, VA: DIY: Mass Ave)
PAUL COLLINS: Don't Blame Your Troubles On Me (Alive, King Of Power Pop)
HARRY NILSSON: Everybody's Talkin' (Sony, VA: The 60s Summer)
CHET ATKINS: Canned Heat (Moochin About, VA: The Greatest Instrumentals 1934-1962)