This Is Rock 'n' Roll Radio # 933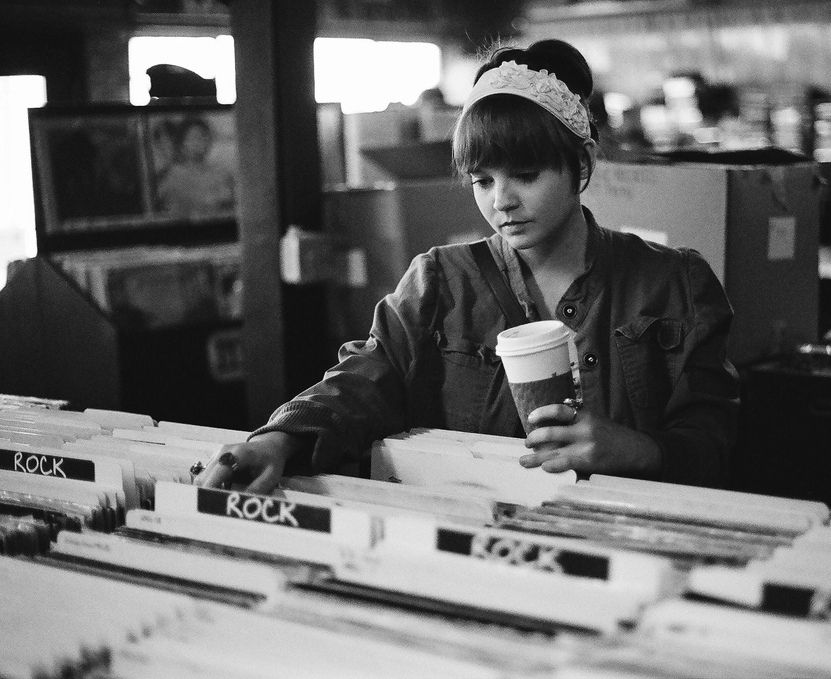 Music is important. Pop music is important, an essential facet of our shared popular culture. Records, books, movies, plays, TV shows, magazines, comics, poetry, art, even sporting events, even food and drink–these are all threads that help to weave the tapestry of our everyday delights. For some, it's just background noise. Ah, but for some of us, it's at the heart of what we live for.
Radio's job is to sell records. As record stores close, as the very concept of physical media continues its slide into obsolescence, as the sweet and/or raucous sounds we should cherish become mere incidentals to far too many, rock 'n' roll radio has to engage, has to remind any who will listen of the sheer vitality of music, old and new, to compel you to dance or sway or perhaps just swoon inwardly, to make you want to cry out, HOW CAN I GET THIS SONG?! A 45, an LP, a CD, a tape, a flexi-disc, or (if you must) the virtual track available digitally. You've gotta have it. You've gotta have it.
For nearly twenty years, This Is Rock 'n' Roll Radio has been dedicated to the celebration of pop music. This stuff matters to us, and we think it should matter to you. It's perfectly okay if you happen to prefer Van Halen to The Bay City Rollers, or even Drake to The Beatles. If, y'know, ya gotta. We'll agree to disagree. Live like you wanna live. Dig what you wanna dig. But man, love what you wanna love. Embrace it. Play it loud. Buy the records, go to the shows, listen to the radio or to the streaming services I don't quite understand. Participate, even if it's just the participation of a fan. It matters. It matters more than I can say.
This week's TIRnRR embraced new music from The Foreign Films, mixed with all sorts of rockin' pop faves raves from then to now. It's what we do. Turn it up, and just love it, man. Just love it all. This is what rock 'n' roll radio sounded like on a Sunday night in Syracuse this week.
COMING SOON: The return of an annual tradition on TIRnRR. On August 5th, it's DANA'S FUNKY SOUL PIT!
This Is Rock 'n' Roll Radio with Dana & Carl, Sunday nights from 9 to Midnight Eastern, on the air in Syracuse on The Spark WSPJ-LP 103.3 and 93.7 FM, and on the web at http://sparksyracuse.org/
Spark Syracuse is supported by listeners like you. Tax-deductible donations are welcome at http://sparksyracuse.org/support/
You can follow Carl's daily blog Boppin' (Like The Hip Folks Do) at
https://carlcafarelli.blogspot.com/
Our new compilation CD This Is Rock 'n' Roll Radio, Volume 4 is now available from Kool Kat Musik! 29 tracks of irresistible rockin' pop, starring Pop Co-Op, Ray Paul, Circe Link & Christian Nesmith, Vegas With Randolph Featuring Lannie Flowers, The Slapbacks, P. Hux, Irene Peña, Michael Oliver & the Sacred Band Featuring Dave Merritt, The Rubinoos, Stepford Knives, The Grip Weeds, Popdudes, Ronnie Dark, The Flashcubes, Chris von Sneidern, The Bottle Kids, 1.4.5., The Smithereens, Paul Collins' Beat, The Hit Squad, The Rulers, The Legal Matters, Maura & the Bright Lights, Lisa Mychols, and Mr. Encrypto & the Cyphers. You gotta have it, so order it here.
TIRnRR # 933: 7/22/18
THE RAMONES: Do You Remember Rock 'n' Roll Radio? (Rhino, End Of The Century)
—
THE DAVE CLARK FIVE: Any Way You Want It (Hollywood, The History Of The Dave Clark Five)
THE PRETENDERS: Cuban Slide (Rhino, Pretenders)
MARTI JONES: Sun Sun Sun Sun Sun (Columbia, VA: Back To The Beach OST)
THE TREND: Peer Pressure (Screaming Skull, J Marc Memorial Show)
HAROLD MELVIN & THE BLUE NOTES: Satisfaction Guaranteed (Or Take Your Love Back) (CBS Special Products, Greatest Hits)
THE HOLLYWOOD ARGYLES: Sho' Know A Lot About Love (MOJO, VA: Dance The Blues)
—
THE FOREIGN FILMS: Broken Dreamers (Kool Kat Musik, The Record Collector)
THE CURE: Friday I'm In Love (Fiction, Galore)
POPDUDES: She Is Funny (In That Way) (Kool Kat Musik, VA: This Is Rock 'n' Roll Radio, Volume 4)
GENE CLARK: That's Alright By Me (Omnivore, Gene Clark Sings For You)
UB40: If It Happens Again (EMI, The Very Best Of UB40)
MADNESS: One Step Beyond (Salvo, VA: Born Stiff)
—
BADFINGER: No Matter What (Apple, No Dice)
BIG STAR: September Gurls [single version] (Stax, The Best Of Big Star)
THE BAY CITY ROLLERS: Rock And Roll Love Letter (Arista, The Definitive Collection)
TODD RUNDGREN: Couldn't I Just Tell You (Rhino, Something/Anything?)
THE RAMONES: Sheena Is A Punk Rocker (Rhino, Rocket To Russia)
THE NERVES: Hanging On The Telephone (Alive, One Way Ticket)
—
LULU: The Boat That I Row (Rhino, From Crayons To Perfume)
THE BEATLES: Hey Bulldog (Apple, Yellow Submarine Songtrack)
THE FLAMIN' GROOVIES: I Can't Hide (Rhino, At Full Speed)
NEW ORDER: Dreams Never End (Factory, Movement)
THE CURE: In Between Days (Elektra, Greatest Hits)
THE O'JAYS: Love Train (Epic, Love Train)
—
STEVE STOECKEL & RICH FIRESTONE: Me And My Arrow (unreleased)
SLY & THE FAMILY STONE: Hot Fun In The Summertime (Epic, Greatest Hits)
DERRICK ANDERSON: When I Was Your Man (Omnivore, A World Of My Own)
THE PRETENDERS: Thumbelina (Sire, Learning To Crawl)
THE MONKEES: Look Out (Here Comes Tomorrow) (Rhino, 50)
TALKING HEADS: Once In A Lifetime [live] (Rhino, VA: Punk & New Wave Smash Hits)
—
SCREEN TEST: Notes From Trevor (Northside, Through The Past, Brightly)
THE GANTS: I Wonder (Rhino, VA: Nuggets)
GRETCHEN'S WHEEL: Plans (Futureman, Black Box Theory)
THE RATIONALS: I Need You (Rhino, VA: Nuggets)
CHUCK BERRY: Sweet Little Sixteen (MCA, The Anthology)
JUPITER AFFECT: Drusilla I Dig Your Scene (eggBERT, Instructions For The Two Ways Of Becoming Alice)
—
P. P. ARNOLD: The First Cut Is The Deepest (Immediate, The First Cut)
THE SMALL FACES: Afterglow (Of Your Love) (Castle, The Autumn Stone)
THE FLASHCUBES: Five Personalities (Northside, Flashcubes Forever)
THE KINKS: Better Things (Sanctuary, The Ultimate Collection)
WANDA JACKSON: Let's Have A Party (Metro Select, First Lady Of Rockabilly)
LITTLE RICHARD & HIS BAND: She's Got It (MOJO, VA: Dance The Blues)
—
LISA MYCHOLS: He's Got Me Dreaming (n/a, Sugar)
HARMONIC DIRT: Maybe (n/a, Anthracite)
THE ANIMALS: It's My Life (Abkco, Retrospective)
POP CO-OP: If Everything Was Easy (Silent Bugler, Four State Solution)
THE SAINTS: (I'm) Stranded (Amsterdamned, [I'm] Stranded)
LENE LOVICH: I Think We're Alone Now (Salvo, VA: Born Stiff)
CIRCE LINK & CHRISTIAN NESMITH: I'm On Your Side (Kool Kat Musik, VA: This Is Rock 'n' Roll Radio, Volume 4)
THE BELLE STARS: Sign Of The Times (Salvo, VA: Born Stiff)
FLOYD CRAMER: Last Date (Moochin About, VA: The Greatest Instrumentals 1934-1962)