This Is Rock 'n' Roll Radio # 929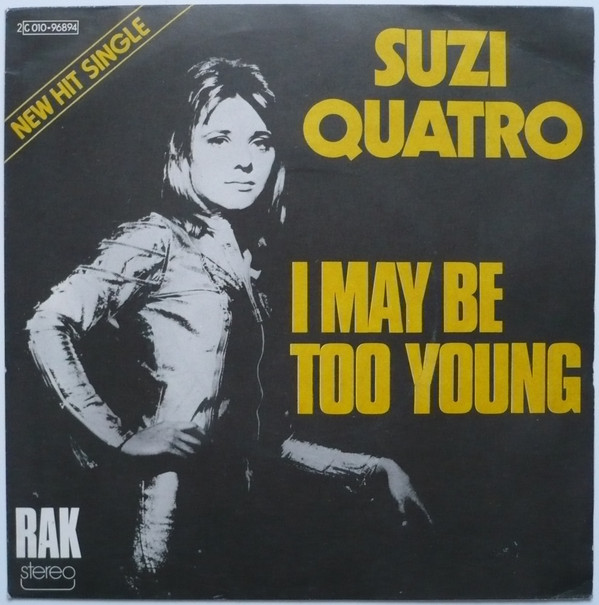 My recent blog post about falling in love with Suzi Quatro when I was 15 prompted the long-overdue decision to make Suzi Q our Featured Act on this week's exciting edition of This Is Rock 'n' Roll Radio with Dana & Carl. We reached back to the '60s for a track by then-teen Suzi's first group The Pleasure Seekers and went as late as 1980 for tracks from her Rock Hard album, but mostly we stuck with the churnin' glam motherlode of Suzi Quatro's '70s sides. We deliberately skipped her only U.S. hit "Stumblin' In," because we funny that way. From "Can The Can" through "Lipstick," we hope we did the glycerine queen proud.
With Suzi Quatro as our bedrock 'n' roll, we also offered the latest from The Primitives, Dana Countryman, Amoeba Teen, and The Doughboys, and a plethora of irresistibles from the past, present, and whatever's left. All this, and Suzi Quatro. Thump Thump ThumpThumpThump. This is what rock 'n' roll radio sounded like on a Sunday night in Syracuse this week.
This Is Rock 'n' Roll Radio with Dana & Carl, Sunday nights from 9 to Midnight Eastern, on the air in Syracuse on The Spark WSPJ-LP 103.3 and 93.7 FM, and on the web at http://sparksyracuse.org/
Spark Syracuse is supported by listeners like you. Tax-deductible donations are welcome at http://sparksyracuse.org/support/
You can follow Carl's daily blog Boppin' (Like The Hip Folks Do) at
https://carlcafarelli.blogspot.com/
Our new compilation CD This Is Rock 'n' Roll Radio, Volume 4 is now available from Kool Kat Musik! 29 tracks of irresistible rockin' pop, starring Pop Co-Op, Ray Paul, Circe Link & Christian Nesmith, Vegas With Randolph Featuring Lannie Flowers, The Slapbacks, P. Hux, Irene Peña, Michael Oliver & the Sacred Band Featuring Dave Merritt, The Rubinoos, Stepford Knives, The Grip Weeds, Popdudes, Ronnie Dark, The Flashcubes, Chris von Sneidern, The Bottle Kids, 1.4.5., The Smithereens, Paul Collins' Beat, The Hit Squad, The Rulers, The Legal Matters, Maura & the Bright Lights, Lisa Mychols, and Mr. Encrypto & the Cyphers. You gotta have it, so order it here.
TIRnRR # 929: 6/24/18
THE RAMONES: Do You Remember Rock 'n' Roll Radio? (Rhino, End Of The Century)
—
SUZI QUATRO: I May Be Too Young (Razor & Tie, The Wild One)
THE BLONDES: Suzi Quatro (JAM, VA: This Is Rock 'n' Roll Radio, Volume 2)
THE KINKS: Waterloo Sunset (Sanctuary, The Ultimate Collection)
APRIL WINE: Roller (Disky, April Wine)
MICHAEL NESMITH: Rising In Love (Pacific Arts, …tropical campfire's…)
STARZ: Tear It Down (Rykodisc, Starz)
—
THE PRIMITIVES: Lose The Reason (n/a, Five Fluffy Favourites)
NRBQ: C'mon Everybody (Omnivore, NRBQ)
THE FLAMIN' GROOVIES: I Want You Bad (Sonic Kicks, Fantastic Plastic)
THE LEFT BANKE: Pretty Ballerina (Mercury, There's Gonna Be A Storm)
SUZI QUATRO: Love Is Ready (RSO, Rock Hard)
THE BEATLES: Tomorrow Never Knows (Capitol, Revolver)
—
DANA COUNTRYMAN: Summer Sand (https://danacountryman.bandcamp.com/track/summer-sand)
ROD STEWART: Sweet Little Rock 'n' Roller (Mercury, Smiler)
SUZI QUATRO: Paralysed (EMI, The Essential Suzi Quatro)
WINGS: Famous Groupies (Capitol, London Town)
THE DAMNED: New Rose (Castle, Smash It Up)
GANG OF FOUR: At Home He's A Tourist (Rhino, VA: Classic Punk)
—
THE PLEASURE SEEKERS: What A Way To Die (Norton, VA: Friday At The Hideout)
LESLEY GORE: It's My Party [alternate vocal] (Teensville, VA: Lookin' For Boys!)
SUZI QUATRO: Glycerine Queen (EMI, The Essential Suzi Quatro)
MERRY CLAYTON: Gimme Shelter (Columbia, VA: 20 Feet From Stardom OST)
SUZI QUATRO: Make Me Smile (Come Up And See Me) (RAK, Aggro-Phobia)
LULU: The Boat That I Row (Rhino, From Crayons To Perfume)
—
AMOEBA TEEN: Hearts And Minds (Kool Kat Musik, Selection Box Vol. 1/The Appleyard Sessions)
THE 4TH COW: Dog (n/a, Meat And Bone: The Eggs Pay For It)
SUZI QUATRO: Daytona Demon (EMI, The Essential Suzi Quatro)
THE 4TH COW: Pay More (n/a, Meat And Bone: The Eggs Pay For It)
THE SEX PISTOLS: God Save The Queen (Virgin, Kiss This)
THE 4TH COW: Jeepster (n/a, Meat And Bone: The Eggs Pay For It)
—
THE DOUGHBOYS: Play With Fire (Ram, single)
THE FACES: Miss Judy's Farm (Warner Brothers, A Nod Is As Good As A Wink)
SUZI QUATRO: Lipstick (Razor & Tie, The Wild One)
THE MUSIC EXPLOSION: Little Bit O' Soul (Rhino, VA: Nuggets)
THE O'JAYS: Love Train (Epic, Love Train)
TODD RUNDGREN: Hello It's Me (Rhino, Something/Anything?)
—
THE B-52'S: Give Me Back My Man (Rhino, Nude On The Moon)
DEVO: Satisfaction (Rhino, VA: Classic Punk)
SUZI QUATRO: 48 Crash (Razor & Tie, The Wild One)
THE MONKEES: Me & Magdalena [Version 2] (Rhino, Good Times! [digital edition])
SUZI QUATRO: Can The Can (Razor & Tie, The Wild One)
THE BOB SEGER SYSTEM: 2 + 2 = ? (Capitol, single)
SUZI QUATRO: Devil Gate Drive (Razor & Tie, The Wild One)
THE CLASH: Clampdown (Epic, The Essential Clash)
SUZI QUATRO: Tear Me Apart (Razor & Tie, The Wild One)
SWEET: Ballroom Blitz (Capitol, The Best Of Sweet)
STEVE STOECKEL: Waterloo Sunset [instrumental] (unreleased)