This Is Rock 'n' Roll Radio # 923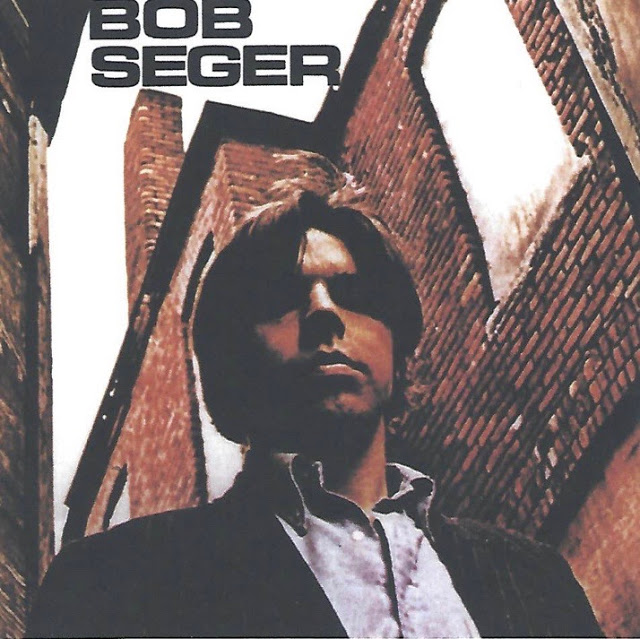 Bob Seger was a cartoon bogeyman to This Is Rock 'n' Roll Radio for many years. We used Seger to frighten schoolchildren, demonize our enemies, and bully the undecided into supporting our agenda. We regret nothing.
But the Seger joke ran its course. We started playing the occasional Seger song here and there (often prefaced with a tease of the opening piano lick from the odious, hated "Old Time Rock And Roll"): usually the great "Get Out Of Denver," occasionally "Heavy Music (Part 1)," once "Ramblin' Gamblin' Man," maybe "Sock It To Me, Santa" on a Christmas show. That was the extent of our Seger stash. We still actively despised most of his more popular material, and the early stuff–the good stuff–wasn't readily available.
This could not stand! Intrepid TIRnRR listener Rich Firestone supplied us with some prime early Seger, from the days before Tom Cruise danced in his freakin' underwear and Bob hisself crooned that he had tonight, who needs tomorrow. No. We played the good stuff. Because man, Bob Seger did indeed record a lot of good stuff; you just never get to hear any of it on the radio. This week, you did. "2 + 2 = ?" Bob Seger was our Featured Act on This Is Rock 'n' Roll Radio. Hell didn't freeze over. We know the good stuff when we hear it. This is what rock 'n' roll radio sounded like on a Sunday night in Syracuse this week.
This Is Rock 'n' Roll Radio with Dana & Carl, Sunday nights from 9 to Midnight Eastern, on the air in Syracuse on The Spark WSPJ-LP 103.3 and 93.7, and on the web at http://sparksyracuse.org/
Spark Syracuse is supported by listeners like you. Tax-deductible donations are welcome at http://sparksyracuse.org/support/
You can follow Carl's daily blog Boppin' (Like The Hip Folks Do) at
https://carlcafarelli.blogspot.com/
Our new compilation CD This Is Rock 'n' Roll Radio, Volume 4 is now available from Kool Kat Musik! 29 tracks of irresistible rockin' pop, starring Pop Co-Op, Ray Paul, Circe Link & Christian Nesmith, Vegas With Randolph Featuring Lannie Flowers, The Slapbacks, P. Hux, Irene Peña, Michael Oliver & the Sacred Band Featuring Dave Merritt, The Rubinoos, Stepford Knives, The Grip Weeds, Popdudes, Ronnie Dark, The Flashcubes, Chris von Sneidern, The Bottle Kids, 1.4.5., The Smithereens, Paul Collins' Beat, The Hit Squad, The Rulers, The Legal Matters, Maura & the Bright Lights, Lisa Mychols, and Mr. Encrypto & the Cyphers. You gotta have it, so order it here.
TIRnRR # 923: 5/13/18 (For our pal Dominique King; #TimMatters)
THE RAMONES: Do You Remember Rock 'n' Roll Radio? (Rhino, End Of The Century)
—
SLADE: Mama Weer All Crazee Now (Polydor, Greatest Hits)
EVERY MOTHER'S SON: Come On Down To My Boat (Polygram, VA: One Hit Wonders)
THE SPONGETONES: (My Girl) Maryanne (Loaded Goat, Always Carry On)
STARZ: Detroit Girls [demo] (Rykodisc, Starz)
BOB SEGER & THE LAST HEARD: East Side Story (Hideout, single)
IGGY & THE STOOGES: I Got A Right (Easy Action, Heavy Liquid)
—
THE BOB SEGER SYSTEM: 2 + 2 = ? (Capitol, single)
THE MUSIC EXPLOSION: A Little Bit O' Soul (Rhino, VA: Nuggets)
THE RAMONES: Swallow My Pride (Rhino, Leave Home)
THE MODERN LOVERS: Government Center (Castle, The Modern Lovers)
BRUCE SPRINGSTEEN: Girls In Their Summer Clothes (Columbia, Magic)
THE CURE: In Between Days [acoustic version] (Fiction, Greatest Hits [limited edition])
—
THE FLASHCUBES: No Promise (Northside, Bright Lights)
MARSHALL CRENSHAW: Someday, Someway (Warner Brothers, The Definitive Pop Collection)
THE BOB SEGER SYSTEM: Noah (Capitol, single)
THE CHOIR: David Watts (Omnivore, Artifact)
RICK JAMES: Bustin' Out (Motown, Icon)
MERRY CLAYTON: Gimme Shelter (Columbia, VA: 20 Feet From Stardom OST)
—
1.4.5.: She Couldn't Say No (Northside, 3 Chords & A Cloud Of Dust)
BRAM TCHAIKOVSKY: Girl Of My Dreams (Rhino, VA: DIY: Starry Eyes)
BOB SEGER: Rosalie (Reprise, Back In '72)
HAPPY RHODES: When The Rain Came Down (Numero, Ectotrophia)
THE HONEYBEES: You Need Us (from Gilligan's Island)
THE WEST COAST POP ART EXPERIMENTAL BAND: 'Scuse Me, Miss Rose (Sundazed, Part One)
—
BOB SEGER & THE LAST HEARD: Sock It To Me, Santa (Cameo, single)
THE TEMPTATIONS: War (Motown, Psychedelic Soul)
THE ARMOIRES: Responsible (Big Stir, Incidental Light Show)
THE KENNEDYS: Dancing On The Moon (n/a, Safe Until Tomorrow)
THE SMITHEREENS: Yesterday Girl (Capitol, Blown To Smithereens)
THE PRETTY THINGS: Talkin' About The Good Times (Mad Fish, Greatest Hits)
—
ULTRATONE: Love Remains (Futureman, VA: Back In Time)
THE CURE: Friday I'm In Love [acoustic version] (Fiction, Greatest Hits [limited edition])
THE BOB SEGER SYSTEM: Lucifer (Capitol, single)
THE BOTTLE KIDS: Let's Put Some Power Back In Pop (Rock Indiana, Let Me In On This Action)
THE KNACK: Your Number Or Your Name (Capitol, Get The Knack)
THE JAGS: Back Of My Hand (I've Got Your Number) (Rhino, VA: DIY: Starry Eyes)
—
THE KINKS: She's Got Everything (Sanctuary, The Ultimate Collection)
THE PRETENDERS: Stop Your Sobbing (Sire, The Singles)
SUZI QUATRO: Tired Of Waiting (EMI, The Essential Suzi Quatro)
CREEDENCE CLEARWATER REVIVAL: It Came Out Of The Sky (Fantasy, Willie And The Poor Boys)
BOB SEGER: Need Ya (Reprise, Seven)
THE SMALL FACES: Tin Soldier (Sanctuary, Ultimate Collection)
—
BOB SEGER & THE LAST HEARD: Heavy Music (Part 1) (Cameo, single)
THE BEATLES: Baby You're A Rich Man (Apple, Yellow Submarine Songtrack)
THE BOB SEGER SYSTEM: Innervenus Eyes (Capitol, single)
BIG STAR: In The Street (Stax, The Best Of Big Star)
THE BOB SEGER SYSTEM: Ivory (Capitol, single)
THE ROLLING STONES: The Last Time (Virgin, Forty Licks)
BOB SEGER: Get Out Of Denver (Reprise, Seven)
EDDIE & THE HOT RODS: Do Anything You Wanna Do (Rhino, VA: Classic Punk)
LINK WRAY & THE RAYMEN: Please Please Me [Take 1] (Ace, VA: Beatlemaniacs!!!)