This Is Rock 'n' Roll Radio # 921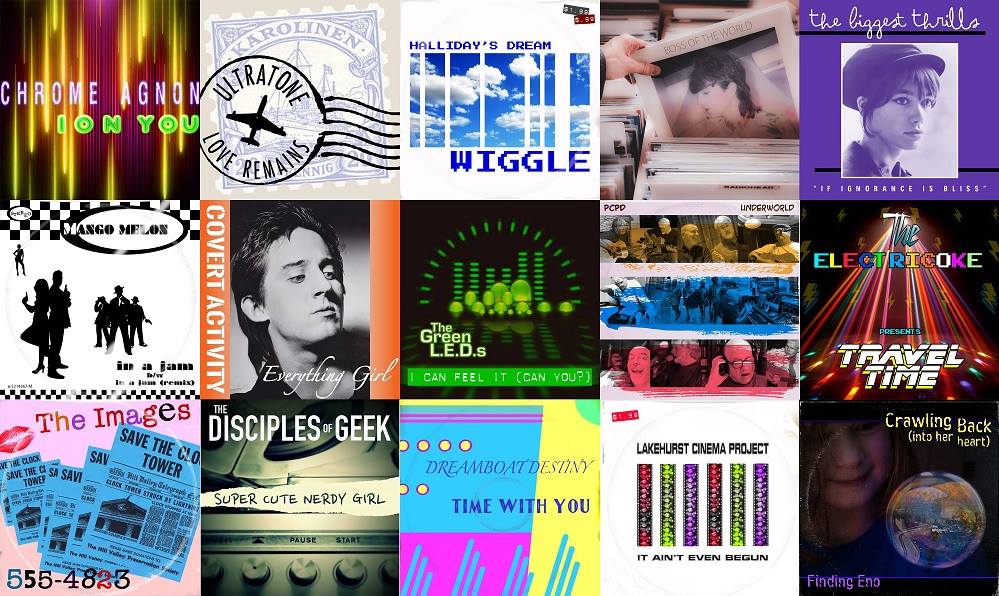 Pop music is proof that God loves us and wants us to be happy. The original quote is from my ne'er-do-well ancestor Benjamin Franklin, and it was about beer rather than catchy tunes, but we stand by our re-phrasing. The sounds we cherish can lift us. Pop music is its own reward. Belief in that reward is why This Is Rock 'n' Roll Radio with Dana & Carl exists in the first place.
This week's exercise in that specific conviction offered new music from Ken Sharp, The Kennedys, The Bottle Kids, The Jeremy Band, and Orbis Max. We were also proud to push Back In Time, a new collection of brand new lost '80s classics. Wait…new '80s classics? We'll let Dan Pavelich explain:
"15 artists recently became time travelers. Setting their destination clocks for 1985, they set out to create music that could effortlessly occupy airspace between artists like Madness, The Cars, and Howard Jones. Drum machines were flipped back on, synthesizers were rebooted, chorus pedals were dusted off, and a fair bit of Wang Chunging was done.
"As a nod of thanks to '80s icon Michael J. Fox for his important work on behalf of those suffering from Parkinson's Disease, this project will benefit The Michael J. Fox Foundation. 100 % of any money generated by sales will go directly to that worthwhile cause."
HuzZAH! Plus it's, like, good. Back In Time includes a number of TIRnRR Fave Raves performing under phonus-balonus noms du bop, so we direct your flux capacitor to https://futuremanrecords.bandcamp.com/album/back-in-time-lost-hits-of-the-80s-vol-2. Revel once again in our reward! Pop music. It's okay. God wants us to be happy. This is what rock 'n' roll radio sounded like on a Sunday night in Syracuse this week.
This Is Rock 'n' Roll Radio with Dana & Carl, Sunday nights from 9 to Midnight Eastern, on the air in Syracuse on The Spark WSPJ-LP 103.3 and 93.7, and on the web at http://sparksyracuse.org/
Spark Syracuse is supported by listeners like you. Tax-deductible donations are welcome at http://sparksyracuse.org/support/
You can follow Carl's daily blog Boppin' (Like The Hip Folks Do) at
https://carlcafarelli.blogspot.com/
Our new compilation CD This Is Rock 'n' Roll Radio, Volume 4 is now available from Kool Kat Musik! 29 tracks of irresistible rockin' pop, starring Pop Co-Op, Ray Paul, Circe Link & Christian Nesmith, Vegas With Randolph Featuring Lannie Flowers, The Slapbacks, P. Hux, Irene Peña, Michael Oliver & the Sacred Band Featuring Dave Merritt, The Rubinoos, Stepford Knives, The Grip Weeds, Popdudes, Ronnie Dark, The Flashcubes, Chris von Sneidern, The Bottle Kids, 1.4.5., The Smithereens, Paul Collins' Beat, The Hit Squad, The Rulers, The Legal Matters, Maura & the Bright Lights, Lisa Mychols, and Mr. Encrypto & the Cyphers. You gotta have it, so order it here.
TIRnRR # 921: 4/29/18
THE RAMONES: Do Ypu Remember Rock 'n' Roll Radio? (Rhino, End Of The Century)
—
THE SPINNERS: The Rubberband Man (Rhino, The Very Best Of The Spinners)
SLY & THE FAMILY STONE: Dance To The Music (Epic, Higher!)
THE KINKS: Here Comes Yet Another Day (Velvel, Everybody's In Show-Biz)
THE PRETTY THINGS: Come See Me (Madfish, Greatest Hits)
THE POLICE: Roxanne (A & M, Outlandos d'Amour)
THE BOTTLE KIDS: When You Come Around (Rock Indiana, Let Me In On This Action)
—
PCPD: Underworld (www.futuremanrecords.bandcamp.com, VA: Back In Time)
THE ICE CREAM CONPIRACISTS: We All Need Someone To Love (icecreammanrecords.bandcamp.com, single)
THE ROMANTICS: National Breakout (Nemperor, National Breakout)
THE SMITHEREENS: Got Me A Girl (Kool Kat Musik, VA: This Is Rock 'n' Roll Radio, Volume 4)
GLADYS KNIGHT & THE PIPS: I've Got To Use My Imagination (Curb, Greatest Hits)
MERRY CLAYTON: Gimme Shelter (Columbia, VA: 20 Feet From Stardom OST)
—
THE KENNEDYS: Safe Until Tomorrow (n/a, Safe Until Tomorrow)
THE JAYHAWKS: I'm Gonna Make You Love Me (Columbia, Smile)
SAM PHILLIPS: I Don't Know How To Say Goodbye To You (Virgin, The Indescribable Wow)
THE BANGLES: I'm In Line (Omnivore, VA: Ladies And Gentlemen…The Bangles!)
THE ANDERSON COUNCIL: Girl On The Northern Line (Jem, Assorted Colours)
THE FLASHCUBES: No Promise (Kool Kat Musik, VA: This Is Rock 'n' Roll Radio, Volume 4)
—
KEN SHARP: She Hates The Beatles (https://kensharp.bandcamp.com/track/she-hates-the-beatles)
RAY PAUL: Pretty Flamingo (Permanent Press, Whimsicality)
JULIANA HATFIELD: I Honestly Love You (American Laundromat, Juliana Hatfield Sings Olivia Newton-John)
FRANK ROSSANO: Money Money &You (unreleased)
FINGERPRINTZ: Yes Eyes (Virgin, Distinguishing Marks)
SONS OF MORNING: Didn't See The Man (n/a, Sons Of Morning)
—
DREAMBOAT DESTINY: Time With You (Back In Time) (www.futuremanrecords.bandcamp.com, VA: Back In Time)
KAI DANZBERG: Welcome To The Show (n/a, Pop-Up Radio)
THE JEREMY BAND: Sticks And Stones (JAM, Joy Comes In The Morning)
MARSHALL CRENSHAW: Someday, Someway (Warner Brothers, The Definitive Pop Collection)
PHIL SEYMOUR: Let Her Dance (The Right Stuff, Precious To Me)
THE CURE: In Between Days (Fiction, Greatest Hits)
—
ABBA: So Long (Polydor, More ABBA Gold)
HINDU LOVE GODS: Raspberry Beret (Rhino, WARREN ZEVON: Genius)
HANSON: Thinking 'Bout Somethin' (Three Car Garage, Middle Of Everywhere)
THE SMALL FACES: What'cha Gonna Do About It? (Sanctuary, Ultimate Collection)
PAUL McCARTNEY: Hope Of Deliverance (Capitol, Off The Ground)
GRAHAM PARKER & THE RUMOUR: Local Girls (Spectrum, The Very Best Of Graham Parker & The Rumour)
—
ORBIS MAX: Love Will Keep Us Together (orbismax.bandcamp.com, single)
THE TOURISTS: So Good To Be Back Home Again (Camden, Greatest Hits)
DAVE EDMUNDS: Girls Talk (Rhino, The Dave Edmunds Anthology)
NICK LOWE: Cruel To Be Kind (Yep Roc, Quiet Please…)
THE STANDELLS: Sometimes Good Guys Don't Wear White (Sundazed, Why Pick On Me)
FENWYCK: Mindrocker (Rhino, VA: Nuggets)
—
THE IMAGES: 555-4823 (www.futuremanrecords.bandcamp.com, VA: Back In Time)
QUINT: Good Morning London (n/a, Sharknado 5 OST)
THE BEATLES: The Ballad Of John And Yoko (Apple, Past Masters)
TRACEY ULLMAN: Breakaway (Rhino, The Best Of Tracey Ullman)
THE RAMONES: I Don't Want To Grow Up (Radioactive, Adios Amigos!)
THE BEE GEES: Spicks And Specks (Festival, Brilliant From Birth)
ARTHUR GREENSLADE & THE GEE-MEN: Rockin' Susannah (Moochin' About, VA: The Greatest Instrumentals 1934-1962)