This Is Rock 'n' Roll Radio # 920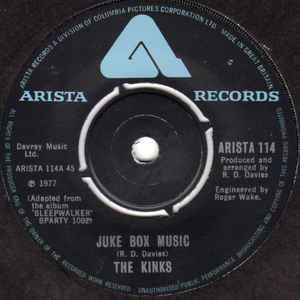 Next month marks the 40th anniversary of the first time I saw The Kinks in concert: May 28th, 1978 at The Landmark Theater in Syracuse. It was magic, and I'll be writing about it at length later this week. Sure, I could wait until the 40th anniversary actually rolls around, but it seems an appropriate subject matter for the 900th post on my blog, so you'll see it this Thursday. It's a lengthy tale of music, love, teen dreams, youthful excess, failure, immaturity, growing up, and a girl. If a boy has a Kinks story, it probably involves a girl. And it's about THE KINKS! We opened this week's TIRnRR with "Juke Box Music," The Kinks' encore song from that concert nearly four decades ago. It's only meant to dance to; you shouldn't take it to heart.
Beyond that, we entered this latest edition of The Best Three Hours Of Radio On The Whole Friggin' Planet with no grander plan than our basic mission statement: play great pop music. Pure pop. Power pop. Rockin' pop. Punk pop. Country pop. Soul pop. Indie pop. It's ALL pop. Play it loud. Play it proud. This is what rock 'n' roll radio sounded like on a Sunday night in Syracuse this week.
This Is Rock 'n' Roll Radio with Dana & Carl, Sunday nights from 9 to Midnight Eastern, on the air in Syracuse on The Spark WSPJ-LP 103.3 and 93.7, and on the web at http://sparksyracuse.org/
Spark Syracuse is supported by listeners like you. Tax-deductible donations are welcome at http://sparksyracuse.org/support/
You can follow Carl's daily blog Boppin' (Like The Hip Folks Do) at
https://carlcafarelli.blogspot.com/
Our new compilation CD This Is Rock 'n' Roll Radio, Volume 4 is now available from Kool Kat Musik! 29 tracks of irresistible rockin' pop, starring Pop Co-Op, Ray Paul, Circe Link & Christian Nesmith, Vegas With Randolph Featuring Lannie Flowers, The Slapbacks, P. Hux, Irene Peña, Michael Oliver & the Sacred Band Featuring Dave Merritt, The Rubinoos, Stepford Knives, The Grip Weeds, Popdudes, Ronnie Dark, The Flashcubes, Chris von Sneidern, The Bottle Kids, 1.4.5., The Smithereens, Paul Collins' Beat, The Hit Squad, The Rulers, The Legal Matters, Maura & the Bright Lights, Lisa Mychols, and Mr. Encrypto & the Cyphers. You gotta have it, so order it here.
TIRnRR # 920: 4/22/18
THE RAMONES: Do You Remember Rock 'n' Roll Radio? (Rhino, End Of The Century)
—
THE KINKS: Juke Box Music (Velvel, Sleepwalker)
CREEDENCE CLEARWATER REVIVAL: It Came Out Of The Sky (Fantasy, Willy And The Poor Boys)
BOBBY WOMACK: All Along The Watchtower (United Artists, Facts Of Life)
MERRY CLAYTON: Gimme Shelter (Columbia, VA: 20 Feet From Stardom OST)
JOEY RAMONE: Party Line (BMG, "…Ya Know?")
ROCKPILE: When I Write The Book (Columbia, Seconds Of Pleasure)
—
THE FLASHCUBES: Hey Miss Betty (Northside, Flashcubes Forever)
CREEDENCE CLEARWATER REVIVAL: Travelin' Band (Fantasy, Cosmo's Factory)
THE RAMONES: Don't Come Close (Rhino, Road To Ruin)
THE YARDBIRDS: Over Under Sideways Down (Airline, Roger The Engineer)
WRECKLESS ERIC & AMY RIGBY: Do You Remember That (Southern Domestic, A Working Museum)
JOE COCKER: Space Captain (Columbia, VA: 20 Feet From Stardom OST)
—
THE MONKEES: Valleri (Rhino, The Birds, The Bees & The Monkees)
MARSHALL CRENSHAW: You're My Favorite Waste Of Time (Warner Brothers, The Definitive Pop Collection)
THE MONKEES: Tapioca Tundra (Rhino, The Birds, The Bees & The Monkees)
CHRIS BELL: I Am The Cosmos (Omnivore, I Am The Cosmos)
THE MONKEES: Auntie's Municipal Court (Rhino, The Birds, The Bees & The Monkees)
CHRIS BELL: You And Your Sister (Omnivore, I Am The Cosmos)
—
DAWN: Knock Three Times (Varese Sarabande, VA: Bubblegum Classics Volume One)
JOY DIVISION: Love Will Tear Us Apart (Rhino, The Best Of Joy Division)
GLADYS KNIGHT & THE PIPS: Midnight Train To Georgia (Curb, Greatest Hits)
KAI DANZBERG: Welcome To The Show (https://kaidanzberg.bandcamp.com/album/pop-up-radio, Pop-Up Radio)
THE HOLLIES: Then The Heartaches Begin (EMI, Clarke, Hicks & Nash Years)
SWEET: Fox On The Run [original version] (RCA, Desolation Boulevard)
—
STEVE STOECKEL & HIS THIS IS ROCK 'N' ROLL RADIO ALL-STARS: He And She (unreleased)
THE ICE CREAM CONSPIRACISTS: We All Need Someone To Love (icecreammanrecords.bandcamp.com, single)
BUCK OWENS & HIS BUCKAROOS: Tall Dark Stranger (Rhino, 21 # 1 Hits)
SONS OF MORNING: Didn't See The Man (n/a, Sons Of Morning)
THE AVENGERS: We Are The One (Superior Viaduct, Avengers)
BLANCMANGE: Living On The Ceiling (Rhino, VA: Punk & New Wave Smash Hits)
—
THE BOBBY FULLER FOUR: Only When I Dream (Del-Fi, Never To Be Forgotten)
BOW WOW WOW: C30 C60 C90 Go (Rhino, VA: Punk & New Wave Smash Hits)
LIZ PHAIR: Supernova [radio edit] (Matador, single)
THE PRIMITIVES: Crash (BMG, Lovely)
THE JIVE FIVE: What Time Is It? (Beltone, single)
HARMONIC DIRT: Maybe (n/a, Anthracite)
—
BUCK OWENS & HIS BUCKAROOS: Who's Gonna Mow Your Grass (Rhino, 21 # 1 Hits)
CREEDENCE CLEARWATER REVIVAL: The Midnight Special (Fantasy, Willy And The Poor Boys)
THE YOUNG RASCALS: I Ain't Gonna Eat Out My Heart Anymore (Rhino, THE RASCALS: The Rascals Anthology 1965-1972)
THE SMALL FACES: Itchykoo Park (Sanctuary, Ultimate Collection)
20/20: Remember The Lightning (Real Gone Music, 20/20-Look Out!)
THE PRETTY THINGS: Mr. Tambourine Man (Madfish, Greatest Hits)
THE KINKS: You Really Got Me (Essential, Kinks)
THE BEATLES: Hey Bulldog (Apple, Yellow Submarine Songtrack)
THE KINKS: All Day And All Of The Night (Essential, Kinks)
THE MARKETTS: Theme From "The Avengers" (Warner Brothers, single)