This Is Rock 'n' Roll Radio # 1079: Micky Dolenz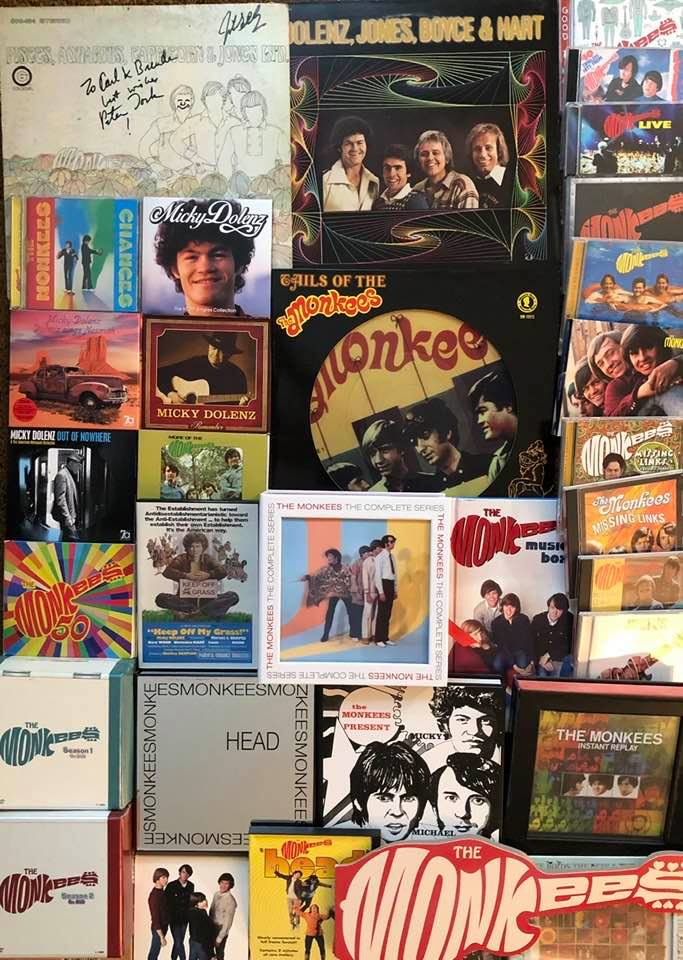 Micky Dolenz is one of the greatest pop singers of the rock 'n' roll era, and one of the most underrated. I'm not pitting him against Aretha Franklin or Elvis Presley–there's a reason they were crowned as the respective Queen of Soul and King Elvis I–but Dolenz deserves more recognition, more acknowledgment of his status as an accomplished pop vocalist. His lead vocal turns on so many of The Monkees' hits and deep tracks remain engaging examples of how to deliver a song. The fact that The Monkees were a made-for-TV combo is irrelevant; talent will out. Micky's voice is made for radio. Radio is made for Micky's voice.
With the release of the simply wonderful new album Dolenz Sings Nesmith, we figured it's high time an episode of this little mutant radio show cast a spotlight on Micky Dolenz as our Featured Performer. The Monkees are one of TIRnRR's all-time most-played acts, commencing with a spin of the group's 1996 track "Regional Girl" on TIRnRR # 1 in 1998 (only the third song we ever played). This week it was a pure pleasure to gather a few of Dolenz's many fine performances–solo, with The Monkees, with Dolenz, Jones, Boyce & Hart, with Starship (no, not that Starship), and in various other incarnations– and play 'em on the radio where they belong. We threw in Chuck Berry's "Johnny B. Goode" (the song Micky played on guitar when he auditioned for The Monkees), The Minus 5's "Micky's A Cool Drummer," and The Flashcubes' ace cover of the Monkees classic "She," and mixed all this phantasmagoric splendor with new music from The Checkered Hearts, Cloud Eleven, Dennis Dalcin, and Jeremy, plus everything from Fats Domino and The Muffs through Johnathan Pushkar and The Linda Lindas.
And we played Micky Dolenz. All radio shows should play Micky Dolenz. The new album Dolenz Sings Nesmith is flippin' fantastic, and I hope it turns up on playlists everywhere. If there are stations that don't wanna play this, well, we're too busy singing along with Micky to put anybody down. This is what rock 'n' roll radio sounded like on a Sunday night in Syracuse this week.
This Is Rock 'n' Roll Radio with Dana & Carl airs Sunday nights from 9 to Midnight Eastern, on the air in Syracuse at SPARK! WSPJ 103.3 and 93.7 FM, and on the web at http://sparksyracuse.org/ You can read all about this show's long and weird history here: Boppin' The Whole Friggin' Planet (The History Of THIS IS ROCK 'N' ROLL RADIO). TAX DEDUCTIBLE DONATIONS are always welcome.The many fine This Is Rock 'n' Roll Radio compilation albums are still available, each full of that rockin' pop sound you crave. A portion of all sales benefit our perpetually cash-strapped community radio project:
Volume 1: download
Volume 2: CD or download
Volume 3: download
Volume 4: CD or download
Waterloo Sunset–Benefit For This Is Rock 'n' Roll Radio: CD or download

PS: SEND MONEY!!!! We need tech upgrades like Elvis needs boats. Spark Syracuse is supported by listeners like you. Tax-deductible donations are welcome at
http://sparksyracuse.org/support/

You can follow Carl's daily blog Boppin' (Like The Hip Folks Do) at
https://carlcafarelli.blogspot.com/
TIRnRR # 1079: 5/30/2021TIRnRR FRESH SPINS! Tracks we think we ain't played before are listed in bold

THE RAMONES: Do You Remember Rock 'n' Roll Radio? (Rhino, End Of The Century)
—
MICKY DOLENZ: Circle Sky (7a, Dolenz Sings Nesmith)
THE MONKEES: Sometime In The Morning (Rhino, More Of The Monkees)
MICKY DOLENZ WITH CIRCE LINK & CHRISTIAN NESMITH: Porpoise Song (Theme From Head)/Good Morning, Good Morning (7a, MICKY DOLENZ: The MGM Singles Collection)
THE PRIMITIVES: All The Way Down [beat version] (RCA, Bombshell)
CHUCK BERRY: Johnny B. Goode (MCA, The Anthology)
THE SAINTS: L-I-E-S (Raven, Wild About You 1976-1978)
—
THE CHECKERED HEARTS: My Best Friend's Girl (ChicaneryChick, Joystick)
BILL LLOYD: Kissed Your Sister (New Boss Sounds, Back To Even)
JOHNATHAN PUSHKAR: Any Second Now (Jem, Compositions)
PYLON: Gravity (New West, Gyrate)
DOLENZ, JONES, BOYCE & HART: You Didn't Feel That Way Last Night (Don't You Remember) (Capitol, Dolenz, Jones, Boyce & Hart)
THE SMITHS: What Difference Does It Make? (Warner Strategic Marketing, The Very Best Of The Smiths)
—
DENNIS DALCIN: Words Weren't Said (Kool Kat Musik, The Incomplete Completeness)
THE RUTLES: I Must Be In Love (Rhino, The Rutles)
RENAISSANCE: Carpet Of The Sun (Capitol, Ashes Are Burning)
FATS DOMINO: Everybody's Got Something To Hide Except For Me And My Monkey (Ace, VA: Come Together: Black America Sings Lennon & McCartney)
THE MONKEES: Oh My My (Rhino, Changes)
SCREAMIN' JAY HAWKINS: Monkberry Moon Delight (Red Lightnin', Screamin' The Blues)
—
STARSHIP: It's Amazing To Me (7a, MICKY DOLENZ: The MGM Singles Collection)
MICKY DOLENZ: Many Years (Robo, Remember)
THE MINUS 5: Micky's A Cool Drummer (Yep Roc, Of Monkees And Men)
THE LINDA LINDAS: Claudia Kishi (single)
PARANMAUM: Linda Linda (Universal, We Are Paranmaum)
THE LINDA LINDAS: Monica (n/a, The Linda Lindas)
—
CLOUD ELEVEN: Homework (Kool Kat Musik, Pandora's Box)
AMY RIGBY: The Trouble With Jeanie (Signature Sounds, Little Fugitive)
BRANDON CRUZ WITH MICKY DOLENZ: Best Friend (Taang!, Eddie Is A Punk)
THE MUFFS: Big Mouth (Warner Brothers, The Muffs)
ARETHA FRANKLIN: Save Me (Atlantic, I Never Loved A Man The Way I Love You)
MARY LOU LORD: Right On 'Till Dawn (Kill Rock Stars, Speeding Motorcycle)
—
JEREMY: Take Me Home (JAM, Distant Dream)
THE VITAMINS: New Town (Cherry Red, VA: 1978: The Year The UK Turned Day-Glo)
MICKY DOLENZ & THE AMERICAN METROPOLE ORCHESTRA: (I'm Not Your) Steppin' Stone (7a, Out Of Nowhere)
THE PRETTY THINGS: Honey I Need (Fontana, Get A Buzz)SUGAR SNOW: She Goes On (n/a, Woodface Reimagined)
THE HUMAN INSTINCT: Pink Dawn (Strawberry, VA: Halcyon Days)
—
THE MONKEES: Terrifying (Rhino, Good Times! [digital version])
THE YARDBIRDS: Over Under Sideways Down (Rhino, Ultimate!)
ELVIS PRESLEY: Kentucky Rain (RCA, The Essential Elvis Presley)
VIC GODARD & THE SUBWAY SECT: Parallel Lines (Motion, Twenty Odd Years)
MICKEY DOLENZ & DAVY JONES: Do It In The Name Of Love (Rhino, THE MONKEES: Music Box)
ALEX HARVEY & HIS SOUL BAND: Parchman Farm (Spectrum, Shout: The Essential Alex Harvey)
—
MICKY DOLENZ: Living On Lies (7a, single)
LOS SHAKERS: Break It All (Rhino, VA: Nuggets II)
NELSON BRAGG: Lost All Our Sundays (Big Stir, single)
LES FLEUR DE LYS: Circles (Rhino, VA: Nuggets II)
HEADGIRL: Please Don't Touch (Lemon, GIRLSCHOOL: The Singles)
THE MARMALADE: I See The Rain (Rhino, VA: Nuggets II)
COLD EXPECTATIONS: Summer Dress (Red On Red, single)
THEE HEADCOATS: I Don't Like The Man I Am (Sub Pop, Heavens To Murgatroyd, Even! It's Thee Headcoats! [Already])
—
MICKY DOLENZ & PETER TORK (OF THE MONKEES): That Was Then, This Is Now (Arista, single)
THE CYNICS: Baby What's Wrong (Rhino, VA: Children Of Nuggets)
THE FUZZTONES: Bad News Travels Fast (Rhino, VA: Children Of Nuggets)
THE PLIMSOULS: Everyday Things (Rhino, The Plimsouls…Plus)
THE FLASHCUBES: She (Northside, Flashcubes Forever)
THAT PETROL EMOTION: It's A Good Thing (Rhino, VA: Children Of Nuggets)
MICKY DOLENZ WITH CIRCE LINK & CHRISTIAN NESMITH: Randy Scouse Git (7a, MICKY DOLENZ: The MGM Singles Collection)
THE MONKEES: Pleasant Valley Sunday (Rhino, Pisces, Aquarius, Capricorn & Jones, Ltd.)
MICKY DOLENZ: Different Drum (7a, Dolenz Sings Nesmith)
—
THE BEATLES: Wild Honey Pie (Apple, The Beatles)