This Is Rock 'n' Roll Radio # 1053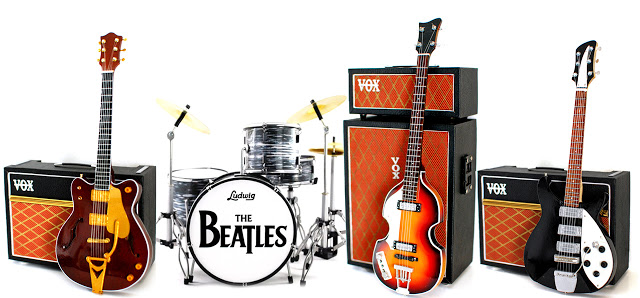 Guitars, bass, and drums.
Microphones. Piano. Tambourine. French horn. Vibes. Theremin. Harmonica. Tape loops. Mixing board. Washboard. Turntables. Saxophone. Sousaphone. Accordion. Bagpipes. Banjo. Pedal steel. Fiddle. Cello. Timpani. Cowbell. Maracas. Piccolo. Moog. Penny whistle. Calliope. Farfisa organ. Marshall stack. Handclaps. Voices. Sound. Sweat. Music.
It doesn't matter what we use to make our music. It doesn't matter which music we love, or even if there's music we don't like as much, or at all. We dig what we dig, and our brothers and sisters do their version of the same. There's room for all of it on the radio, somewhere. At least there should be.
On This Is Rock 'n' Roll Radio with Dana & Carl, we do our part in the space we have. It's a mighty noise, and we dig it. We hope you'll dig it, too. This is what rock 'n' roll radio sounded like on a Sunday night in Syracuse this week.
This Is Rock 'n' Roll Radio with Dana & Carl airs Sunday nights from 9 to Midnight Eastern, on the air in Syracuse at SPARK! WSPJ 103.3 and 93.7 FM, and on the web at http://sparksyracuse.org/ You can read all about this show's long and weird history here: Boppin' The Whole Friggin' Planet (The History Of THIS IS ROCK 'N' ROLL RADIO). TAX DEDUCTIBLE DONATIONS are always welcome.
The many fine This Is Rock 'n' Roll Radio compilation albums are still available, each full of that rockin' pop sound you crave. A portion of all sales benefit our perpetually cash-strapped community radio project:
Volume 1: download
Volume 2: CD or download
Volume 3: download
Volume 4: CD or download
Waterloo Sunset–Benefit For This Is Rock 'n' Roll Radio:  CD or download

PS: SEND MONEY!!!! We need tech upgrades like Elvis needs boats. Spark Syracuse is supported by listeners like you. Tax-deductible donations are welcome at
http://sparksyracuse.org/support/
You can follow Carl's daily blog Boppin' (Like The Hip Folks Do) at 
https://carlcafarelli.blogspot.com/
Hey, Carl's writin' a book! The Greatest Record Ever Made! (Volume 1) will contain 165 essays about 165 songs, each one of 'em THE greatest record ever made. An infinite number of songs can each be the greatest record ever made, as long as they take turns. Updated initial information can be seen here. My weekly video series The Greatest Record Ever Made! on YouTube has posted my rants about The Ramones' "Do You Remember Rock 'n' Roll Radio?," Badfinger's "Baby Blue," Baron Damon and the Vampires' "The Transylvania Twist," Chuck Berry's "Promised Land," Dusty Springfield's "I Only Want To Be With You," and The Sex Pistols' "God Save The Queen."

Now: on with the show!

TIRnRR # 1053: 11/29/2020TIRnRR FRESH SPINS! Tracks we think we ain't played before are listed in bold.
THE RAMONES: Do You Remember Rock 'n' Roll Radio? (Rhino, End Of The Century)
—
BRIAN BRINGELSON: Up The Wall (Futureman, Desperate Days)
THE BRIAN JONESTOWN MASSACRE: This Is Why You Love Me (Tee Pee, Tepid Peppermint Wonderland)
BRIAN WILSON: Night Time (Rhino, Brian Wilson)
NRBQ: Howard Johnson's Got His Ho-Jo Workin' (Red Rooster, Uncommon Denominators)
TAVARES: It Only Takes A Minute (EMI, The Best Of Tavares)
THE SPENCER DAVIS GROUP: Keep On Running (EMI, VA: The Cavern: The Most Famous Club In The World)
—
THE FORTY NINETEENS: Another Day (Big Stir, single)
LETTERS TO CLEO: Cruel To Be Kind (Big Beat, VA: Girls Go Power Pop!)
ALICE COOPER: No More Mr. Nice Guy (Rhino, Mascara & Monsters)
HOLLY GOLIGHTLY: Virtually Happy (Damaged Goods, Singles Round-Up)
ORBIS MAX WITH EMPEROR PENGUIN: Talk To Me (single)
AMY RIGBY: Stop Showing Up In My Dreams (Koch, The Sugar Tree)
—
DANNY WILKERSON & LANNIE FLOWERS WITH ORBIS MAX: One Of A Kind (single)
THE B-GIRLS: Boys Are Drinking (Other People Music, Who Says Girls Can't Rock)
THE MOODY BLUES: Ride My See-Saw (Polydor, 20th Century Masters)
BOW WOW WOW: Go Wild In The Country (Sony BMG, Love, Peace & Harmony)
THE GO-GO'S: Club Zero (single)
THE MnM'S: Knock Knock Knock (Burger, Melts In Your Ears 1980-1981)
—
THE BOB SEGER SYSTEM: 2 + 2 = ? (Capitol, single)
THE MOVE: Hello Suzie (Westside, Movements)
SUZI QUATRO: I May Be Too Young (Razor & Tie, The Wild One)
THE PENETRATORS: Teenage Lifestyle (Fred, single)
EDDIE COCHRAN: C'mon Everybody (Razor & Tie, Somethin' Else)
THE CURE: It's Not You (Fiction, Three Imaginary Boys)
—
THE DAHLMANNS: Tomorrow Came Today (Pop Detective, American Heartbeat)
SQUEEZE: Another Nail In My Heart (A & M, The Squeeze Story)
THE ORION EXPERIENCE: Adrianne (Sweet, Cosmicandy)
SEX CLARK FIVE: She Collides With Me (Records To Russia, Strum & Drum)
THE JACKSON FIVE: The Love You Save (Motown, VA: Hitsville USA)
THE 5th DIMENSION: Aquarius/Let The Sun Shine In (The Flesh Failures) (Arista, The Ultimate 5th Dimension)
—
DESMOND CHILD & ROUGE: The Night Was Not (RSO, VA: Times Square OST)
THE SPECIALS: A Message To You Rudy (Chrysalis, VA: The 2 Tone Collection)
KID GULLIVER: Forget About Him (Red On Red, single)
THE REPLACEMENTS: Another Girl, Another Planet (Reprise, All For Nothing/Nothing For All)
THE MC5: Kick Out The Jams (Time-Life, VA: Classic Rock: Rock Renaissance)
GENERATION X: Dancing With Myself (Chrysalis, Perfect Hits 1975-1981)
—
THE KINKS: War Is Over (MCA, UK Jive)
XTC: English Roundabout (Virgin, English Settlement)
DEAR STELLA: Time Machine (dearstellamusic.com, Time Zones)
X-RAY SPEX: The Day The World Turned Day-Glo (Sanctuary, Germ Free Adolescents)
THE TRAMMPS: Disco Inferno [single edit] (Rhino, Rhino Hi-Five)
PUBLIC IMAGE, LTD: Public Image (Virgin, The Greatest Hits, So Far)
—
SIMON & GARFUNKEL: America (Columbia, Old Friends)
THE GREAT SOCIETY: Someone To Love (Sundazed, Born To Be Burned)
GRETCHEN'S WHEEL: You Should Know (Futureman, Such Open Sky)
MARY LOU LORD: Right On 'Till Dawn (Rubric, Speeding Motorcycle)
JIM BASNIGHT: New Guitar In Town (Precedent, Jokers, Idols & Misfits)
THE MUFFS: On My Own (Omnivore, No Holiday)
EYTAN MIRSKY: This Year's Gonna Be Our Year (M-Squared, Year Of The Mouse)
THE RAMONES: I Wanna Be Sedated (Rhino, Road To Ruin)
MILLIE SMALL: My Boy Lollipop (Caroline, The Best Of Millie Small)
THE BEAT: Rock N Roll Girl (Wagon Wheel, The Beat)
THE BOB SEGER SYSTEM: Ramblin' Gamblin Man (Capitol, single)
THE BEATLES: I Should Have Known Better (Apple, A Hard Day's Night)