This Is Rock 'n' Roll Radio # 1050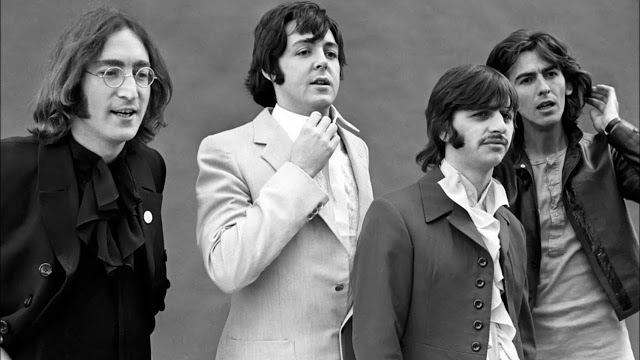 1050 shows.
The number is actually a tiny bit higher than that. We've also done a handful of TIRnRR special editions–The Many Moods Of Dana Bonn, CC's Time Machine, The Night Before Boxing Day, a partial-year countdown show in 1999, and maybe something else I'm forgetting–and those additional shows are likewise part of our overall stats. The facts 'n' figures are maintained by the intrepid Fritz Van Leaven, who is TIRnRR's answer to Steve Kornacki except that Fritz has been doing it longer and with more music. Our annual year-end countdown shows and our occasional all-time commemorative countdowns are the result of Fritz's work, and they don't occur without him telling us what to do.
As this 1050th show kinda crept up on your clueless hosts Dana & Carl, Fritz suggested we celebrate the milestone with a unique countdown of the 50 acts who accrued TIRnRR airplay with the greatest number of different tracks. As we promised in the pre-show hype, one-hit wonders need not apply, and TWENTY-hit wonders need not apply.
The tally appears below. Some artists' stats were buoyed by year-long gimmicks that we ran in the past–The 50 KISS Strategy, The Hundred Hollies Initiative–and my daughter Meghan's once-frequent guest co-hosting gigs propelled Carrie Underwood to a seemingly unlikely berth on the countdown. It's ALL pop music.
There's no real significance to the individual tracks we chose to represent each countdown artist. In some cases, it's the act's most-played TIRnRR record, and in others, it's whatever other track we felt best fit the needs of the playlist. But, with just one exception, they're all songs we've played before, honoring performers we've played time and time again.
That lone exception is by The Beatles. No one should be surprised to see The Beatles at # 1 here; they're the freakin' Beatles, fercryinoutloud, and they're also unassailably our all-time most-played artist. We wanted to close this countdown show with two tracks by the act you've known for all these years. Our most-played Beatles tune is "Revolution; seeking to supplement that with a Beatle tune that has never before graced a TIRnRR playlist, we turned to The White Album.
No, no–we have already played "Revolution 9." But until this week, we had never played The Beatles' "While My Guitar Gently Weeps." We've played a cover version by The Drowners many times, but we've been saving The Beatles' original to play just for you on this gala observance of This Is Rock 'n' Roll Radio # 1050.
Thanks as always to the intrepid Fritz Van Leaven for keeping track of all this stuff. And thank you for lending us your ears. We have some sounds for you. This is what rock 'n' roll radio sounded like on a Sunday night in Syracuse this week.
This Is Rock 'n' Roll Radio with Dana & Carl airs Sunday nights from 9 to Midnight Eastern, on the air in Syracuse at SPARK! WSPJ 103.3 and 93.7 FM, and on the web at http://sparksyracuse.org/ You can read all about this show's long and weird history here: Boppin' The Whole Friggin' Planet (The History Of THIS IS ROCK 'N' ROLL RADIO). TAX DEDUCTIBLE DONATIONS are always welcome.The many fine This Is Rock 'n' Roll Radio compilation albums are still available, each full of that rockin' pop sound you crave. A portion of all sales benefit our perpetually cash-strapped community radio project:
Volume 1: download
Volume 2: CD or download
Volume 3: download
Volume 4: CD or download
Waterloo Sunset–Benefit For This Is Rock 'n' Roll Radio: CD or download
PS: SEND MONEY!!!! We need tech upgrades like Elvis needs boats. Spark Syracuse is supported by listeners like you. Tax-deductible donations are welcome at
http://sparksyracuse.org/support/
You can follow Carl's daily blog Boppin' (Like The Hip Folks Do) at
https://carlcafarelli.blogspot.com/
Hey, Carl's writin' a book! The Greatest Record Ever Made! (Volume 1) will contain 165 essays about 165 songs, each one of 'em THE greatest record ever made. An infinite number of songs can each be the greatest record ever made, as long as they take turns. Updated initial information can be seen here. My weekly video series The Greatest Record Ever Made! on YouTube has posted my rants about The Ramones' "Do You Remember Rock 'n' Roll Radio?," Badfinger's "Baby Blue," Baron Damon and the Vampires' "The Transylvania Twist," and Chuck Berry's "Promised Land."
Now: on with the show!
TIRnRR # 1050: 11/8/2020
THE RAMONES: Do You Remember Rock 'n' Roll Radio? (Rhino, End Of The Century)–COUNTDOWN! Artists With The Greatest Number Of Different Songs Played On TIRnRR
# 45 [tie]: 28 different tracksTHE TURTLES: Outside Chance (Sundazed, You Baby)THE MUFFS: On My Own (Omnivore, No Holiday)MARY LOU LORD: Right On 'Till Dawn (Rubric, Speeding Motorcycle)THE KNACK: Good Girls Don't (Rhino, Proof: The Very Best Of The Knack)JOE JACKSON: Steppin' Out (A & M, Steppin' Out: The Very Best Of Joe Jackson)THE FLESHTONES: For A Smile (Yep Roc, Wheel Of Talent)
# 44: 29 different tracksMARSHALL CRENSHAW: Cynical Girl (Rhino, This Is Easy)
# 41 [tie]: 30 different tracksTHE KENNEDYS: Safe Until Tomorrow (Kennedys LLC, Safe Until Tomorrow)COTTON MATHER: My Before And After (Copper, Kontiki)CARRIE UNDERWOOD: Some Hearts (Arista, Some Hearts)
# 40: 31 different tracksLISA MYCHOLS: Cactus Boy (Futureman, VA: This Is Rock 'n' Roll Radio, Volume 1)
# 37 [tie]: 32 different tracksPOP CO-OP: Persistence Of Memory (Futureman, Factory Settings)THE LOLAS: Yer Gonna Need My Lovin' Someday (JAM, Ballerina Breakout)ELVIS COSTELLO & THE ATTRACTIONS: (What's So Funny 'Bout) Peace, Love & Understanding (Rykodisc, Armed Forces)
# 36: 34 different tracksTHE VELVET UNDERGROUND: Who Loves The Sun (Polydor, Peel Slowly And See)
# 33 [tie]: 35 different tracksXTC: Respectable Street (Virgin, Upsy Daisy Assortment)SCREEN TEST: Sound Of The Radio (Northside, Inspired Humans Making Noise)THE BANGLES: The Real World (Omnivore, Ladies And Gentlemen…The Bangles!)
# 32: 36 different tracksTHE RUBINOOS: I Wanna Be Your Boyfriend (Castle, Everything You've Always Wanted To Know About The Rubinoos)
# 30 [tie]: 37 different tracksMICHAEL CARPENTER: That's Alright By Me (Not Lame, VA: Full Circle)GEORGE HARRISON: What Is Life (Apple, All Things Must Pass)
#29: 38 different tracksTHE ZOMBIES: Care Of Cell 44 (Big Beat, Zombie Heaven)
# 27 [tie]: 39 different tracksTHE JAM: Down In The Tube Station At Midnight (Polydor, Direction Reaction Creation)THE GRIP WEEDS: Strange Bird (Kool Kat Musik, VA: This Is Rock 'n' Roll Radio, Volume 4)
# 26: 40 different tracksTHE BYRDS: I'll Feel A Whole Lot Better (Columbia, Mr. Tambourine Man)
# 24 [tie]: 41 different tracksPAUL REVERE & THE RAIDERS: Him Or Me–What's It Gonna Be? (Sundazed, Revolution!)CHRIS VON SNEIDERN: Annalisa (Heyday, Sight & Sound)
# 23: 44 different tracksBIG STAR: September Gurls (Ardent, # 1 Record/Radio City)
# 22: 45 different tracksTHE SPONGETONES: (My Girl) Maryanne (Loaded Goat, Always Carry On)
# 21: 47 different tracksTHE SMALL FACES: Tin Soldier (Snapper, The Definitive Collection)
# 20: 49 different tracksEYTAN MIRSKY: This Year's Gonna Be Our Year (M-Squared, Year Of The Mouse)
# 18 [tie]: 50 different tracksTHE SMITHEREENS: Sorry (Entertainment One, Smithereens 2011)THE FLAMIN' GROOVIES: Shake Some Action (Grown Up Wrong, Between The Lines)
# 16 [tie]: 53 different tracksTHE DAVE CLARK FIVE: Try Too Hard (Hollywood, The History Of The Dave Clark Five)CHUCK BERRY: Johnny B. Goode (MCA, The Anthology)
# 15: 55 different tracksSEX CLARK FIVE: Fool I Was (Skyclad, Antedium)
# 14: 57 different tracksTHE BEVIS FROND: Lights Are Changing (Rhino, VA: Children Of Nuggets)
# 13: 59 different tracksTHE WHO: I Can't Explain (MCA, My Generation)
# 10 [tie]: 62 different tracksKISS: Calling Dr. Love (Mercury, The Very Best Of KISS)JOHN LENNON: Mind Games (Capitol, The John Lennon Collection)DAVID BOWIE: Queen Bitch (Virgin, Bowie At The Beeb)
# 9: 69 different tracksTHE ROLLING STONES: Get Off Of My Cloud (Abkco, December's Children [And Everybody's])
# 8: 80 different tracksTHE BEACH BOYS: Don't Worry Baby (Capitol, Surfer Girl & Shut Down, Vol. 2)
# 7: 88 different tracksTHE FLASHCUBES: No Promise (Northside, Bright Lights)
# 6: 94 different tracksTHE RAMONES: Teenage Lobotomy (Rhino, Rocket To Russia)
#5: 99 different tracksPAUL McCARTNEY: Maybe I'm Amazed (Capitol, Wingspan)
# 4: 108 different tracksTHE HOLLIES: King Midas In Reverse (EMI, Clarke, Hicks & Nash Years)
# 3: 142 different tracksTHE KINKS: Waterloo Sunset (Sanctuary, The Anthology 1964-1971)
# 2: 145 different tracksTHE MONKEES: Sometime In The Morning (Rhino, More Of The Monkees)
# 1: 239 different tracksTHE BEATLES: While My Guitar Gently Weeps (Apple, The Beatles)THE BEATLES: Revolution [promo video version]