This Is Rock 'n' Roll Radio # 1044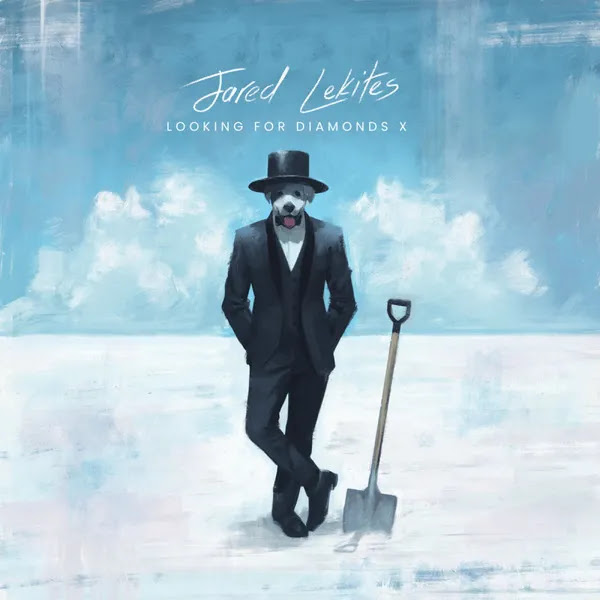 I really hate it when I mess up someone's name. Given how often I've heard and seen my own name misspelled and mispronounced over a span of decades, I'm certainly aware of the perceived slight of butchering a name, even with good intent. I try my best to get it right. When I fall short of that (as I often do), I apologize and quip that I'm following in the sometimes-clueless footsteps of Ed Sullivan introducing "Diane Warwick" on his really big shoe in the '60s.
But I feel bad when it happens, and it happened again on this week's shoe…er, show. Singer-songwriter Jared Lekites (of The Lunar Laugh) has a fantastic new record, Looking For Diamonds X, out on Kool Kat Musik. I wasn't previously familiar with Jared or with The Lunar Laugh, but I was taken with a swell pop track called "Looking For A Diamond," and we played it on Sunday night. Not knowing the pronunciation of the last name–I was, at least, okay with "Jared," I think–I looked at on-line bios and YouTube videos, but didn't really find anything that would help me say the name as it oughtta be said. I made the attempt anyway–we weren't gonna skip playing a great song just because I couldn't figure out how to say "Lekites"–and yeah, I screwed it up. I knew that I mispronounced it, and I apologized as I did. I'm still not sure how it should actually be pronounced, but I do know I said it wrong.
The music, though? Oh, the music sounds fabulous. It was worth embarrassing myself on-air just to grab the opportunity to play that song on the radio. Mr. Lekites, your intrepid TIRnRR hosts Donnie 'n' Earl apologize for the verbal error.
(We hear that Jared's currently trying to recover from COVID-19, and could use a little cash flow in the mean time. Pop fans may wanna visit jaredlekites.bandcamp.com and load up awready. Good music and a worthy benefit, no matter how you say it.)
Otherwise, we continued our pronounced dedication to the joy of radio, with more new music from our friends Irene Peña and The Brothers Steve, and our prerequisite barrage of cool things from The Jam, Paul Collins' Beat, Gladys Knight and the Pips, Nikki and the Corvettes, The Monkees, The Muffs, Chuck Berry, The Velvet Underground, Toots and the Maytals, and more. We opened with The Flashcubes expressing my own level of frustration in a song called "Got No Mind," and later played the one 2020 track whose title best summarizes this misbegotten year ("1-800-Colonoscopy" by Bill Berry). We did sight gags on the radio. Sometimes I think we're better at pulling off that quixotic quest than I am at, y'know, speaking on the radio. But we soldier on. The Best Three Hours Of Radio On The Whole Friggin' Planet? We can say that. Here's what that sounded like on a Sunday night in Syracuse this week.
This Is Rock 'n' Roll Radio with Dana & Carl airs Sunday nights from 9 to Midnight Eastern, on the air in Syracuse at SPARK! WSPJ 103.3 and 93.7 FM, and on the web at http://sparksyracuse.org/ You can read all about this show's long and weird history here: Boppin' The Whole Friggin' Planet (The History Of THIS IS ROCK 'N' ROLL RADIO). TAX DEDUCTIBLE DONATIONS are always welcome.The many fine This Is Rock 'n' Roll Radio compilation albums are still available, each full of that rockin' pop sound you crave. A portion of all sales benefit our perpetually cash-strapped community radio project:
Volume 1: download
Volume 2: CD or download
Volume 3: download
Volume 4: CD or download
Waterloo Sunset–Benefit For This Is Rock 'n' Roll Radio: CD or download
PS: SEND MONEY!!!! We need tech upgrades like Elvis needs boats. Spark Syracuse is supported by listeners like you. Tax-deductible donations are welcome at
http://sparksyracuse.org/support/
You can follow Carl's daily blog Boppin' (Like The Hip Folks Do) at
https://carlcafarelli.blogspot.com/
Hey, Carl's writin' a book! The Greatest Record Ever Made! (Volume 1) will contain 165 essays about 165 songs, each one of 'em THE greatest record ever made. An infinite number of songs can each be the greatest record ever made, as long as they take turns. Updated initial information can be seen here.
TIRnRR # 1044: 9/27/2020
TIRnRR FRESH SPINS! Tracks we think we ain't played before are listed in bold.
THE RAMONES: Do You Remember Rock 'n' Roll Radio? (Rhino, End Of The Century)–THE FLASHCUBES: Got No Mind [live] (Northside, Bright Lights)THE FLASHCUBES: Dizzy Miss Lizzy [live] (unreleased)THE JAM: The Modern World (Rhino, VA: DIY: The Modern World)PAUL COLLINS' BEAT: Hey DJ (Rock Indiana, Ribbon Of Gold)ARTHUR CONLEY: Sweet Soul Music (Atco, single)THE BREAKAWAYS: Working Too Hard (Alive, Walking Out On Love)—JARED LEKITES: Looking For A Diamond (Kool Kat Musik, Looking For Diamonds X)THE PRIMITIVES: Way Behind Me (RCA, Pure)GLADYS KNIGHT & THE PIPS: If I Were Your Woman (Curb, Greatest Hits) NIKKI & THE CORVETTES: He's A Mover (Bomp, Nikki & the Corvettes)THE MONKEES: A Little Bit Me, A Little Bit You (Rhino, 50)THE DARLING BUDS: Hit The Ground (Columbia, Pop Said…)–IRENE PEÑA: The Summer Place (Big Stir, single)THE MUFFS: Everywhere I Go (Warner Brothers, The Muffs)THE DAHLMANNS: Forever My Baby (Pop Detective, single)THE CURE: Boys Don't Cry (Polydor, Greatest Hits)THE MYNAH BIRDS: It's My Time (Ace, VA: You Heard Them Here First)HOLLY GOLIGHTLY: You Ain't No Big Thing (Damaged Goods, My First Holly Golightly Album)–THE BROTHERS STEVE: Beat Generation Poet Turned Assassin [abridged] (Big Stir, single)THE B-GIRLS: Boys Are Drinking (Other Peoples Music, Who Says Girls Can't Rock)CHUCK BERRY: Around And Around (MCA, The Anthology)THE VELVET UNDERGROUND: All Tomorrow's Parties [single version] (Polydor, Peel Sloewly And See)TOOTS & THE MAYTALS: 54 46, That's My Number (Island, Time Tough)THE RICH KIDS: Rich Kids (Dojo, Ghosts Of Princes In Towers)–SHAUN CASSIDY: Cool Fire (Curb, Greatest Hits)LETTERS TO CLEO: Cruel To Be Kind (Ace, VA: Girls Go Power Pop)THE LEGAL MATTERS: Don't Look Back (Futureman, VA: This Is Rock 'n' Roll Radio, Volume 4)SHOES: The Things You Do (Elektra, Tongue Twister)LIBRARIANS WITH HICKEYS: That Time Is Now (Big Stir, Long Overdue)THE GO-GO'S: We Got The Beat [original single version] (IRS, The Whole World Lost Its Head)–P. P. ARNOLD: The First Cut Is The Deepest (Sequel, The First Cut)THE SMALL FACES: Tin Soldier [live] (Audio Vaults, Transmissions 1965-1968)THE FIVE STAIRSTEPS: O-o-h Child (Rhino, VA: Can You Dig It)MARY LOU LORD: Right On 'Till Dawn (Rubric, Speeding Motorcycle)THE CLICK BEETLES: If Not Now Then When (Vandalay, Pop Fossil)UNIVERSAL HONEY: Just Before Mary Goes (Ace, VA: Girls Go Power Pop)–POP CO-OP: You Don't Love Me Anymore (Kool Kat Musik, VA: This Is Rock 'n' Roll Radio, Volume 4)THE ON AND ONS: 9 Days (theonandons.bandcamp.com, Menacing Smile)KISS: Tomorrow (Mercury, Unmasked)
LES HANDCLAPS: Cacti Are Delicious Fruit (Handclaps, Ouh Ouh Ah!)WHISTLESTOP ROCK: Queen Of The Drive-In (whistlestoprock1.bandcamp.com)ELVIS COSTELLO & THE ATTRACTIONS: You Belong To Me (Rykodisc, This Year's Model)–BILL BERRY: 1-800-Colonoscopy (Kool Kat Musik, VA: For The Record–A Tribute To John Wicks)THE NERVES: Hanging On The Telephone (Alive, One Way Ticket)YOUR FRIEND JEBB: Change Of Seasons (jebbsmusic.bandcamp.com)EDDIE & THE HOT RODS: Do Anything You Wanna Do (Captain Oi!, The Singles Collection)LISA MYCHOLS & SUPER 8: Timebomb (trip8.bandcamp.com)THE MnMs: Knock Knock Knock (Burger, Melts In Your Ears)–DAWN: Knock Three Times (Varese Sarabande, VA: Bubblegum Classics Volume One)SCANDAL: Goodbye To You (Columbia, Scandal)THE BEAU BRUMMELS: Don't Talk To Strangers (Sundazed, Volume 2) THE PRETENDERS: Night In My Veins (Sire, Last Of The Independents)THE KINKS: Village Green Preservation Society (Universal, The Village Green Preservation Society)THE BANGLES: The Real World (Omnivore, Ladies And Gentlemen…The Bangles!)THE RAMONES: I Don't Want To Grow Up (Radioactive, Adios Amigos!)THE BEATLES: I Want To Hold Your Hand [mono] (Capitol, Meet The Beatles)