This Is Rock 'n' Roll Radio # 1036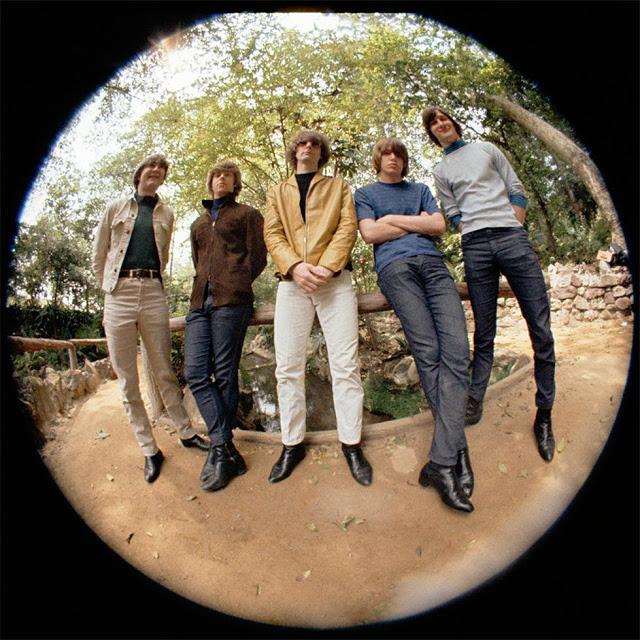 Bonni Miller was the managing editor at Goldmine for the best years of my two-decade stint as a freelance writer for the magazine, working with editor-in-chief Jeff Tamarkin. We never met, but we spoke on the phone, and our virtual paths crossed several times on Facebook in later years. I always felt that she and Jeff were dedicated to working with the writers and other contributors to produce the best music publication possible. I specifically remember Bonni expressing her pride in figuring out how to fit the entirety of my massive 1994 Ramones interview article into a single issue. Bonni was the best.

Last week, Bonni lost her long battle with cancer. She was tough, smart, friendly, and talented. Bonni Miller was great. The world is poorer for her absence.

We'll meet again
Don't know where
Don't know when
But I know we'll meet again some sunny day
This is what rock 'n' roll radio sounded like on a Sunday night in Syracuse this week.
This Is Rock 'n' Roll Radio with Dana & Carl airs Sunday nights from 9 to Midnight Eastern, on the air in Syracuse at SPARK! WSPJ 103.3 and 93.7 FM, and on the web at http://sparksyracuse.org/ You can read all about this show's long and weird history here: Boppin' The Whole Friggin' Planet (The History Of THIS IS ROCK 'N' ROLL RADIO). TAX DEDUCTIBLE DONATIONS are always welcome.

The many fine This Is Rock 'n' Roll Radio compilation albums are still available, each full of that rockin' pop sound you crave. A portion of all sales benefit our perpetually cash-strapped community radio project:

Volume 1: download
Volume 3: download
Waterloo Sunset–Benefit For This Is Rock 'n' Roll Radio: CD or download
PS: SEND MONEY!!!! We need tech upgrades like Elvis needs boats. Spark Syracuse is supported by listeners like you. Tax-deductible donations are welcome at
You can follow Carl's daily blog Boppin' (Like The Hip Folks Do) at

Hey, Carl's writin' a book! The Greatest Record Ever Made! (Volume 1) will contain 155 essays about 155 songs, each one of 'em THE greatest record ever made. An infinite number of songs can each be the greatest record ever made, as long as they take turns. Updated initial information can be seen here.
TIRnRR # 1036: 8/2/2020
TIRnRR FRESH SPINS! Tracks we think we ain't played before are listed in bold.

THE RAMONES: Do You Remember Rock 'n' Roll Radio? (Rhino, End Of The Century)
—
LIBRARIANS WITH HICKEYS: That Time Is Now (Big Stir, Long Overdue)
UTOPIA: I Just Want To Touch You (Rhino, Deface The Music)
THE SMITHEREENS with ANDY WHITE: Love Me Do (single)
10cc: Life Is A Minestrone [single version] (Spectrum, I'm Not In Love: The Essential 10cc)
THE FIVE STAIRSTEPS: O-o-h Child (Rhino, VA: Can You Dig It?)
TOM JONES: Dr. Love (Deram, VA: The Mod Scene)
—
KISS: Calling Dr. Love (Mercury, Rock And Roll Over)
THE SMALL FACES: Grow Your Own (Deram, The Anthology 1965-1967)
LINDA RONSTADT: Cost Of Love (Asylum, Mad Love)
THE GO-BETWEENS: Love Goes On! (Capitol, 16 Lovers Lane)
SQUEEZE: Goodbye Girl [U.K. single mix] (Grapefruit, VA: Surrender To The Rhythm)
THE GO-GO'S: Club Zero (single)
—
ED RYAN: Even Time (Kool Kat Musik, Even Time)
BRAM TCHAIKOVSKY: Used To Be My Used To Be (Cherry Red, Strange Men Changed Men)
THE ISLEY BROTHERS: It's Your Thing (Epic, The Essential Isley Brothers)
SNIFF 'N' THE TEARS: Drivers Seat (Ace, Fickle Heart)
THE SUPREMES: Stop! In The Name Of Love (Motown, Anthology)
THE ACTION: Hey Sah-Lo-Ney (Grapefruit, Shadows And Reflections)
—
POP CO-OP: Catching Light (Futureman, Factory Settings)
THE EVERLY BROTHERS: You're Just What I Was Looking For Today (Ace, VA: Goffin & King)
MARYKATE O'NEIL: I'm Ready For My Luck To Turn Around (71, 1-800-Bankrupt)
THE RIOT SQUAD FEATURING DAVID BOWIE: I'm Waiting For My Man (Grapefruit, VA: Lullabies For Catatonics)
THE RUNAWAYS: Rock N Roll (Hip-O Select, The Mercury Albums Anthology)
MICK RONSON: Growing Up And I'm Fine (RCA, Slaughter On 10th Avenue)
—
ERK [featuring DIANE WEIGMANN]: Taking My Time (Kool Kat Musik, When Night Meets Day)
BILLY BREMNER: The Creature From The Black Lagoon (Deram, VA: Surrender To The Rhythm)
ALICE COOPER: School's Out (Rhino, Monsters & Mascara)
THE TRAVELING WILBURYS: Runaway (Rhino, The Traveling Wilburys Collection)
DEL SHANNON: Stranger In Town (Rhino, Greatest Hits)
LESLEY GORE: No Matter What You Do (Raven, Start The Party Again)
—
NICK PIUNTI & THE COMPLICATED MEN: Upper Hand (Jem, Downtime)
THE LEMON DROPS: I Live In The Springtime [original mix] (Cicadelic, Sunshower Flower Power)
THE NEW YORK DOLLS: Babylon (Mercury, Rock 'N Roll)
THE PIRATES: Shakin' All Over [1978 studio version] (Deram, VA: Surrender To The Rhythm)
WILD KISSES: Mark, Paul And Vinnie (wildkisses.bandcamp.com, Wild Kisses)
DARTS: Daddy Cool/The Girl Can't Help It (Magnet, single)
—
LIBRARIANS WITH HICKEYS: I Enjoy Being A Boy (In Love With You) (Big Stir, single)
GENESIS: In The Beginning (Grapefruit, VA: Lullabies For Catatonics)
ARTHUR ALEXANDER: Soldier Of Love (Razor & Tie, The Ultimate Arthur Alexander)
CLOVER: Ain't Nobody Own Nobody's Soul (Sonic Past Music, The Sound City Sessions)
ELVIS COSTELLO: Watching The Detectives (Rykodisc, My Aim Is True)
CHRIS SPEDDING: Bedsit Girl (RAK, Chris Spedding)
—
THE O'JAYS: Put Your Hands Together (Epoc, Love Train)
BE BOP DELUXE: Adventures In a Yorkshire Landscape (Grapefruit, VA: Lullabies For Catatonics)
FREDDIE & THE DREAMERS: Do The Freddie (EMI, The Definitive Collection)
DUCKS DELUXE: Hearts On My Sleeve [early mix] (Deram, VA: Surrender To The Rhythm)
THE BANGLES: Live (Columbia, All Over The Place)
DAVE EDMUNDS: Busted Loose (Columbia, Riff Raff)
THE JANGLE BAND: So Long (Egomaniac, The Metro Hotel EP)
MOON: Don't Wear It (Enterprise, Too Close For Comfort)
HOLLY & THE ITALIANS: Youth Coup (Wounded Bird, The Right To Be Italian)
PETE TOWNSHEND: Substitute (Redline, Scooped)
THE KINKS: I Need You (Sanctuary, The Anthology 1964-1971)
THE INMATES: Dirty Water (Polydor, First Offence)
—
THE BYRDS: We'll Meet Again (Columbia, Mr. Tambourine Man)