This Is Rock 'n' Roll Radio # 1003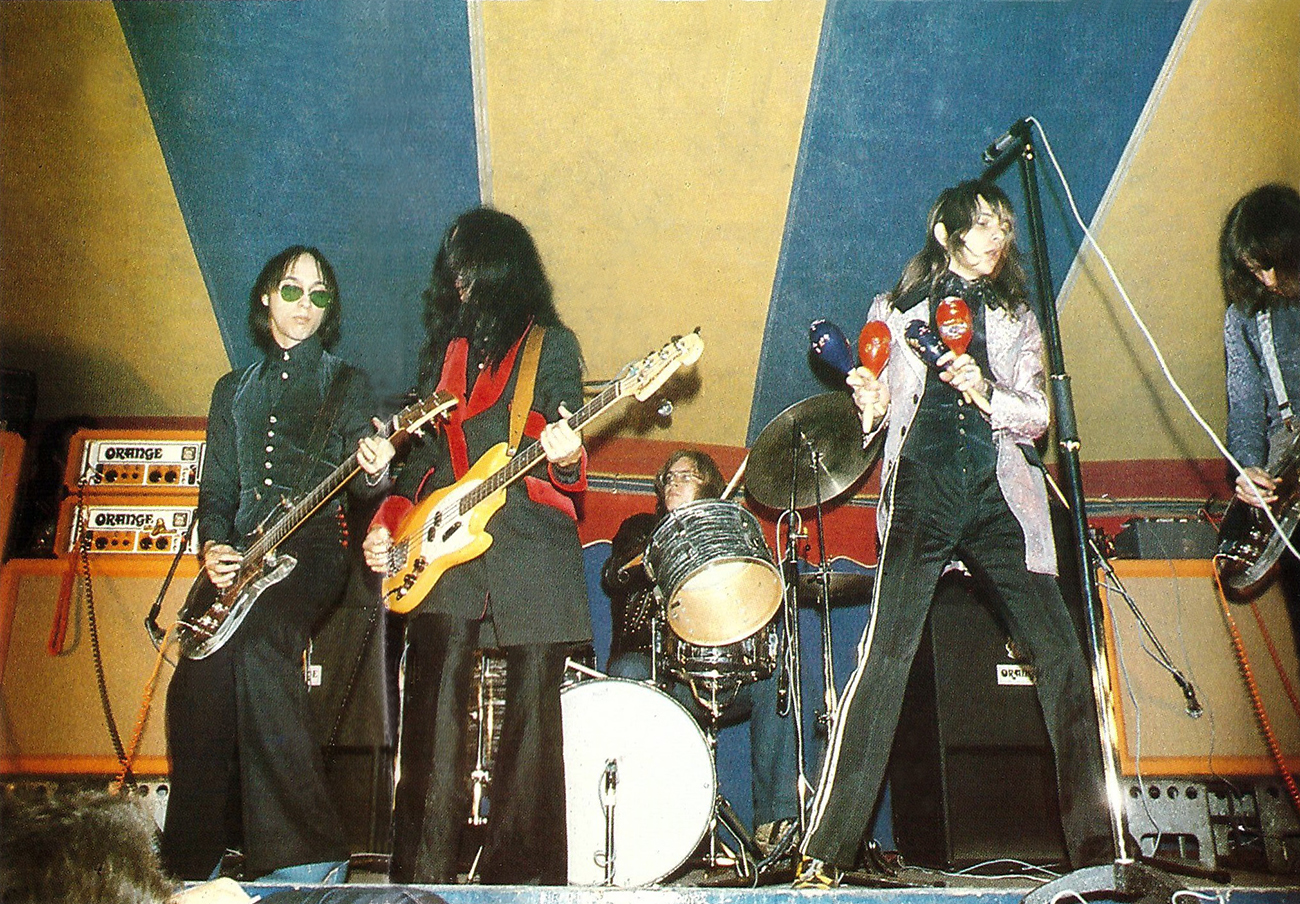 Why has this odd notion of This Is Rock 'n' Roll Radio lasted for more than 1000 shows, and counting? Because there are still records we haven't played, as well as records we have played that we wanna play again.
There are so many songs we want to play. Three hours a week doesn't provide a sufficient portal for that, and missing last week's show puts us even farther behind our ultimate goal to play all of the pop records. This week's pursuit of ALL! brings us new music from Lannie Flowers, a new-to-us 2019 release by P. P. Arnold, a new track from Joe Normal & the Anytown'rs (from the fabulous compilation Big Stir Singles: The Fourth Wave), and new archival releases from Shplang!, The Toms, and The Flamin' Groovies. We opened with a celebration of Truth to Power courtesy of Linda Ronstadt; we closed with our house band, The Kinks. We played some of the songs we want to play, new and old. There are still more songs yet to play, plus many to play again. And again. And again. Next week. Next year. Next time. Set your volume accordingly.
NEXT WEEK: It's our LAST regular show of 2019. IN TWO WEEKS: On December 22nd, it's The 21st Annual This Is Rock 'n' Roll Radio Christmas Show; there will be Beatles. IN THREE WEEKS: On December 29th, it's THE COUNTDOWN! This is what rock 'n' roll radio sounded like on a Sunday night in Syracuse this week.
This Is Rock 'n' Roll Radio with Dana & Carl, Sunday nights from 9 to Midnight Eastern, on the air in Syracuse on SPARK! WSPJ-LP 103.3 and 93.7 FM, and on the web at http://sparksyracuse.org/ TAX DEDUCTIBLE DONATIONS are always welcome.

(For those interested in a deeper dive into our back story, I have written a lengthy history of TIRnRR, which I invite you to read at my blog: BOPPIN' THE WHOLE FRIGGIN' PLANET (The History Of THIS IS ROCK 'N' ROLL RADIO)
Fans of pop music will want to check out Waterloo Sunset–Benefit For This Is Rock 'n' Roll Radio, a new pop compilation benefiting SPARK! Syracuse, the home of This Is Rock 'n' Roll Radio with Dana & Carl. TIR'N'RR Allstars–Steve Stoeckel, Bruce Gordon, Joel Tinnel, Stacy Carson, Eytan Mirsky, Teresa Cowles, Dan Pavelich, Irene Peña, Keith Klingensmith, and Rich Firestone–offer a fantastic new version of The Kinks' classic "Waterloo Sunset." That's supplemented by eleven more tracks (plus a hidden bonus track), including previously-unreleased gems from The Click Beetles, Eytan Mirsky, Pop Co-Op, Irene Peña, Michael Slawter (covering The Posies), and The Anderson Council (covering XTC), a new remix of "Infinite Soul" by The Grip Weeds, and familiar TIRnRR Fave Raves by Vegas With Randolph, Gretchen's Wheel, The Armoires, and Pacific Soul Ltd. Oh, and that mystery bonus track? It's exquisite. You need this. You're buying the digital download from Futureman and/or the CD from Kool Kat Musik.

(AND you can still get our previous compilation This Is Rock 'n' Roll Radio, Volume 4 on CD from Kool Kat Musik and as a download from Futureman. We live in a world of plenty!)

PS: SEND MONEY!!!! We need tech upgrades like Elvis needs boats. Spark Syracuse is supported by listeners like you. Tax-deductible donations are welcome at 
http://sparksyracuse.org/support/
You can follow Carl's daily blog Boppin' (Like The Hip Folks Do) at 
https://carlcafarelli.blogspot.com/

Hey, Carl's writin' a book! The Greatest Record Ever Made! (Volume 1) will contain 100 essays (and then some) about 100 songs (plus bonus tracks!), each one of 'em THE greatest record ever made. An infinite number of songs can each be the greatest record ever made, as long as they take turns. Updated initial information can be seen here.
TIRnRR # 1003: 12/8/19
This Is Rock 'n' Roll Radio FRESH SPINS! (tracks we think we ain't played before) are listed in bold

THE RAMONES: Do You Remember Rock 'n' Roll Radio? (Rhino, End Of The Century)
—
LINDA RONSTADT: You're No Good (Rhino, Greatest Hits I & II)
AMY RIGBY: The Old Guys (Southern Domestic, The Old Guys)
THE RAMONES: All's Quiet On The Eastern Front (Rhino, Pleasant Dreams)
JEFFERSON AIRPLANE: She Has Funny Cars (RCA, Surrealistic Pillow)
P. P. ARNOLD: Baby Blue (Earmusic, The New Adventures Of…P. P. Arnold)
THE ZOMBIES: Maybe After He's Gone (Varese Sarabande, Odessey And Oracle)
—
LANNIE FLOWERS: He's Got Himself (SpyderPop, Home)
GENE CLARK: The True One (4AD, No Other)
DOLPH CHANEY: It's OK (Big Stir, VA: Big Stir Singles: The Fourth Wave)
NILSSON: Me And My Arrow (RCA, The Point!)
THE DEL FUEGOS: When The News Is On (London, The Slash Years)
RITCHIE VALENS: Come On, Let's Go (Music Collection, The Very Best Of Ritchie Valens)
—
JOE NORMAL & THE ANYTOWNER'S: Even Now (Big Stir, VA: Big Stir Singles: The Fourth Wave)
AUTUMN: My Little Girl (Grapefruit, VA: I Said, She Said, Ah Cid)
THE BANDWAGON: Breakin' Down The Walls Of Heartache (Kent, Breakin' Down The Walls Of Heartache)
THE MUFFS: Saying Goodbye (Warner Brothers, The Muffs)
THE DEAD BOYS: All This And More (Sire, Young, Loud And Snotty)
RICHARD HELL & THE VOIDOIDS: Love Comes In Spurts (Sire, Blank Generation)
—
THE TOMS: That Could Change Tomorrow (Futureman, The 1979 Sessions)
DIRTY LOOKS: Let Go (Big Beat, VA: Come On Let's Go!)
ANNY CELSI: Sideways Rain (Ragazza, Kaleidoscope Heart: 12 Golden Hits)
JEFFERSON AIRPLANE: D.C.B.A.-25 (RCA, Surrealistic Pillow)
THE LACKLOVES: Marlena (Rainbow Quartz, Cathedral Square Park)
RINGO STARR: Photograph (Capitol, Blast From Your Past)
—
THE FLAMIN' GROOVIES: First Plane Home (Grown Up Wrong!, Between The Lines)
SOUTHWEST F.O.B.: Rock 'n' Roll Woman (Sundazed, Smell Of Incense)
THE POLICE: Roxanne (A & M, Every Breath You Take)
JOHN LENNON: Imagine (Capitol, Shaved Fish)
MARYKATE O'NEIL: I'm Ready For My Luck To Turn Around (marykateoneil.com, 1-800-Bankrupt)
THREE DAYS AWAKE: Chills (21 Centimeter Line, Thursday Wells)
—
SHPLANG: Come Love (Big Stir, Los Grandes Excritos)
HOLLY GOLIGHTLY & THE BROKEOFFS: Stewball (Transdreamer, Clippety Clop)
DWIGHT YOAKAM & BUCK OWENS: Streets Of Bakersfield (Rhino, BUCK OWENS: 21 # 1 Hits)
MARIANNE FAITHFULL: Can't You Hear My Heartbeat (Decca, Live At The BBC)
JOHNNY JOHNSON & THE BANDWAGON: Let's Hang On (Kent, Breakin' Down The Walls Of Heartache)
THE HEADS OF THE FAMILY: Lodi (Grapefruit, VA: I Said, She Said, Ah Cid)
—
THE BROTHERS STEVE: We Got The Hits (n/a, # 1)
THE CRICKLE: Place In My Heart (ROIR, VA: Garage Sale)
THE MONKEES: Porpoise Song (Theme From Head)
MODERN SOUNDS: My Bucket's Got A Hole In It (Grapefruit, VA: I Said, She Said, Ah Cid)
THE FLAMIN' GROOVIES: So Much In Love (Grown Up Wrong!, Between The Lines)
THE ADVERTS: One Chord Wonders (Rhino, VA: DIY: Anarchy In The UK)
—
THE FLAMIN' GROOVIES: Get A Shot Of Rhythm And Blues (Grown Up Wrong!, Bucket Of Brains)
EDDIE & THE HOT RODS: Do Anything You Wanna Do (Rhino, VA: Classic Punk)
PAUL REVERE & THE RAIDERS: Good Thing (Columbia, VA: Once Upon A Time In…Hollywood OST)
DAVID BOWIE: Queen Bitch (Virgin, Bowie At The Beeb)
STYX: Kiss Your Ass Goodbye (Sanctuary, Cyclorama)
THE COWSILLS: She Said To Me (JAM, VA: This Is Rock 'n' Roll Radio, Volume 2)
ROBB BENSON: The Tree Mind (Roam, The Tree Mind)
THE BANGLES: Want You (Omnivore, Ladies And Gentlemen…The Bangles!)
THE SEARCHERS: Sweets For My Sweet (Castle, Meet The Searchers)
THE KINKS: I Need You (Sanctuary, The Ultimate Collection)
THE KINKS: The Contenders (Sanctuary, Lola Versus Powerman And The Moneygoround)