This Is Rock 'n' Roll Radio # 976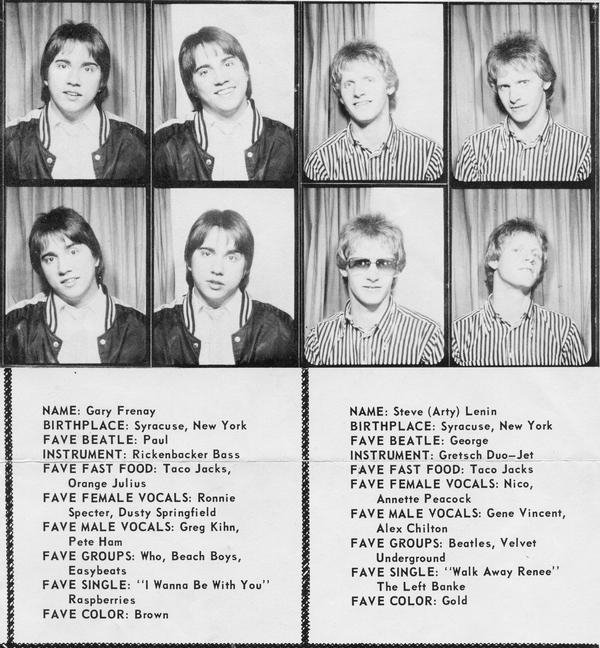 Dana and I consider ourselves fortunate to have had our own origin stories in Syracuse, a place with such a rich rockin' pop history. We're proud, and we're lucky.
Pop sensation Chris von Sneidern is an example of what we mean. CVS is originally from this area, and even though his path took him outta the 315, we still consider him one of our own. We were thrilled this week when he sent us tracks from his forthcoming new album Emerge, and we knew we hadda play a track or three on TIRnRR.
We also needed to salute the amazing Dave Frisina, the dean of Central New York rock 'n' roll DJs, one of the models for us all. As Dave moves his classic rock station The Rebel from FM to to internet–including his essential weekly shows Soulshine and Soundcheck (the latter a local music radio showcase and a freakin' institution around here since I was still in college)–Dana and I want to express our gratitude to Dave for all he's done for this scene we love so much. The Rebel lives on at therebelrocks.com, and we encourage you to check it out. If you've never heard Dave's Soulshine from 10 am to 2 pm Eastern on Sundays, you've missed one of the most refreshingly eclectic shows on American commercial radio anywhere, but you can still hear it on the web. Huzzah!
Gary Frenay used to introduce Screen Test's "Sound Of The Radio" as a song about how great radio used to be when radio played The Kinks. It seemed an appropriate track to play as TIRnRR's dedication to Dave Frisina. It also serves as notice that Gary Frenay and Arty Lenin are doing a very rare ALL ORIGINALS show this Wednesday night, May 29th, from 6:30 to 9:30 at The Listening Room, 443 Burnet Ave in Syracuse. Gary and Arty have crafted more than forty years' worth of nonpareil pop songs with The Flashcubes, Screen Test, and a zillion other combinations. It's a fact of a working musician's life that a lot of gigs are cover gigs; a chance to hear and see Gary & Arty doing ONLY Gary & Arty songs is a treat that cannot be missed.
All of the above seems like a decent start for decent radio, right? Dana threw in a bunch of Latin American and/or Spanish language '60s rock, we served up new music from Orbis Max, Robert Urban, and The Gold Needles, and sent the levels into the red once again. Syracuse. We live it and love it loud. This is what rock 'n' roll radio sounded like on a Sunday night in Syracuse this week.
PS: SEND MONEY!!!! We need tech upgrades like Elvis needs boats. Spark Syracuse is supported by listeners like you. Tax-deductible donations are welcome at
This Is Rock 'n' Roll Radio with Dana & Carl, Sunday nights from 9 to Midnight Eastern, on the air in Syracuse on SPARK! WSPJ-LP 103.3 and 93.7 FM, and on the web at http://sparksyracuse.org/
You can follow Carl's daily blog Boppin' (Like The Hip Folks Do) at
https://carlcafarelli.blogspot.com/
Hey, Carl's writin' a book! The Greatest Record Ever Made will contain 100 essays (and then some) about 100 tracks, plus one bonus instrumental, each one of 'em THE greatest record ever made. An infinite number of records can be the greatest record ever made, as long as they take turns. Updated initial information can be seen here: https://carlcafarelli.blogspot.com/2019/05/the-greatest-record-ever-made-and-other.html
Our new compilation CD This Is Rock 'n' Roll Radio, Volume 4 is now available from Kool Kat Musik! 29 tracks of irresistible rockin' pop, starring Pop Co-Op, Ray Paul, Circe Link & Christian Nesmith, Vegas With Randolph Featuring Lannie Flowers, The Slapbacks, P. Hux, Irene Peña, Michael Oliver & the Sacred Band Featuring Dave Merritt, The Rubinoos, Stepford Knives, The Grip Weeds, Popdudes, Ronnie Dark, The Flashcubes, Chris von Sneidern, The Bottle Kids, 1.4.5., The Smithereens, Paul Collins' Beat, The Hit Squad, The Rulers, The Legal Matters, Maura & the Bright Lights, Lisa Mychols, and Mr. Encrypto & the Cyphers. You gotta have it, so order it at https://tinyurl.com/ycnly8oz Digital download version (minus The Smithereens' track) now available at https://tinyurl.com/ycauy9xt
TIRnRR # 976: 5/26/19
This Is Rock 'n' Roll Radio FRESH SPINS! (tracks we think we ain't played before) are listed in bold
THE RAMONES: Do You Remember Rock 'n' Roll Radio? (Rhino, End Of The Century)
—
CHRIS VON SNEIDERN: Feline (n/a, Emerge)
THE ZOMBIES: Care Of Cell 44 (Big Beat, The Singles Collection)
HAROLD MELVIN & THE BLUE NOTES: Don't Leave Me This Way (Philadelphia International, single)
LOS YAKI: Dia De Noche (Rock Beat, VA: Los Nuggetz)
THE SEX PISTOLS: Something Else (Warner Brothers, The Great Rock 'n' Roll Swindle)
LOS PETS: Hello I Love (Rock Beat, VA: Los Nuggetz)
—
SCREEN TEST: Sound Of The Radio (JAM, VA: This Is Rock 'n' Roll Radio, Volume 2)
THE WHO: The Kids Are Alright (MCA, My Generation)
GIN BLOSSOMS: Allison Road (A & M, New Miserable Experience)
LONE STAR: Mi Generación (Rock Beat, VA: Los Nuggetz)
DAVID BROOKINGS & THE AVERAGE LOOKINGS: I Grow Up Fast (www.davidbrookings.net, Scorpio Monologue)
THE MONKEES: Sunny Girlfriend (Rhino, Headquarters)
—
ROBERT URBAN: She Caught The New Wave (roberturban.bandcamp.com, Jangle)
MAXINE NIGHTINGALE: Spinning Wheel (RPM, VA: Am I Dreaming?)
T. REX: 20th Century Boy (Crimson, The Very Best Of T. Rex)
ETHEL Y LOS DRAKERS: Siempre Brilla El Sol (Rock Beat, VA: Los Nuggetz)
THE COWSILLS: Hair (Rebound, The Best Of The Cowsills)
TODD RUNDGREN: Couldn't I Just Tell You (Rhino, Something/Anything?)
—
THE GOLD NEEDLES: I'm Gonna Try (Jem, Through A Window)
THE PRETENDERS: Day After Day (Sire, The Singles)
ORBIS MAX: No Matter What (single)
LOS MUSTANG: Please Please Me (Rock Beat, VA: Los Nuggetz)
THE SUPREMES: You Keep Me Hangin' On (Time-Life, VA: Classic Rock 1966)
LOS APSON: No Hay Beatles (Rock Beat, VA: Los Nuggetz)
—
CHRIS VON SNEIDERN: Why Didn't You Save Me? (n/a, Emerge)
MOSE ALLISON: Young Man Blues (MOJO, VA: The Route To Quadrophenia)
LORETTA LYNN: These Boots Are Made For Walking (Decca, You Ain't Woman Enough)
CINNAMON: Broken Hearted Me, Evil Hearted You (RPM, VA: Am I Dreaming?)
BOB KOENIG: Backroad Pond (www.bobkoenigmusic.com, Abbey Lane)
JAVIER BÁTIZ & THE FAMOUS FINKS: Tijuana Sun (Rock Beat, VA: Los Nuggetz)
—
KELLY'S HEELS: Tell Me If It's Over (Popboomerang, Dig In!)
EDDIE & THE HOT RODS: Do Anything You Wanna Do (Rhino, VA: Punk)
THE KEYS: Femforce Theme (Zero Hour, Grand Reopening)
THE SMALL FACES: Understanding (Sanctuary, Ultimate Collection)
GLEN BURTNIK'S SUMMER OF LOVE: To Sir, With Love (Jem, Live Love)
LULU: The Boat That I Row (Rhino, From Crayons To Perfume)
—
THE FLASHCUBES: Christi Girl (Northside, Bright Lights)
THE NERVES: Working Too Hard (Alive, One Way Ticket)
THE FLIRTATIONS: Nothing But A Heartache (RPM, Sounds Like The Flirtations)
MIKE & THE RUNAWAYS: Um, Um, Um, Um, Um, Um (Rock Beat, VA: Los Nuggetz)
ROBB BENSON: The Tree Mind (Roam, The Tree Mind)
LOS SHAIN'S: 96 Lágrimas (Rock Beat, VA: Los Nuggetz)
—
THE RAMONES: I Just Want To Have Something To Do (Rhino, Road To Ruin)
LOS GATOS NEGROS QUIQUE TUDELA: Cadillac (Rock Beat, VA: Los Nuggetz)
BOB SEGER & THE LAST HEARD: East Side Story (Cameo, single)
LOS BELMONTS: Arriba, Abajo Y Lados (Rock Beat, VA: Los Nuggetz)
THE KINKS: Waterloo Sunset (Sanctuary, The Ultimate Collection)
LOS MATEMÁTICOS: Pregunto (Rock Beat, VA: Los Nuggetz)
JIM BASNIGHT: Best Lover In The World (Precedent, Not Changing)
LOS APSON: Satisfaccion (Rock Beat, VA: Los Nuggetz)
EYTAN MIRSKY: Lingerie Pillow Fight (M-Squared, If Not Now…Later)
LOS SHAKERS: Amame Dos Veces (Rock Beat, VA: Los Nuggetz)
THE SPONGETONES: (My Girl) Maryanne (Loaded Goat, Always Carry On)
LOS SALVAJES: Todo Negro (Rock beat, VA: Los Nuggetz)
CHRIS VON SNEIDERN: Madrigal (n/a, Emerge)