This Is Rock 'n' Roll Radio # 960: The Night The Music Lived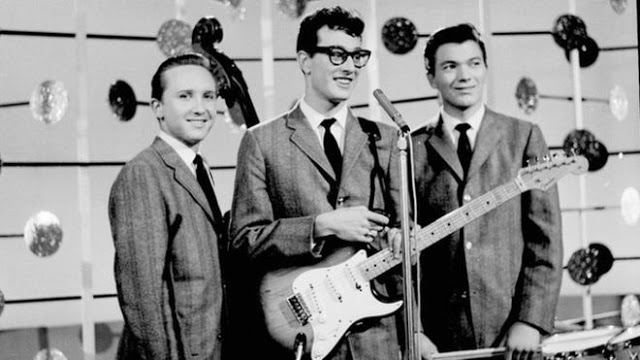 Looking at the calendar, we realized that Sunday night was the 60th anniversary of The Day The Music Died, when the pop world lost Buddy Holly, Ritchie Valens, and The Big Bopper in a plane crash on February 3rd, 1959. We knew we needed to commemorate the legacy of the pop music we love with something we billed as The Night The Music Lived. We played a number of Fave Raves past and present, and we celebrated the music of our Featured Act, the great Buddy Holly.
I've written previously of how I discovered Holly's music, and how I became a fan:
I was too young to ever know the full story. But my older brothers had a neighborhood friend named Nancy Cook; the only two things I can tell you about Nancy would be that she loved pop music–who didn't?–and that she died at a young age, not yet 30 years old, in a car accident in the mid '70s. It's not the sort of thing I want to ask my brothers and sister about, even all these decades later. But I know that she was gone, too early, too young. And I also know that before she died, she left behind a collection of her 45s.
My first conscious exposure to Buddy Holly came via Don McLean. I was one of the many who just adored McLean's smash hit "American Pie" in 1971, while having not Clue One of what it was about. At the height of the song's popularity, an article appeared in, I think, either Life or Look magazine, discussing the song's genesis. And it was there that I first read about the day the music died: February 3rd, 1959, when a plane crash ended the life of this singer named Buddy Holly.
Many years later, I would learn more about Buddy, and about Ritchie Valens and The Big Bopper, who perished with Holly in that crash. In '71, I just felt the sadness of "American Pie"'s lyrics, lyrics which mourned Holly while recalling I can't remember if I cried when I read about his widowed bride. Devastating. Even at the age of 11, I recognized that song's poignant mix of sorrow, regret, wistful remembrance, and subtle hope. And I wondered to myself: who was Buddy Holly?
I entered eighth grade in the fall of 1972. In '72 and '73, as my interest in pop music continued unabated, I began to look more and more into supplementing my AM radio lifeline by investigating what interesting records might already be in the family collection. Both of my brothers had moved out on their own, and had presumably taken the bulk of their record collections with them (though Art had left the first two Monkees albums behind). My sister was still in college, and I don't remember what records she'd left in North Syracuse and what she'd hauled off to Adelphi University. But there were still some rock 'n' roll gems at the house: a few Beatles albums, a Dave Clark Five single, The Live Kinks, and probably some Grass Roots, Three Dog Night, Gene Pitney, Rick Nelson, and Who. While rummaging through the collection one day, I discovered two little bound volumes of 45s; these little collections of singles had Nancy's name written on them.
As I examined these buried treasures, I made mental notes of the artists' names, both familiar and unfamiliar. I'd never heard of Ivory Joe Hunter, but I was taken with "You Can't Stop This Rocking And Rolling," the B-side to "Since I Met You Baby." I knew Elvis Presley, of course, though it would still be a few more years before I cared about him, and I'd likely heard The Coasters' great "Charlie Brown" on a TV commercial for some oldies compilation. But the most intriguing discovery was a 45 on the Coral Records label: Buddy Holly. "Peggy Sue" and "Everyday." For the first time, I was finally going to hear a Buddy Holly record.
And I was a Buddy Holly fan, just like that.
Both sides of the single captivated me. The hypnotic, rolling percussion of "Peggy Sue," and Holly's repeated, insistent pleading Peggy Sue, Peggy Sue, pretty pretty pretty pretty Peggy Sue, combined to convey sheer, urgent desire. On the flip side, "Everyday" eschewed the earthiness of "Peggy Sue"'s primal plea, and opted for a (seemingly) chaste wish for pure love everlasting: Every day seems a little longer, Every day love's a little stronger, Come what may, do you ever long for true love from me? A rendezvous in the bedroom, backed by an earnest ache to be happy together forever and ever? Yeah. Yeah, I'm good with that.
Throughout eighth grade, each day before school, I tried to make time to listen to both sides of that 45 before grabbing the bus. At some subsequent point, while enjoying my sacred Beatles stash, I noticed that a song on my favorite album, Beatles VI, was written by Buddy Holly. "Words Of Love" was a Buddy Holly song? Ahhhhhh! I couldn't have been more hooked on Holly by that point, but I'd reached a temporary plateau nonetheless. I only knew a mere three Buddy Holly songs, and one of 'em was by Fab Four proxy. It would be a few years before I could advance beyond that.
But Holly days would come at last. There were further Holly proxies to discover first–Linda Ronstadt's "That'll Be The Day" and The Rolling Stones' "Not Fade Away"–and an amazing Holly soundalike, "Sheila," by Tommy Roe, before I could truly discover the wealth of the Buddy Holly catalog. The 1978 film The Buddy Holly Story was an integral catalyst, even though I knew it was largely fiction. But I loved that movie anyway, and it prompted me to buy Buddy Holly and The Crickets' 20 Golden Greats best-of. "Oh Boy,""Rave On," and "Well…All Right" immediately became fave raves. I received another Buddy Holly collection, He's The One, from my friend Jay, filling in my Holly collection with additional tracks like "Rock Around With Ollie Vee," "You're The One," "Dearest," and "Love's Made A Fool Of You." In 1984, Buddy Holly's "True Love Ways" became my wedding song, so it has a meaning for lovely wife Brenda and me well beyond other pop songs.
I haven't thought of my siblings' late friend Nancy in years. I asked my Mom about her recently, and Mom's face lit up with the memory of Nancy and the rest of my brothers' friends hanging out at our house years ago. Mom remembered how hard it hit everyone when Nancy was killed. Try as I might, I can't remember Nancy at all. I can't mourn her, but the thought of her too-short life nonetheless inspires a wistful…well, not quite melancholy, but yet another reminder of the tenuous nature of our time in this world. Buddy Holly also died too young. In my mind's eye, Buddy is singing to Nancy right now. Love like yours will surely come way. They say Buddy Holly lives; if that's true, then Nancy Cook lives. too.
—
On this 60th anniversary of Buddy Holly's death, we add these words written by Holly's former bandmate Sonny Curtis: And you know the levee ain't dry/And the music didn't die/'Cause Buddy Holly lives every time we play rock 'n' roll.
The night the music lived. This is what rock 'n' roll radio sounded like on a Sunday night in Syracuse this week.
Buddy Holly lives.
This Is Rock 'n' Roll Radio with Dana & Carl, Sunday nights from 9 to Midnight Eastern, on the air in Syracuse on The Spark WSPJ-LP 103.3 and 93.7 FM, and on the web at http://sparksyracuse.org/
Spark Syracuse is supported by listeners like you. Tax-deductible donations are welcome at http://sparksyracuse.org/support/
You can follow Carl's daily blog Boppin' (Like The Hip Folks Do) at
https://carlcafarelli.blogspot.com/
Our new compilation CD This Is Rock 'n' Roll Radio, Volume 4 is now available from Kool Kat Musik! 29 tracks of irresistible rockin' pop, starring Pop Co-Op, Ray Paul, Circe Link & Christian Nesmith, Vegas With Randolph Featuring Lannie Flowers, The Slapbacks, P. Hux, Irene Peña, Michael Oliver & the Sacred Band Featuring Dave Merritt, The Rubinoos, Stepford Knives, The Grip Weeds, Popdudes, Ronnie Dark, The Flashcubes, Chris von Sneidern, The Bottle Kids, 1.4.5., The Smithereens, Paul Collins' Beat, The Hit Squad, The Rulers, The Legal Matters, Maura & the Bright Lights, Lisa Mychols, and Mr. Encrypto & the Cyphers. You gotta have it, so order it at https://tinyurl.com/ycnly8oz Digital download version (minus The Smithereens' track) now available at https://tinyurl.com/ycauy9xt
TIRnRR # 960: 2/3/19: The Night The Music Lived
This Is Rock 'n' Roll Radio FRESH SPINS! (tracks we think we ain't played before) are listed in bold
THE RAMONES: Do You Remember Rock 'n' Roll Radio? (Rhino, End Of The Century)
—
BUDDY HOLLY: Peggy Sue (MCA, The Buddy Holly Collection)
GENE VINCENT & HIS BLUE CAPS: Be-Bop-A-Lula (Razor & Tie, The Screaming End)
THE ROLLING STONES: Not Fade Away (Abkco, Singles Collection)
MOSE ALLISON: Parchman Farm (Prestige, Mose Allison Sings)
THE RAMONES & THE PALEY BROTHERS: Come On Let's Go (Sire, VA: Rock 'n' Roll High School OST)
THE WHO: I Can't Explain (MCA, The Kids Are Alright OST)
—
CLIFFORD ULRICH: I'm Going To Miss Her (Big Stir, single)
CLOCKWORK FLOWERS: Luminous Spinning Discs (theclockworkflowers.com, Colours Vol. 4 Green)
BUDDY HOLLY: Love's Made A Fool Of You (MCA, The Buddy Holly Collection)
CURTIS MAYFIELD: Move On Up (Curtom, single)
BUDDY HOLLY & THE HOLLIES: Peggy Sue Got Married (MCA, VA: Not Fade Away)
LULU: I'll Come Running Over (Ace, VA: Love Hit Me!)
—
BUDDY HOLLY: You're The One (Coral, Showcase)
THE KINKS: Gotta Get The First Plane Home (Sanctuary, The Kink Kontroversy)
SEAN HUTTON with POPPERMOST: Melodia (single)
BILLY THE KID EMERSON: Red Hot (Bear Family, Red Hot)
LINDA RONSTADT: It Doesn't Matter Anymore (Rhino, Greatest Hits I & II)
JAN PANTER: Scratch My Back (Ace, VA: Scratch My Back!)
—
THE BEATLES: Words Of Love (Capitol, Beatles VI)
JACKIE WILSON: Lonely Teardrops (Ace, The Very Best Of Jackie Wilson)
BUDDY HOLLY: Love Is Strange (Geffen, Down The Line)
STEVE STOECKEL: Raining In My Heart (unreleased)
BLONDIE: I'm Gonna Love You Too (Chrysalis, The Platinum Collection)
GARY WALKER & THE RAIN: Magazine Woman (Normal, VA: Love, Peace & Poetry)
—
THE CRICKETS: T-Shirt (CBS, single)
JULIE GRANT: I Only Care About You (Ace, VA: Scratch My Back!)
BUDDY HOLLY: Learning The Game (MCA, The Buddy Holly Collection)
MOTT THE HOOPLE: Roll Away The Stone (Columbia, Greatest Hits)
JOHN LENNON: Dear Yoko (Capitol, The John Lennon Collection)
TOM PETTY & THE HEARTBREAKERS: Refugee (MCA, Greatest Hits)
—
BUDDY HOLLY: Well…All Right (MCA, The Buddy Holly Collection)
THE BLOSSOMS: I'll Wait (Jasmine, VA: Love Charms)
WHAM!: Freedom (Columbia, Make It Big)
THE ARTWOODS: Can You Hear Me (Union Square, Steady Gettin' It)
LANNIE FLOWERS: Summer Blue (SpyderPop, single)
JOE NORMAL & THE ANYTOWN'rs: Anytown (joenormalusa.com, Entering Anytown USA)
—
BUDDY LOVE & THE TEARJERKERS: I'm In Love With A Different Girl Every Day (unreleased)
LINK WRAY & THE WRAYMEN: Right Turn (Hallmark, Link Wray & The Wraymen)
BUDDY HOLLY: Changing All Those Changes (MCA, The Buddy Holly Collection)
THE ROCKIN' VICKERS: It's Alright (Cherry Red, It's Alright!)
THE MAVERICKS: True Love Ways (MCA, VA: Not Fade Away)
LARRY'S REBELS: It's Not True (Impact, single)
—
BUDDY HOLLY: Rave On (MCA, The Buddy Holly Collection)
THE ENGLISH BEAT: Twist & Crawl (Shout Factory, I Just Can't Stop It)
IVAN: Real Wild Child (Coral, single)
XTC: Are You Receiving Me? (Ape House, Go 2)
BUDDY HOLLY: Rock Around With Ollie Vee (MCA, The Buddy Holly Collection)
THE BASEMENT WALL: Never Existed (Collectables, THE BASEMENT WALL/THE NEW BREED: The Incredible Sound Of The Basement Wall/Want Ad Reader)
—
BUDDY HOLLY: Crying, Waiting, Hoping (MCA, The Buddy Holly Collection)
SAM COOKE: Chain Gang (RCA, Greatest Hits)
BUDDY HOLLY: (Ummmm, Oh Yeah) Dearest (Geffen, Down The Line)
GREGG YETI & THE BEST LIGHTS: My Narcoleptic Sara (Eskimo Kiss, Hearts Palpitations Of The Rich And Famous)
BUDDY HOLLY: Everday (MCA, The Buddy Holly Collection)
THE COASTERS: Poison Ivy (Rhino, The Very Best Of The Coasters)
BUDDY HOLLY: Take Your Time (MCA, The Buddy Holly Collection)
MARK LINDSAY Like Nothing That You've Seen (Bongo Boy, VA: Out Of The Garage Volume One)
THE CRICKETS: It's So Easy (MCA, The Buddy Holly Collection)
THE SMALL FACES: Sha-La-La-La-Lee (Sanctuary, Ultimate Collection)
THE CRICKETS: Oh Boy! (MCA, The Buddy Holly Collection)
THE NERVES: Walking Out On Love (Alive, One Way Ticket)
THE CRICKETS: That'll Be The Day (MCA, The Buddy Holly Collection)
BIG STAR: September Gurls (Big Beat, VA: Thank You Friends)
BUDDY HOLLY: Holly Hop (MCA, The Buddy Holly Collection)