This Is Rock 'n' Roll Radio # 953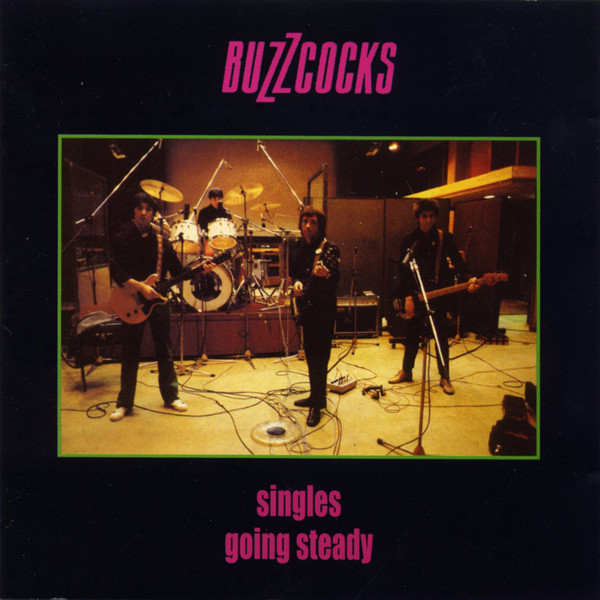 Singles Going Steady was my introduction to the music of The Buzzcocks. Although it was really just a compilation of the group's singles, it was the first Buzzcocks album released in America. I bought my copy at Syracuse's Desert Shore Records in 1979, and cherished it from that day forward. "Ever Fallen In Love." "What Do I Get?" "I Don't Mind." "Orgasm Addict." "Love You More." "Everybody's Happy Nowadays." "Harmony In My Head." "Promises." Classics, all of 'em. And that was just Side One!
I'm sure I read about the band before that visit to Desert Shore, but I can't remember whether or not I'd heard any of the records before snapping up my copy of Singles Going Steady. Either way, I knew: mine. My music. My kind of record. My kind of band. Music firmly rooted in the example of the 1960s British Invasion; music that couldn't have existed without British punk making it possible. Mine.
Other than Steve Diggle's "Harmony In My Head," all of those amazing tracks on Side One of Singles Going Steady were written or co-written by Pete Shelley. Shelley and Diggle were inspired by The Sex Pistols, but informed by a working knowledge of hooks and harmonies, the power of pop, the sheer thrill of what a 45 rpm record could do when played loud, when played on the radio. Some called The Buzzcocks the punk Beatles. To me, another touchstone seemed closer to the mark: The Buzzcocks reminded me of The Kinks.
I can't explain exactly why. Maybe it was a vague similarity in the quirky nature of the lead vocals. Maybe it was the shrugging off of any pretense of perfection, the casual embrace of its own ragged glory. For whatever reason: God save The Buzzcocks. Now and always, God save The Buzzcocks.
The Buzzcocks broke up in 1981. Shelley and Diggle reunited in 1989, and their latter-day Buzzcocks accomplished the seemingly impossible: they made new records that were the equal of the old stuff, worthy successors to the nonpareil heights of Singles Going Steady. How many great bands can go away, come back, and still be great? It's uncommon, but it happens. The Buzzcocks were proof of that. Fercryinoutloud, just listen to "Wish I Never Loved You" from the 2006 album Flat Pack Philosophy; it's as great as '78, a single going steady, displaced in time. And, the song's title notwithstanding, it's another reason why I'm glad I love The Buzzcocks.
When we received the news last week of Pete Shelley's sudden passing, we knew we needed to pay some kind of tribute. Ever fallen in love? The pundits said punk wasn't built to last. But the music outlasts us; it will outlive us all. While we're still here, we'll play what's ours. Mine. Yours. Everybody's. Everybody's happy nowadays. We mourn. But we jump up and down, and we sing along with this music that is ours. A thunder of hearts. A harmony in my head. Singles going steady. I believe.
NEXT WEEK: Our last regular TIRnRR of 2018. IN TWO WEEKS: On December 23rd, it's The 20th Annual This Is Rock 'n' Roll Radio Christmas Show. HEY!! This Is Rock 'n' Roll Radio turns 21 years old right after the Christmas show. We should maybe oughtta celebrate a little bit. This is what rock 'n' roll radio sounded like on a Sunday night in Syracuse this week.
This Is Rock 'n' Roll Radio with Dana & Carl, Sunday nights from 9 to Midnight Eastern, on the air in Syracuse on The Spark WSPJ-LP 103.3 and 93.7 FM, and on the web at http://sparksyracuse.org/
Spark Syracuse is supported by listeners like you. Tax-deductible donations are welcome at http://sparksyracuse.org/support/
You can follow Carl's daily blog Boppin' (Like The Hip Folks Do) at
https://carlcafarelli.blogspot.com/
Our new compilation CD This Is Rock 'n' Roll Radio, Volume 4 is now available from Kool Kat Musik! 29 tracks of irresistible rockin' pop, starring Pop Co-Op, Ray Paul, Circe Link & Christian Nesmith, Vegas With Randolph Featuring Lannie Flowers, The Slapbacks, P. Hux, Irene Peña, Michael Oliver & the Sacred Band Featuring Dave Merritt, The Rubinoos, Stepford Knives, The Grip Weeds, Popdudes, Ronnie Dark, The Flashcubes, Chris von Sneidern, The Bottle Kids, 1.4.5., The Smithereens, Paul Collins' Beat, The Hit Squad, The Rulers, The Legal Matters, Maura & the Bright Lights, Lisa Mychols, and Mr. Encrypto & the Cyphers. You gotta have it, so order it at https://tinyurl.com/ycnly8oz Digital download version (minus The Smithereens' track) now available at https://tinyurl.com/ycauy9xt
TIRnRR # 953: 12/9/18
THE RAMONES: Do You Remember Rock 'n' Roll Radio? (Rhino, End Of The Century)
—
THE BUZZCOCKS: What Do I Get? (IRS, Singles Going Steady)
MAGAZINE: A Song From Under The Floorboards (Rhino, VA: Left Of The Dial)
SHIRLEY & COMPANY: Shame, Shame, Shame (Rhino, VA: Bo Diddley Beats)
HAPPY MONDAYS: 24 Hour Party People (Rhino, VA: Left Of The Dial)
P. HUX: This Is The One (Nine 18, This Is The One)
THE STONE ROSES: She Bangs The Drums (Rhino, VA: Left Of The Dial)
—
SEX CLARK FIVE: I Want You Mine (Records To Russia, Live!)
THE ENGLISH BEAT: Mirror In The Bathroom (Rhino, VA: Left Of The Dial)
THE BUZZCOCKS: Wish I Never Loved You (Cooking Vinyl, Flat Pack Philosophy)
PETE TOWNSHEND: Rough Boys (Atlantic, Empty Glass)
PETE SHELLEY: Homosapien (Universal, Homosapien)
THE UNDERTONES: Teenage Kicks (Rykodisc, Undertones)
—
THE BUZZCOCKS: You Say You Don't Love Me (IRS, A Different Kind Of Tension Pts. 1-3)
THE DEAD MILKMEN: Punk Rock Girl (Rhino, VA: Left Of The Dial)
COTTON MATHER: The Book Of Too Late Changes (Star Apple Kingdom, Death Of The Cool)
INGA: The Beat Goes On (Grosse Freiheit, VA: Beat Frauleins)
THE NON PROPHETS: Keep You You (unreleased)
THE MONKEES: Me & Magdalena [Version 2] (Rhino, Good Times! [digital version])
—
DEAN LANDEW: After Work (deanlandew.bandcamp.com)
GRAHAM PARKER & THE RUMOUR: Discovering Japan (Spectrum, The Very Best Of Graham Parker & The Rumour)
THE BUZZCOCKS: Thunder Of Hearts (Go-Kart, Modern)
THE MICKEY FINN: Garden Of My Mind (MOJO, VA: Paint It Black)
T. REX: 20th Century Boy (Crimson, The Very Best Of T. Rex)
HAWKWIND: Motorhead (MOJO, VA: Pretty Vacant)
—
THE BUZZCOCKS: Harmony In My Head (IRS, Singles Going Steady)
THE CLASH: White Riot (Epic, Clash On Broadway)
THE KINKS: See My Friends (Sanctuary, The Ultimate Collection)
THE 101'ERS: Keys To Your Heart (MOJO, VA: Pretty Vacant)
CHRIS PAINE & THE LETTERTRAIN: Might Have Found Me (chrispainemusic.com, Indiscriminate Chatter)
WARREN ZEVON: Werewolves Of London (Rhino, Genius)
—
THE SEX PISTOLS: God Save The Queen (Virgin, Kiss This)
THE MODERN LOVERS: Roadrunner (Rhino, VA: No, Thanks!)
THE BUZZCOCKS: Some Kinda Wonderful (Domino, All Set)
MONIQUE & THE LIONS: Er Sah Mich Im Regen (Grosse Freiheit, VA: Beat Frauleins)
THE RAMONES: All's Quiet On The Eastern Front (Rhino, Pleasant Dreams)
THE NEW YORK DOLLS: Personality Crisis (Mercury, New York Dolls)
—
QUEEN: Killer Queen (EMI, VA: The Cavern)
THE WHO: Magic Bus (MCA, Who's Better, Who's Best)
VEGAS WITH RANDOLPH: She's An Intellectual (Caged Giant, Legs & Luggage)
BRAM TCHAIKOVSKY: Girl Of My Dreams (Polydor, Strange Man, Changed Man)
THE BUZZCOCKS: Last To Know (Caroline, Trade Test Transmissions)
THE MOTORS: Dancing The Night Away (Rhino, VA: No, Thanks!)
—
THE BUZZCOCKS: I Don't Mind (IRS, Singles Going Steady)
THE BUZZCOCKS: Why Can't I Touch It? (IRS, Singles Going Steady)
THE BUZZCOCKS: Everybody's Happy Nowadays (IRS, Singles Going Steady)
THE BUZZCOCKS: I Believe (IRS, A Different Kind Of Tension Pts. 1-3)
THE BUZZCOCKS: Ever Fallen In Love (IRS, Singles Going Steady)
THE BUZZCOCKS: Walking Distance (Domino, Love Bites)