This Is Rock 'n' Roll Radio # 941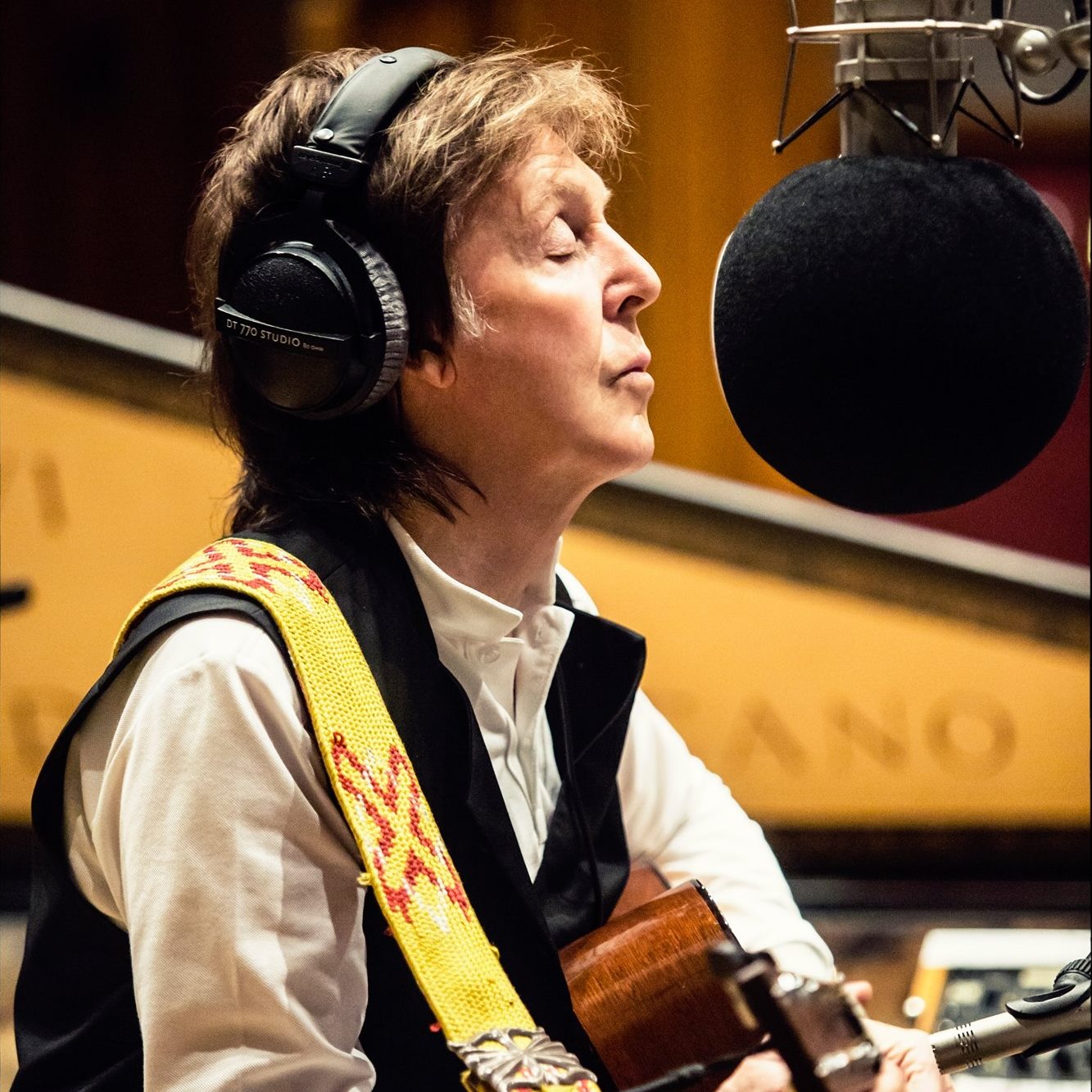 It's not often that curmudgeons like Dana & Carl care to play a track from the # 1 album in the country, but we make an exception for Paul McCartney. Sir Paul's new one Egypt Station sounded pretty good t'me in the car, so we needed to play us some Macca on TIRnRR.
Music just sounds its best in the car. I can't listen to talk radio; I need music in the car. New music, old music, great music, LOUD music! This week's TIRnRR served up a smackin' soundtrack for motorvatin', from new McCartney, Lannie Flowers, Orbis Max, Athenor, The Coral, Orchestral Manoeuvres In The Dark, Pete Wylie, and Chandler Travis Three-O through classic fave raves and relatively recent proto-gold alike (courtesy of everyone from Chuck Berry, Motorhead, George Jones, Tavares, Donna Summer, and The Kinks to Gretchen's Wheel, Wilkerson, Dean Landew, The Turnback, Screen Test, and Ken Sharp). We played "I'm In Love" by The Dirty Royals because it's a fantastic song that no one knows. We played "Cruel To Be Kind" by Nick Lowe because it's a fantastic song that everybody knows. Turn it all up. The road awaits. This is what rock 'n' roll radio sounded like on a Sunday night in Syracuse this week.
This Is Rock 'n' Roll Radio with Dana & Carl, Sunday nights from 9 to Midnight Eastern, on the air in Syracuse on The Spark WSPJ-LP 103.3 and 93.7 FM, and on the web at http://sparksyracuse.org/
Spark Syracuse is supported by listeners like you. Tax-deductible donations are welcome at http://sparksyracuse.org/support/
You can follow Carl's daily blog Boppin' (Like The Hip Folks Do) at
https://carlcafarelli.blogspot.com/
Our new compilation CD This Is Rock 'n' Roll Radio, Volume 4 is now available from Kool Kat Musik! 29 tracks of irresistible rockin' pop, starring Pop Co-Op, Ray Paul, Circe Link & Christia-n Nesmith, Vegas With Randolph Featuring Lannie Flowers, The Slapbacks, P. Hux, Irene Peña, Michael Oliver & the Sacred Band Featuring Dave Merritt, The Rubinoos, Stepford Knives, The Grip Weeds, Popdudes, Ronnie Dark, The Flashcubes, Chris von Sneidern, The Bottle Kids, 1.4.5., The Smithereens, Paul Collins' Beat, The Hit Squad, The Rulers, The Legal Matters, Maura & the Bright Lights, Lisa Mychols, and Mr. Encrypto & the Cyphers. You gotta have it, so order it at https://tinyurl.com/ycnly8oz
TIRnRR # 941: 9/16/18
THE RAMONES: Do You Remember Rock 'n' Roll Radio? (Rhino, End Of The Century)
—
THE CLASH: Tommy Gun (Epic, Clash On Broadway)
WARREN ZEVON: Roland The Headless Thompson Gunner (Rhino, Genius)
GEORGE JONES: The Race Is On (Columbia, The Essential George Jones)
GRAHAM PARKER & THE RUMOUR: Local Girls (Spectrum, The Very Best Of Graham Parker & The Rumour)
PAUL McCARTNEY: Who Cares (Capitol, Egypt Station)
THE WHO: I Can't Explain (MCA, My Generation)
—
LANNIE FLOWERS: Don't Make Me Wait (SpyderPop, single)
CREEDENCE CLEARWATER REVIVAL: Down On The Corner (Fantasy, Willie And The Poorboys)
TAVARES: Free Ride (EMI, The Best Of Tavares)
MOTT THE HOOPLE: Thunderbuck Ram (Island, VA: Strangely Strange But Oddly Normal)
STEVE STOECKEL & HIS THIS IS ROCK 'N' ROLL RADIO ALL-STARS: He And She (unreleased)
THE CORAL: Eyes Of The Moon (Ignition, Move Through The Dawn)
—
THE DIRTY ROYALS: I'm In Love (n/a, Star Burrito)
THE FLASHCUBES: It's You Tonight (Northside, Bright Lights)
CHUCK BERRY: Promised Land (MCA, The Anthology)
JOY DIVISION: The Drawback (Rhino, Heart And Soul)
PAUL McCARTNEY: Happy With You (Capitol, Egypt Station)
THE LA'S: Callin' All (Viper, Callin' All)
—
ORBIS MAX: Ride (single)
T. REX: Buick Makane (Demon, The Slider)
GRETCHEN'S WHEEL: Plans (Futureman, Black Box Theory)
MOTORHEAD: White Line Fever (Ace, Motorhead)
THE KINKS: The Village Green Preservation Society (Universal, The Village Green Preservation Society)
ROY WOOD: Wake Up (EMI, Boulders)
—
ATHANOR: Magic In Me (Kool Kat Musik, Hills Of The Universe)
TODD RUNDGREN: Couldn't I Just Tell You (Rhino, Something/Anything?)
WILKERSON: Let It Go Tonight (SpyderPop, single)
THE COUNT BISHOPS: I Need You (Ace, The Count Bishops)
DONNA SUMMER: I Feel Love (Casablanca, On The Radio)
ORCHESTRAL MANOUEVRES IN THE DARK: The Punishment Of Luxury (100 %, The Punishment Of Luxury)
—
CHANDLER TRAVIS THREE-O: All The Little Things (Iddy-Biddy, Backward Crooked From The Sunset)
AL GREEN: I Want To Hold Your Hand (The Right Stuff, Green Is Blues)
DEAN LANDEW: After Work (deanlandew.bandcamp.com, single)
THE FACES: Stay With Me (Warner Brothers, A Nod Is As Good As A Wink…To A Blind Horse)
FRANK ROYSTER: Mr. Wonderful (Kool Kat Musik, Innocence Is Bliss)
THE RAMONES: Oh Oh I Love Her So (Rhino, Leave Home)
—
PAUL McCARTNEY: Get Started (Capitol, Egypt Station)
NICK LOWE: Cruel To Be Kind (Yep Roc, Quiet Please…)
THE TURNBACK: Untitled So Far (Kool Kat Musik, Spinning The Earth In Reverse)
PETE WYLIE: Is That What Love Is All About? (n/a, Pete Sounds!)
SCREEN TEST: Notes From Trevor (Northside, Through The Past Brightly)
THE STAIRS: Weed Bus (Viper, Right In The Back Of Your Mind)
—
KEN SHARP: No One Seems To Stay Together Anymore (Jetfighter, Beauty In The Backseat)
THE BEATLES: Eight Days A Week (Apple, Anthology)
BADFINGER: Got To Get Out Of Here (Warner Brothers, Wish You Were Here)
THE ZOMBIES: I Love You (Big Beat, Zombie Heaven)
MICHAEL NESMITH: Some Of Shelly's Blues [alternate version] (RCA, And The Hits Just Keep On Comin')
THE TROGGS: Our Love Will Still Be There (Fontana, Archeology)
LESTER FLATT & EARL SCRUGGS: Foggy Mountain Breakdown (Mercury, The Complete Mercury Recordings)