This Is Rock 'n' Roll Radio # 922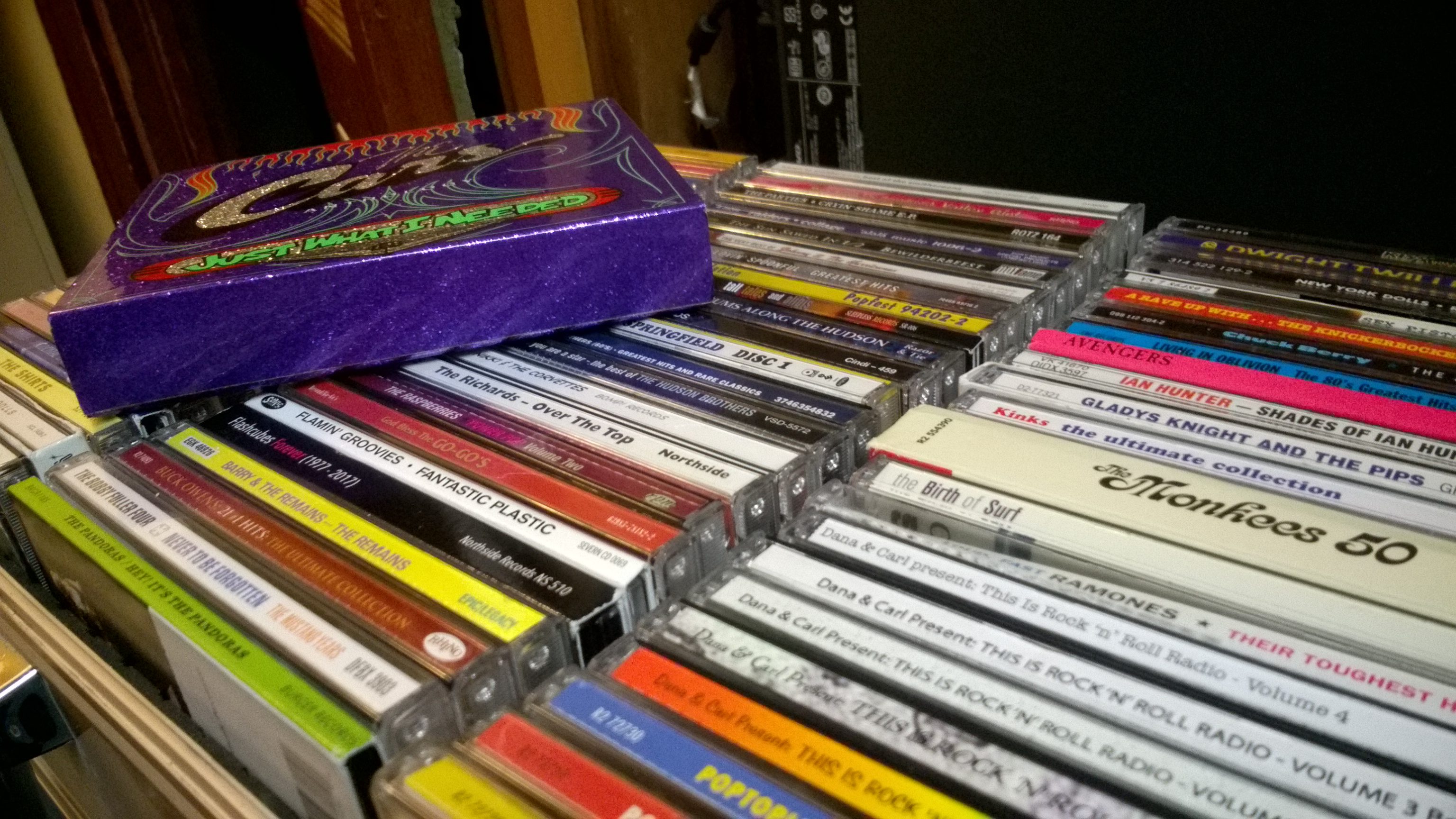 It can be a busy life. One can find oneself juggling about a dozen different things, some important, some trivial, some nestled in the vast DMZ betwixt 'n' between. But stuff gets done, and the republic stands. And on Sunday night, we play records. Let the music free your soul. This is what rock 'n' roll radio sounded like on a Sunday night in Syracuse this week.
This Is Rock 'n' Roll Radio with Dana & Carl, Sunday nights from 9 to Midnight Eastern, on the air in Syracuse on The Spark WSPJ-LP 103.3 and 93.7, and on the web at http://sparksyracuse.org/
Spark Syracuse is supported by listeners like you. Tax-deductible donations are welcome at http://sparksyracuse.org/support/
You can follow Carl's daily blog Boppin' (Like The Hip Folks Do) at
https://carlcafarelli.blogspot.com/
Our new compilation CD This Is Rock 'n' Roll Radio, Volume 4 is now available from Kool Kat Musik! 29 tracks of irresistible rockin' pop, starring Pop Co-Op, Ray Paul, Circe Link & Christian Nesmith, Vegas With Randolph Featuring Lannie Flowers, The Slapbacks, P. Hux, Irene Peña, Michael Oliver & the Sacred Band Featuring Dave Merritt, The Rubinoos, Stepford Knives, The Grip Weeds, Popdudes, Ronnie Dark, The Flashcubes, Chris von Sneidern, The Bottle Kids, 1.4.5., The Smithereens, Paul Collins' Beat, The Hit Squad, The Rulers, The Legal Matters, Maura & the Bright Lights, Lisa Mychols, and Mr. Encrypto & the Cyphers. You gotta have it, so order it here.
TIRnRR # 922: 5/6/18
THE RAMONES: Do You Remember Rock 'n' Roll Radio? (Rhino, End Of The Century)
—
GLADYS KNIGHT & THE PIPS: Midnight Train To Georgia (Curb, Greatest Hits)
LAURA NYRO & LABELLE: Jimmy Mack (Columbia, Gonna Take A Miracle)
IAN HUNTER: Just Another Night (Columbia, Shades Of Ian Hunter)
KEITH: 98.6 (Polygram, VA: One Hit Wonders)
THE AVENGERS: We Are The One (Superior Viaduct, Avengers)
THE CHOIR: If These Are Men (Omnivore, Artifact)
—
CHRIS PAINE & THE LETTERTRAIN: Down On Luck (www.chrispainemusic.com, Indiscriminate Chatter)
SONS OF MORNING: Didn't See The Man (n/a, Sons Of Morning)\
THE BIGGEST THRILLS: If Ignorance Is Bliss (Futureman, VA: Back In Time)
THE KENNEDYS: Dancing On The Moon (n/a, Safe Until Tomorrow)
BURNING SENSATIONS: Belly Of The Whale (EMI, VA: Living In Oblivion The 80's Greatest Hits–Volume 4)
THE TEMPTATIONS: Don't Let The Joneses Get You Down (Motown, Psychedelic Soul)
—
CHUCK BERRY: Sweet Little Sixteen (MCA, The Anthology)
IAN HUNTER: Cleveland Rocks (EMI, The Best Of Ian Hunter)
BOB SEGER: Get Out Of Denver (Reprise, Seven)
THE WEST COAST POP ART EXPERIMENTAL BAND: Help, I'm A Rock (Sundazed. Part One)
THE KNICKERBOCKERS: They Ran For Their Lives (Big Beat, A Rave Up With…The Knickerbockers)
THE ROMANTICS: What I Like About You (Nemperor, The Romantics)
—
THE SEX PISTOLS: No Feelings (Virgin, Kiss This)
THE DILS: I Hate The Rich (Rhino, VA: DIY: We're Desperate)
THE NEW YORK DOLLS: Babylon (Mercury, Rock 'N Roll)
THE MUFFS: Rock And Roll Girl (Sympathy For The Record Industry, Hamburger)
THE RULERS: I Want My Ramones Records Back (Kool Kat Musik, VA: This Is Rock 'n' Roll Radio, Volume 4)
THE RAMONES: Blitzkrieg Bop (Rhino, Ramones)
—
THE KINKS: Who'll Be The Next In Line (Sanctuary, The Ultimate Collection)
THE BEATLES: Nowhere Man (Apple, Yellow Submarine Songtrack)
THE DWIGHT TWILLEY BAND: I'm On Fire (The Right Stuff, DWIGHT TWILLEY: XXI)
AL GREEN: I Want To Hold Your Hand (The Right Stuff, Green Is Blues)
KISS: Tomorrow (Mercury, Unmasked)
TELEVISION: Elevation (Elektra, Marquee Moon)
—
THE PANDORAS: Just A Picture (Burger, Hey! It's The Pandoras)
KIM WILDE: Kids In America (Rhino, VA: Punk & New Wave Smash Hits)
IRENE PEÑA: Must've Been Good (Kool Kat Musik, VA: This Is Rock 'n' Roll Radio, Volume 4)
THE PRETENDERS: Talk Of The Town (Sire, The Singles)
P. P. ARNOLD: The First Cut Is The Deepest (Immediate, The First Cut)
LAURA NYRO & LABELLE: I Met Him On A Sunday (Columbia, Gonna Take A Miracle)
—
THE MONKEES: Love Is Only Sleeping (Rhino, 50)
THE LA DE DA'S: Don't Stand In My Way (RPM, VA: How Is The Air Up There?)
THE CARS: Let's Go (Rhino, Just What I Needed)
LARRY'S REBELS: Painter Man (RPM, VA: How Is The Air Up There?)
THE FLASHCUBES: You Got My Promise (Northside, Flashcubes Forever)
THE LA DE DA'S: How Is The Air Up There (RPM, VA: How Is The Air Up There?)
—
THE O'JAYS: Love Train (Epic, Love Train)
THE TEMPTATIONS: I Can't Get Next To You (Motown, Psychedelic Soul)
TAMMY & THE LORDS OF MISRULE: What Baby Wants (Her Highness Porcupinus, King Maker)
WARREN ZEVON: Excitable Boy (Rhino, Genius)
BUCK OWENS & HIS BUCKAROOS: Who's Gonna Mow Your Grass (Rhino, 21 # 1 Hits)
DEVO: (I Can't Get No) Satisfaction (Rhino, VA: Classic Punk)
BIG STAR: I'm In Love With A Girl (Stax, The Best Of Big Star)
SUICIDE COMMANDOS: Shock Appeal (Plan 9, Make A Record)
JOHNNY & THE HURRICANES: Storm Warning (Varese Sarabande, The Very Best Of Johnny & the Hurricanes)